Colin Robertson — Fourth generation Allisonian and Mount Allison's 54th Rhodes Scholar
Honours history student Colin Robertson became part of Mount Allison's history this year as the University's 54th Rhodes Scholar. Robertson is one of only 11 students selected across Canada to receive the award.
Valued at more than $100,000, the Rhodes Scholarship is one of the oldest and most prestigious in the world, covering the cost of postgraduate studies at the University of Oxford in the U.K.
"I was in a state of shock when I received the news," says Robertson. "You go into this series of interviews with all these accomplished people. I was just thinking to myself, 'there's no way…'"
A history major with a minor in classics, Robertson is studying Renaissance history, completing his thesis under the guidance of faculty member Dr. William Lundell.
"I'm going to continue my studies in history at Oxford," says Robertson. "I think history helps give us a better sense of empathy."
While Robertson grew up outside of Ottawa, he now calls Sackville home and his family has a long history in the area, spanning at least six generations in Sackville and four generations of Allisonians.
His great grandmother Kathleen (Fawcett) Fisher attended the Mount Allison Ladies Academy and Robertson's parents [Susan Fisher ('75) and Scott Robertson ('76)] are both grads.
In fact, his mother Susan and grandmother (Margery Fisher) also share a unique place in Mount Allison's history - the mother-daughter pair graduated together in 1975.
"It was a natural choice to come to Mount Allison and Sackville, my family roots are here," he says.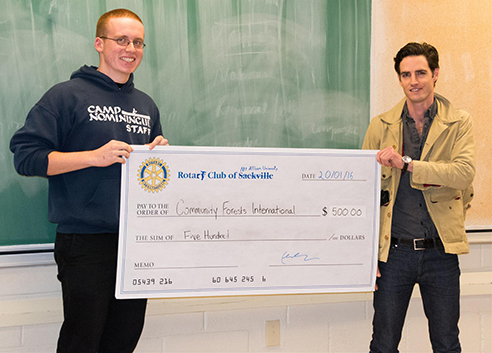 Robertson has made it a priority to give back to his 'hometown.' He served as president and is currently past-president of the Sackville Rotaract Club, the youth branch of the Rotary Club. Its focus, like the Rotary Club, is on community. It is another strong family tradition for Robertson.
"I attended my first Rotary meeting when I was three years old," he laughs. "I'm actually a fourth-generation Sackville Rotary Club member."
Robertson has worked to help out local schools and organizations in a number of ways as a member of Rotaract. He helped run the breakfast program at Sackville's Marshview Middle School and worked with school officials to establish a homework club at nearby Dorchester Consolidated School.
"Dorchester is where we've done the most work over the past year. Even though it's just a few minutes away, the distance can make a real difference in getting student volunteers," he says.
Along with his studies, Robertson has given his time and efforts to these Rotaract projects, co-ordinating programs, volunteers, and fund raisers. He is also involved in a number of other community groups, including the Tantramar Scout Troop, where he served as a leader for three years, and the Sackville Refugee Response Coalition.
Scout leader Alan Pooley has been involved with the organization in Sackville for over 40 years, first as a youth and then as a leader. He worked with Robertson for three years leading the Tantramar Scouts.
"Colin was always great to pitch in and help out, even with his hectic schedule as a student," says Pooley. "He's always friendly and in good spirits. I don't think I've ever seen him in a bad mood."
Pooley recalled one time where Robertson helped him out personally.
"I'm an electrician and one day I was driving in downtown Sackville when my trailer, with all my tools and gear, tipped over as I was making a left turn," explains Pooley. "Colin was there and came right over, helped collect my stuff, and gave me the Scouts handshake (using the left hand). He just considered it his good deed for the day but it was a huge help to me."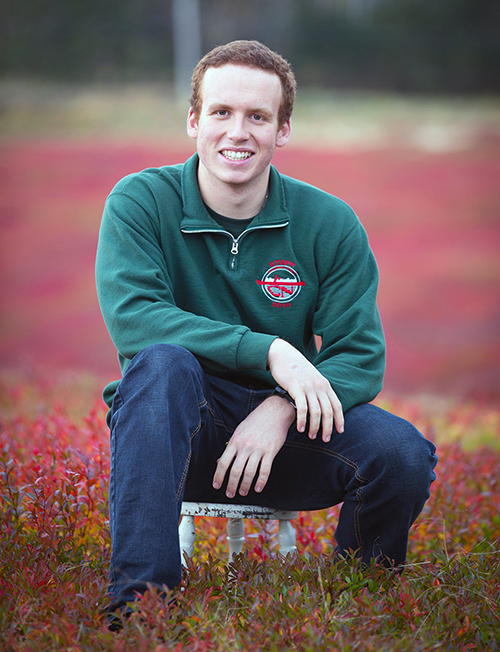 This community spirit is one Robertson has also taken outside of Mount Allison and Sackville as a long-time camper and now staff member with Camp Nominingue, a camp for boys in Quebec. Robertson has attended camp since he was 10 and has worked on staff for the past seven years. He'll be returning there this summer before heading to Oxford.
"Nominingue has been a huge part of my life, as a camper and staff member," he says. "It taught me a lot of about the importance of giving back. The level of reward you get from working with the kids is immeasurable."
Robertson says he is humbled by the news of the Rhodes Scholarship and thankful for the support he's received to achieve this accolade.
"You don't receive this kind of award on your own. I'd like to thank my parents as well as everyone I've worked with in the community and members of the History department who have been so supportive throughout my degree," he says.
---
Photo captions:
1) Colin Robertson, 2017
2) Then Mount Allison Rotaract president Colin Robertson presented a $500 cheque to Community Forest International founder Jeff Schnurr, 2016 (Sackville Rotary)
3) Colin Robertson proudly sporting Camp Nominingue gear (Photo by Meagan Lewis)