Moncton & Eastern Newfoundland
Under the leadership of young alumni, two Atlantic Canadian Alumni chapters are resurging after a number of quiet years
MONCTON ALUMNI CHAPTER
Led by Ryan Sargent ('12) and Justin Allain ('14), the Moncton Chapter's first official event in more than five years was held on Nov. 24 at The Old Triangle. Sargent believes the opening event was a great success with more than 20 attendees from a range of class years.
He would like to see this Chapter thrive once again.
"Whether it's been five years or 25 years since graduating, everyone has fond memories of their time at Mount Allison. The Greater Moncton area is close to campus and is home to many alumni. I felt that it was time to rejuvenate the Chapter, bring together people from every grad class, and share our Mount Allison memories," he says.
Sargent says the events give alumni the chance to reconnect with former classmates and network with new alumni in the community. He and Allain plan to host a variety of events in 2017, including pub nights, dinner parties, and athletics events.
Moncton Chapter alumni can join the Facebook group for event updates: https://www.facebook.com/MTAMoncton/
Mount Allison's Global Brigades Gala was to be held in Moncton on Feb. 9, but had to be cancelled due to bad weather conditions. Sean Connors ('81) and Monique (Mallais) Imbeault ('81) were the honorary co-chairs and David Myles ('03) was to be the guest speaker.
EASTERN NEWFOUNDLAND ALUMNI CHAPTER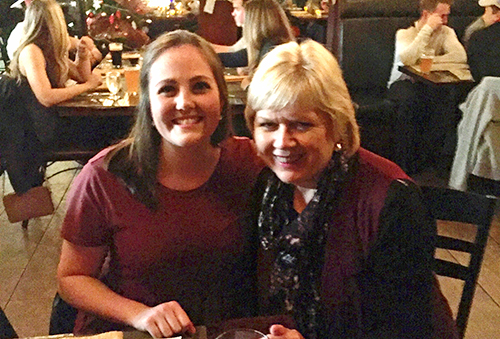 Currently pursuing her master's in environmental science at Memorial University, Jenna MacKinnon ('16) wanted to do her part to expand the Mount Allison alumni network.
"I received a lot of help and guidance from the Alumni Office for fund raisers and other projects throughout my undergraduate degree," says MacKinnon. "I learned more about the positive impact alumni could have on current students and in their own communities and I felt it was time to do my part."
A pub night was held in November at the YellowBelly Brewery & Public House in St. John's. Although attendance was low for the first event, the group was enthusiastic. MacKinnon says it has been a great way for her to meet new people in the area.
"I have started to become great friends with an alumna I met at our first gathering," she says. "Especially since I did not know many people in Newfoundland prior to coming, her kindness and warm gestures continually remind me of what I miss most about my classmates at Mount A."
MacKinnon hopes to mix up the style of events in 2017 to attract alumni from all ages and interests, including a weekend brunch and outdoor events in the summer. She encourages any alumni in the area with ideas for events to contact her at jenna-mackinnon@hotmail.com or join the Facebook group: https://www.facebook.com/mtanlalumni/
Photo caption: Jenna MacKinnon ('16) & Eleanor Swanson ('71)
---
Current active alumni in Moncton: 2,130
Current active alumni in Eastern Newfoundland: 255
For invitations to future events in Moncton or Eastern Newfoundland, please make sure your address and e-mail are up-to-date.