Two major Music milestones commemorated in 2016-17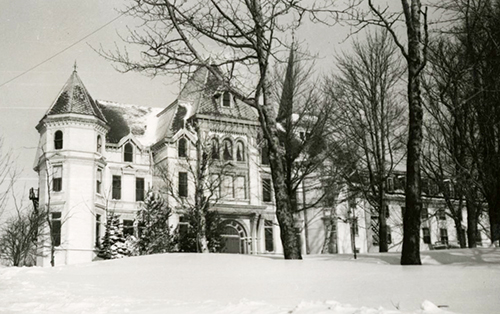 Music has been part of Mount Allison's academic offerings almost from the beginning. Introduced as part of the Ladies' College curriculum in 1854, it has been one of the defining aspects of the Mount Allison experience ever since.
"I think we have been lucky to have a strong program right from the beginning and a very strong faculty, which attracts strong students," says Dr. Stephen Runge, current department head in Music. "And the fact that it has been around so long contributes to its reputation. It is one of the constants in music education in the Maritimes."
Mount Allison is celebrating two significant Music milestones in 2016-17 — the 50th anniversary of the opening of the Marjorie Young Bell Conservatory of Music and the 100th anniversary of the first Bachelor of Music degree.
A special Music Reunion is being planned to coincide with Reunion Weekend, May 12-14, 2017.
"The two anniversaries gave us a good reason to invite people back to Mount Allison," Runge says. "For Bachelor of Music students in particular, the Music department and the Conservatory become their family for the four years they are here with us, so coming back and reliving some of their memories is important."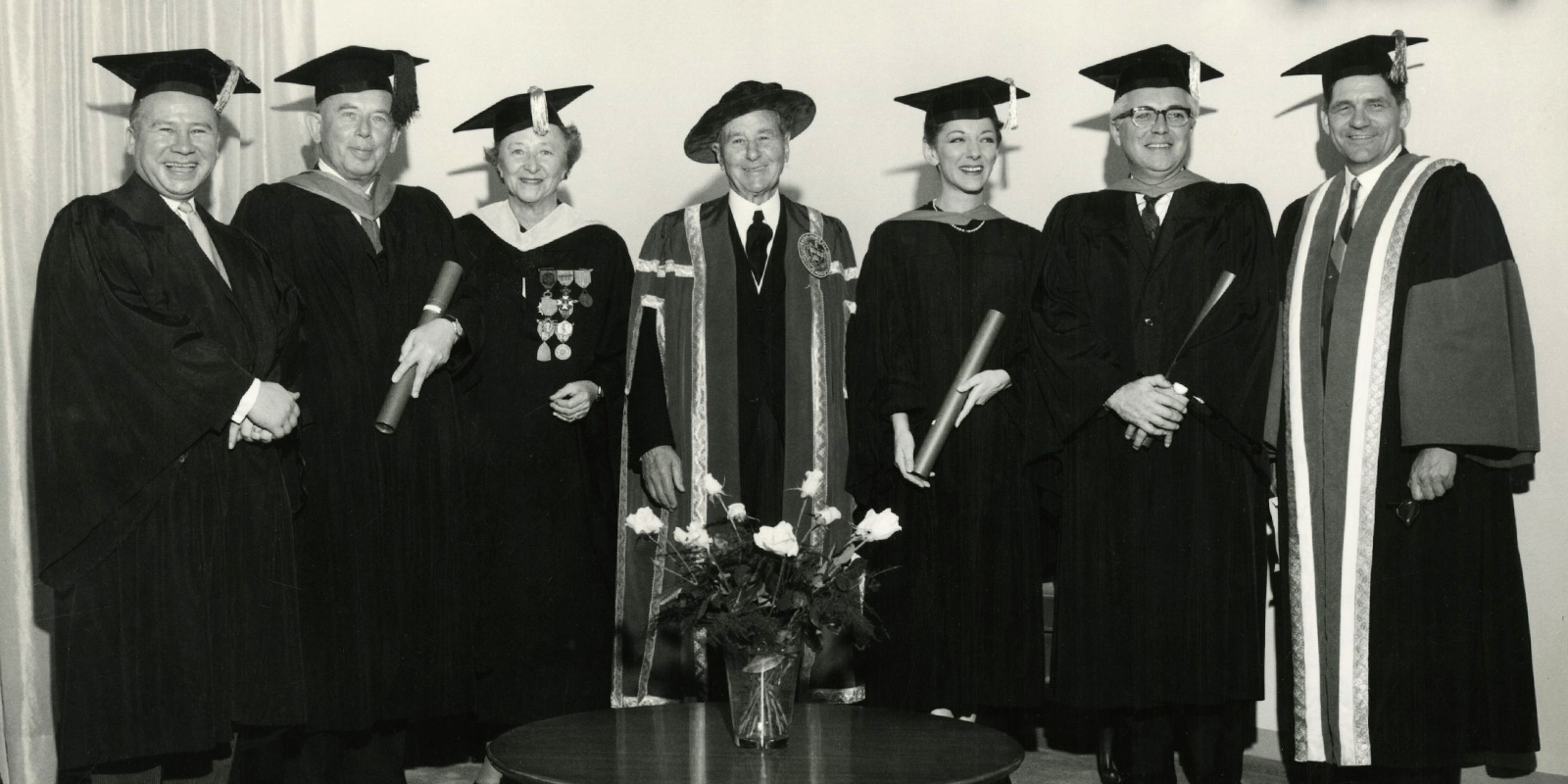 One of the highlights of the weekend will be the opportunity to participate in the Music Reunion 2017 Choir, which will perform at the Convocation Weekend Recital on May 14.
Although the number of students who graduate each year with a Bachelor of Music is small, the program's reach extends across campus.
"Our ensembles and many of our courses are open as electives to students in other programs as well," Runge says. "A lot of students, even if they are not Music students per se, have a strong interest in Music and are able to take a few Music classes, sing in the choir, or play in the band or orchestra. It becomes an important part of many people's lives and plays a role in fostering good memories and a good experience for students while they are here."
The Music Reunion is open to anyone who was part of Music in any way during their time at Mount Allison.
The Department of Music also celebrated both anniversaries in October with a weekend packed with events, including a panel discussion with alumni and a concert featuring music composed by alumni.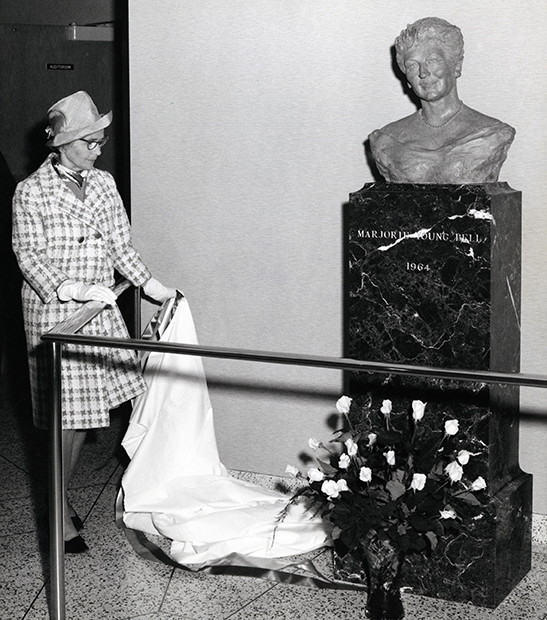 The October events coincided with the anniversary of the official opening of the Conservatory, which took place Oct. 3, 1966.
The Marjorie Young Bell Conservatory was built to replace the original Conservatory, which opened in 1891 and stood approximately where the R.P. Bell Library is now located. The construction of the original Conservatory was an indication of a turning point that had already begun in the Music program — a move to a more demanding curriculum and additional accreditation, such as the introduction of a diploma course in violin in 1887.
The official opening of the "new" Conservatory in 1966 included a special Convocation ceremony attended by Premier Louis J. Robichaud. Several honorary degrees were awarded, including one to Suzanne Silvercruys, who created the bust of Marjorie Young Bell located in the Conservatory's rotunda, and to Celia Franca, founder of The National Ballet of Canada.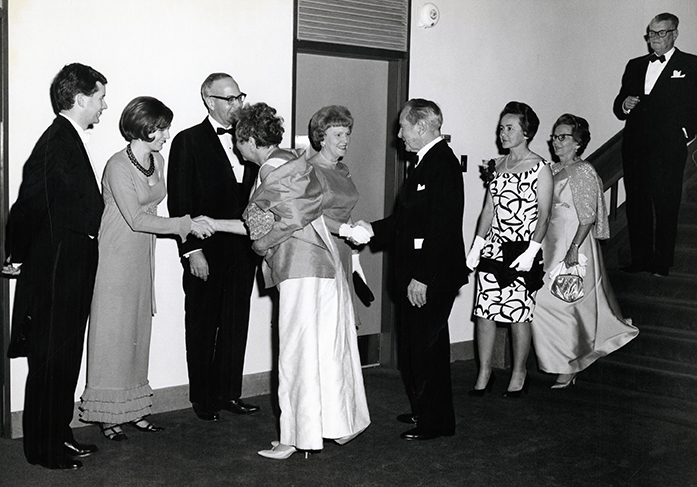 In addition, soprano Annon Lee Silver ('58) performed at a recital to mark the opening, accompanied by Ronald Lumsden on piano. As part of the 50th anniversary events this past fall, Music faculty presented some of the pieces performed by Silver and Lumsden at that 1966 recital. The event included a presentation on the history of Music at Mount Allison by Nancy Vogan ('67), research professor emerita, and David Mawhinney, university archivist. Vogan and Mawhinney will also deliver a presentation on the history of music at the Music Reunion in May.
The first Bachelor of Music recipient, Mary Elsinore Tait, was also honoured during the anniversary celebrations this past October. Vogan delivered a lecture on Tait's life and music and current Music students and faculty recreated Tait's 1917 recital, featuring pieces by Grieg, Chopin, Liszt, and Schubert, among others.
May 2017 will mark the 100th anniversary of Tait receiving the first Bachelor of Music degree. (See Allisonian Archives in this issue for more about Tait.) The addition of the Bachelor of Music degree — introduced in 1912 — put Mount Allison in rarefied company as one of only a handful of universities in the country to offer it as an option.
Runge says the October event was a wonderful opportunity for current students to experience the past history of the Music department.
"For the students who participated (in the recital), it was significant for them to realize that the music they were performing was heard on campus 100 years before as well," he says.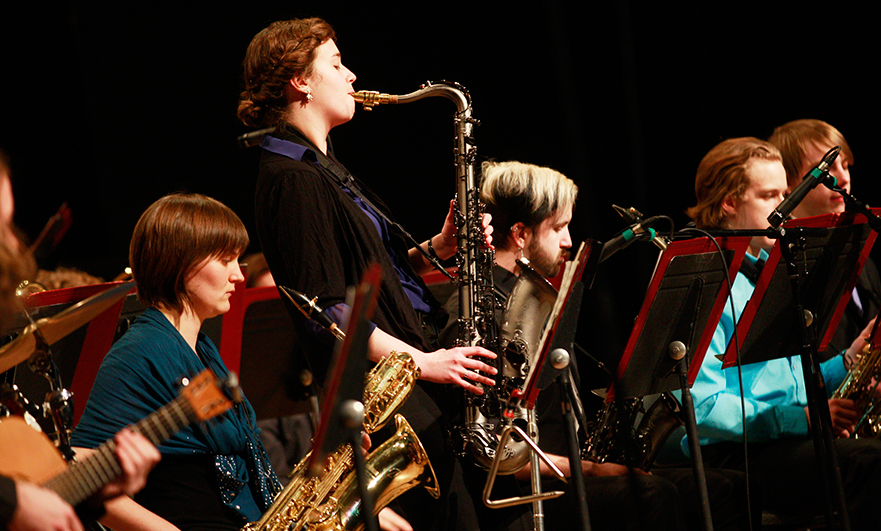 While some aspects of the current Music program would still be familiar to Tait and her contemporaries, others would not.
Runge says there has been a conscious effort over the past decade or so to expand beyond the classical music tradition, while maintaining it as the core of the program.
There are more opportunities to study and participate in jazz music, for example, and electives are offered on the topics of musical theatre and world music.
"We're enlarging our reach beyond what would have been the sole focus of the Music department 100 years ago," he says.
Runge also points out that Music is an ever-expanding field of study, with new music constantly being added to the repertoire.
"When Music began at Mount Allison, they would have been studying the music of their own time," he says. "We study all of that music and everything that has been written since then. In Science new discoveries often trump old — in Music we just keep adding."
Runge says the goal of the current program is for students to get a firm basis in music theory and history while providing opportunities to follow their own interests, giving them the flexibility to pursue a variety of careers once they leave Mount Allison.
And in another 100 years?
"I hope we are still a strong part of the Mount Allison experience," Runge says.
---
Photo captions
1. Marjorie Young Bell Music Conservatory, opened in 1966.
2. The original Music Conservatory, built in 1891.
3. A special Convocation was held to mark the opening of the Marjorie Young Bell Conservatory of Music on Oct. 3, 1966. From left, New Brunswick Premier Louis J. Robichaud, honorary degree recipients Arnold Maria Walter and Suzanne Silvercruys, Chancellor Ralph Pickard Bell, honorary degree recipients Celia Franca and Jean Boucher, and Mount Allison President Laurence Cragg.
4. Dorothy (Bell) Maclaren, stepdaughter of Marjorie Young Bell, unveils the bust of Marjorie Young Bell, created by Suzanne Silvercruys, in the rotunda of the new Music Conservatory during the official opening ceremonies on Oct. 3, 1966.
5. Left to right, Ronald Lumsden (accompanist), Annon Lee Silver (soloist), Howard Brown (director of the Conservatory of Music), Dr. Suzanne Silvercruys, Genevieve Forbes (dean of women), Chancellor Ralph Bell, Nancy "Billie" (Bell) Moncel, Dorothy (Bell) Maclaren, and James Maclaren at a reception in Jennings Hall after the opening concert in the Conservatory of Music on Oct. 3, 1966.