1960s-2010s Class Notes Winter 2017
Find out what your classmates are up to
1960s
The late DAVID READ ('63) was inducted into the Business Hall of Fame for Nova Scotia. David was raised in Sydney and moved to Halifax in his 30s.
On Dec. 9, 2016, retired provincial court judge CLYDE MACDONALD ('64) of New Glasgow, NS, launched his 13th book at the New Glasgow Library. Crimes, Trials, Duels, Accidents is about Pictou County and Nova Scotian history.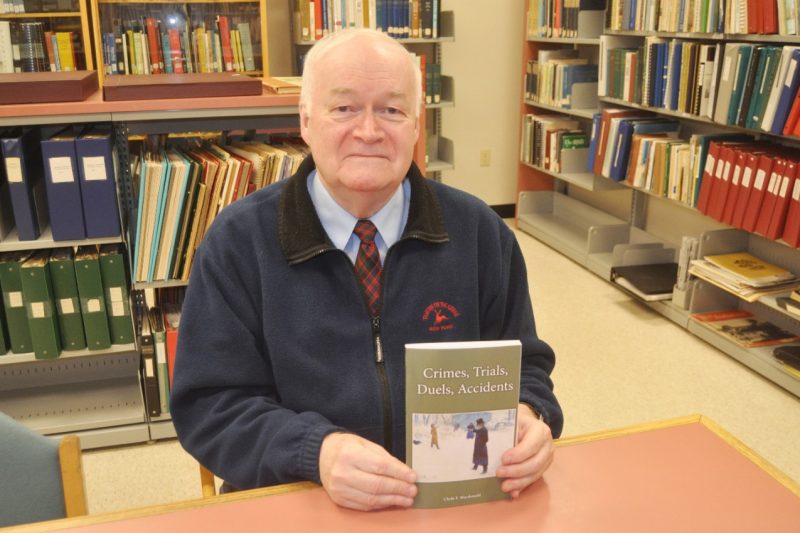 MURRAY DOEHLE ('68), a member of the Nova Scotia Utility and Review Board, was elected chair of the Canadian Association of Member of Utility Tribunals (CAMPUT) at the last AGM in Winnipeg.
---
1970s
SUZANNE ATKINSON ('72) has just released her fourth book titled Hexagon Dilemma: Regarding Hayworth Book II. You can reconnect with Suzanne and check out her website at http://lpsabooks.wixsite.com/lpsabooks. She and her husband, David Weintraub, continue to make Nova Scotia their home.
BRIAN HANNON ('74) has made what is hoped a final move to PEI for "semi-retirement" to enjoy golf and beach and work just enough to keep in beer money. He would welcome contact from all old friends and classmates.
A few members of the Class of 1975 gathered at Arthur Smith's new cottage near Tidnish Bridge, NS in August. (L-R): STEVE GRAHAM, NANCY (SWICK) GRAHAM, HELEN CAMERON, SHAUNA MACKENZIE, BILL DEGRACE, ART SMITH, and STEVE RIDLINGTON.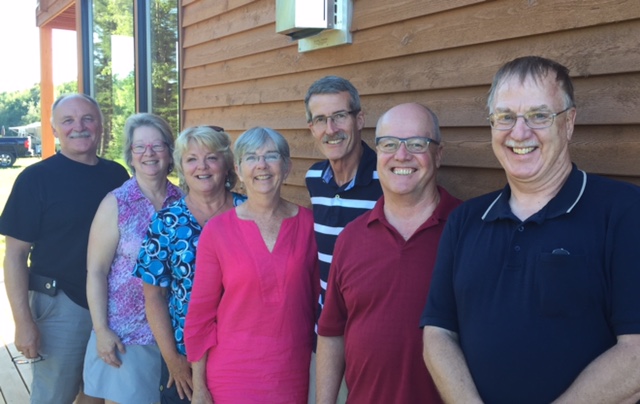 INA (HODGIN) FOURNIER ('79) has completed her career in education that encompassed her roles as teacher (special education and mainstream), consultant, VP, principal, superintendent of education for 19 schools (K-12), as well as university instructor. She enjoyed her roles on Board committees, the Teachers' Union, the Ontario Principals' Council, and OPSOA. While she greatly appreciated receiving an Award of Excellence and being given the privilege of opening a brand new school, she takes with her into retirement with her husband her fondest memories of students and staff whom she was able to support and inspire along their learning journey.
---
1980s
CYNTHIA (MCBEE) HERRON'S ('80) memoir, Paint By Number: An Artist's Search for Meaning, was self-published in September 2016. The story begins at Mount Allison in 1980, where she flunks printmaking, then follows her through Arizona, Alaska, Georgia, and New Mexico, arriving in Oregon in 2004. Along the way she questions the role of art, raises two boys, earns a master's degree, and finds her authentic voice on her own terms.
THOMAS MCCAULEY ('82) writes: On Sept. 13, the Mount Allison Bookstore announced on Facebook that they had a potential supplier to bring back what was, and still is, the original symbol of Mountie Pride — the all-leather, garnet-coloured Mount A jacket. Anyone who remembers having to hustle to the bank to withdraw money for the weekend, stubby beer bottles, or visiting the bookstore in the basement of The Stud, either owned, or can recall, the days when the campus was dotted with this iconic symbol. Snap buttons, the double stripe on the left sleeve and simply "Mount Allison" on the back identified the wearer as being associated with that tiny den of learning in Sackville. Now that our secret is out, it's time for the pride to be shown far and wide. Updated with a zipper closure and the University crest, here's your opportunity to replace your old faithful or own one for the first time. Orders can be placed through the Mount Allison Bookstore. For further details, contact Tracey Carroll at the Bookstore, tcarroll@mta.ca
---
1990s
GRAEME MACDONALD (BComm '94) recently toured China and Japan with his wife Angie and their four sons Jack, Iain, Reed, and Myles. Graeme resides with his family in Oakville, ON and is presently head of the retail business team at The Kraft Heinz Company in Toronto. Graeme is the son of retired judge and author CLYDE MACDONALD ('64) of New Glasgow, NS.
---
2000s
CHRISANNA DOBROWOLSKI'S ('04) wedding on July 2, 2016 to Toby Banks.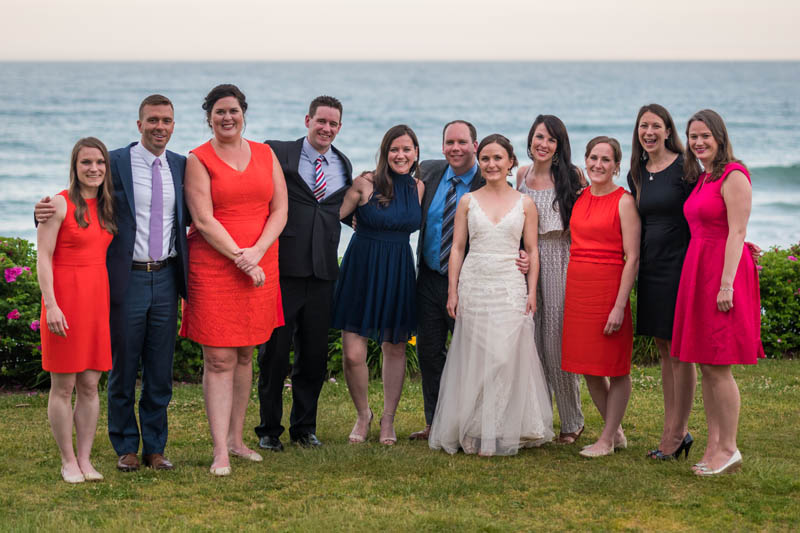 (L-R) Sarah Dobrowolski ('07), David Perry ('04), Melissa Milne ('04), Kevin Cusack ('04), Danielle (White) Menzies ('04), Riley Hennessey ('04), Chrisanna (Dobrowolski) Banks ('04), Shauna (Punch) Hachey ('04), Jennie (Dobrowolski) Connolly ('09), Lizzie (Dodds) Moore ('04), Kerry Creelman ('04). Missing: Shenna LaPointe ('04) and Steve Patterson ('04). Photo courtesy of Cooked Photography, Halifax, NS.