Volume One in a critical edition of the work of Alfred North Whitehead published
A series of historically valuable Harvard lectures may have been lost to time the moment they were erased from the blackboard, if not for the precise recording of Mount Allison's own Winthrop Pickard Bell (1904). Instead, notes from 85 of these lectures were meticulously documented and preserved. Discovered within Bell's papers donated to the University, these notes are now the primary source for the first volume of what will grow into a large, critical edition of the work of Alfred North Whitehead.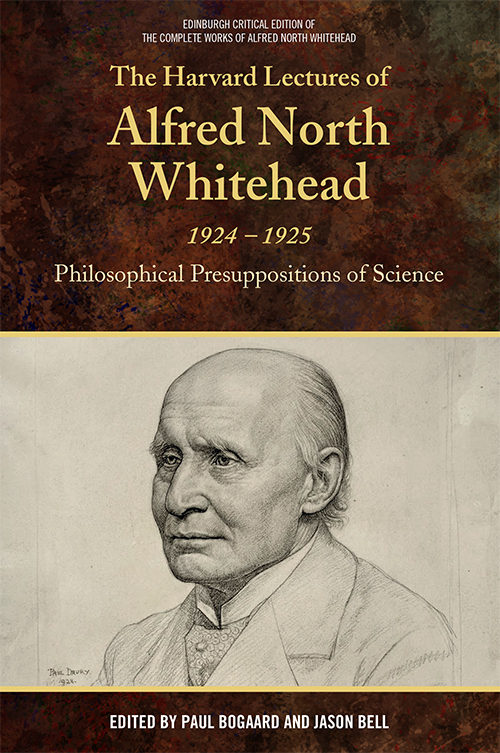 Published by Edinburgh University Press, the 570-page first volume is titled: The Harvard Lectures of Alfred North Whitehead, 1924-1925: Philosophical Presuppositions of Science (The Edinburgh Critical Edition of the Complete Works of Alfred North Whitehead) by Dr. Paul Bogaard, Mount Allison professor emeritus, philosophy, and Dr. Jason Bell, assistant professor in the Department of Philosophy at the University of New Brunswick.
It's a project five years in the making for Bogaard.
"And just when I thought I was winding my career down," Bogaard says with a chuckle.
University Archivist David Mawhinney first discovered the unknown lectures in the early 2000s while cataloguing all of Bell's papers and listing them online. While Bell's papers were originally given to Mount Allison in the 1960s when he passed away, the rare lecture notes took another 30 years to be uncovered. The reason is another fascinating twist to the tale.
"Mount Allison's own alumnus was a spy for the British government," Bogaard says. "When Bell left British Intelligence, he likely signed a nondisclosure agreement. Clearly, there was worry that some of these papers needed to be held back. They were finally released in the late 1990s."
Bell earned a BA in mathematics from Mount Allison in 1904. His studies took him to Harvard and then to Europe. He was at Göttingen University in Germany when World War I broke out, was placed under house arrest at the university and spent the war years in prison camps.
After the war he returned to Canada and in 1922 joined the faculty of Harvard in the Department of Philosophy. As was the custom at the time, he sat in on lectures of other faculty, including those of Alfred North Whitehead.
"After years of studying in Germany, Bell developed a style of taking notes that was quite unusual," says Bogaard. "He took notes so precise, they are like those of a court stenographer. He took down what was said word for word, including jokes and asides — even capturing incredibly detailed diagrams."
A contemporary of Albert Einstein's (they met to discuss physics and philosophy), Whitehead is widely known for his collaborative work with Bertrand Russell on the Principia Mathematica. Bell's meticulously detailed lecture notes and diagrams provide unique insight into the evolution of Whitehead's thought as he transitioned from a career in mathematical physics to philosophy.
The findings sparked excitement among Whitehead scholars, who happened to be building a case for such a critical edition to be published.
"They travelled to Mount A to see for themselves, and before I knew it, these lectures became Volume One of this new series," Bogaard says, noting that the project could eventually grow to 20 volumes or more.
The book can be purchased on amazon.ca
For more information on Winthrop Bell, visit "Winthrop Pickard Bell, Man of the Maritimes, Citizen of the World," a Mount Allison University Archives Virtual Exhibition at mta.ca/wpbell