2017 Alumni Award Winners
The Alumni Board recognized a few outstanding alumni for the valued contributions they make to their communities
CHARLES FREDERICK ALLISON AWARD
Gordon MacKay ('67) was awarded the Charles Frederick Allison Award, named in honour of the University's founder. The award recognizes outstanding contributions to Mount Allison by an Allisonian. MacKay graduated from Mount Allison University in 1967 with a Bachelor of Arts degree majoring in psychology. He went on to pursue his master's degree in speech pathology at the University of Florida, graduating in 1969. Following graduation, he returned to his home province of Prince Edward Island with his wife Sandra Johnston MacKay ('68). He was responsible for developing the speech pathology and audiology program for the province. MacKay also served his province as the director of aging and extended care, executive director of Addiction Services, CEO of Southern King's Health, and CEO of Queen's Region Health, retiring in 2000.
Throughout his 54 years of being an Allisonian, he stayed dedicated to Mount Allison. He served in several roles on many committees and boards, including the Alumni Board of Directors, the Board of Regents, the Marjorie Young Bell Fund Committee, and the Endowment Committee.
"Mount Allison built the foundation for my education and individual growth, as I was held up to the highest standards and encouraged to push myself. This is why we love to give back to the University, so that this tradition continues on in future generations," he says.
---
CONTEMPORARY ACHIEVEMENT AWARD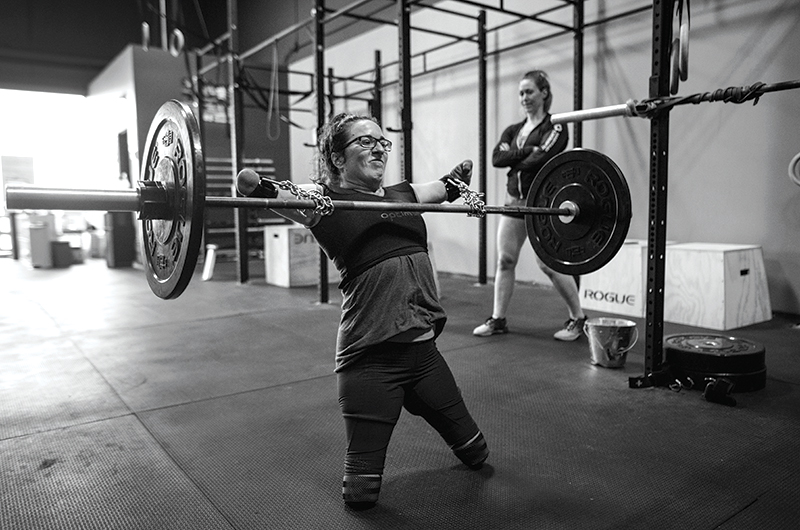 Lindsay Hilton ('07) of Halifax, NS, received the Contemporary Achievement Award, recognizing outstanding achievements early in her career. In the spring of 2016, a video of Hilton completing a workout at a Halifax CrossFit gym went viral. Born without arms or legs, Hilton's dedication to CrossFit as an adaptive athlete has inspired millions worldwide.
Hilton has always been an active lover of sports and fitness and during her time at Mount Allison enjoyed four seasons with the women's rugby team. Continuing on with rugby after Mount Allison in both coaching and athletic capacities with Halifax club, school, and provincial teams, Hilton was recognized for the commitment and energy she brought to the sport with the prestigious international Spirit of Rugby Award by World Rugby in 2012.
"By participating in sports I was able to develop instant friendships, support, and camaraderie all through my life," Hilton says, outlining the connections she made at Mount Allison and the bonds she fostered in the small school atmosphere as exactly what made her time in Sackville so special.
With CrossFit, Hilton says her goal has always been simply to inspire others to believe anything is possible. In an interview with the Washington Post, Hilton said: "I may not be able to do every movement, but my attitude is I'll just figure out a way to make it all work."
---
LIFETIME ACHIEVEMENT AWARD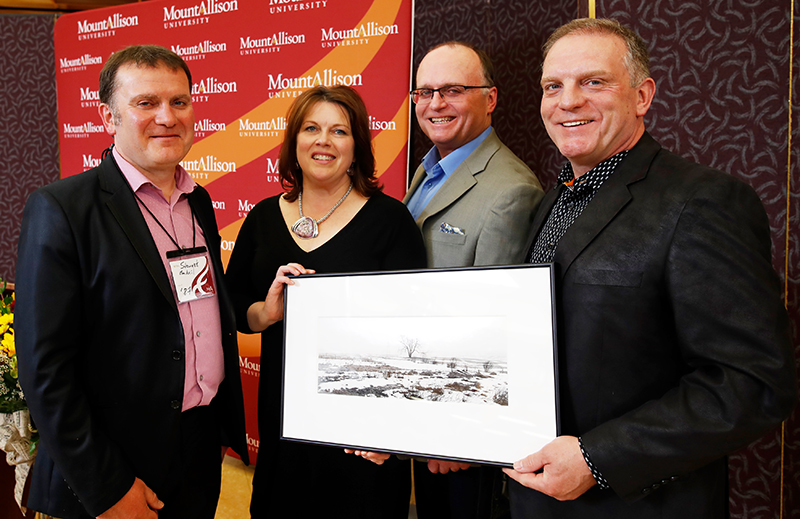 Sheumas MacNeil ('84), Kyle MacNeil ('85), Stewart MacNeil ('87), and Lucy MacNeil ('91) of Cape Breton group The Barra MacNeils received this year's Lifetime Achievement Award. Having all attended Mount Allison, the MacNeils have spent the past 30 years putting their passion for song into practice, creating a vibrant Celtic sound that embodies the spirit of the Maritimes.
After three decades of regional, national, and international success as a group, the MacNeils continue to value their grassroots family dynamic. As a group, the MacNeils have released 16 full-length albums, been nominated for 15 ECMAs and one JUNO Award, and won five ECMAs, including Album of the Year in 1992 and Group of the Year in 2001. Additionally, their 1993 album Closer to Paradise has been certified gold, having sold over 500,000 units worldwide.
Adored by audiences throughout Canada, the United States, Europe, and the Caribbean, The Barra MacNeils have had the pleasure of playing internationally both solo and alongside such greats as Rita MacNeil and six-time Grammy winners The Chieftains, in addition to opening for music icons Celine Dion and Kenny Rogers.