1950s-2010s Class Notes Summer 2017
Find out what your classmates are up to
1950s
BOB LATIMER ('52) writes, "Copies of the congregational history have been placed in the Archives of Maritime Conference and Mount Allison University."
GEORGE PARKER ('55) writes, "This photo was taken in Halifax in early January 2017 at a lunch attended by six of us from the Class of 1955. Anne and Gil Dodge visit their son and family in Halifax each Christmas season and we have a very pleasant get-together at that time."
From l-r: Gil Dodge ('55), Anne (Matheson) Dodge ('55), George Parker ('55), Carol (Gillis) Spicer ('55), Joan (Smith) Forshner ('55), and Bob Adams ('55).
---
1960s
SHIRLEY L. PEARMAN ('62) writes, "On Nov. 27, 2016, I successfully launched my book: Hands On! The Art of Traditional Crafts and Play in Bermuda. The publication has been well received, with our permanent secretary for cultural affairs referring to it as being amongst the most treasured works that the department has had the opportunity to be associated with! In October 2016, I was awarded the Lifetime Achievement Award for my contributions to arts education and community art involvement. After graduating in 1962 with a BFA, I returned to Bermuda to teach. I married in 1964 and later obtained my MA Ed from NYU. I retired in 1994 after 35 years in the classroom. Time has passed very quickly."
KATE BRAID'S ('67) 14th book was In Fine Form, 2nd Edition: A Contemporary Look at Canadian Poetry, co-edited with Sandy Shreve and published Fall 2016. Last fall she also received the Pandora's Award for Mentorship in the BC writing community. In March 2017, she was a guest reader at the Newfoundland March Hare Literary Festival.
---
1970s
ELIZABETH (PATERSON) JARVIS ('70) has published her first book Silver Thread and Pine Needles. This fictional love story was inspired by a real lost letter found in the attic of a house she was renovating. Copies may be purchased at Carrefour Atlantic and The Puffin Gallery in Historic Properties, Halifax, NS.
L. P. SUZANNE ATKINSON ('72) just released her fifth book, Segue House Connection: Regarding Hayworth Book III, the third in a four-book mystery series revolving around the residents of a small town in northern Alberta. You may reconnect with Suzanne via her website at lpsabooks.wixsite.com/lpsabooks. She and her husband, David Weintraub, live in Bedford, NS.
RICHARD WOOD ('73,'74) writes, "I retired from teaching 13 years ago. Now building street rod/custom car #30 in my shop. My creations are scattered all over North America and have been featured in magazines and on TV. I was inducted into the Motorsport Hall of Fame in 2015. I am very active with the Masons and Shriners of New Brunswick. In April 2016, I was presented with the inaugural Sovereign's Medal for Volunteerism by Gov. Gen. David Johnston in Ottawa. DEBBIE ('76) and I will celebrate our 40th wedding anniversary this October. We enjoy travelling, our cottage, and both our retirements! Looking forward to '73's 45th in 2018."
DAVID BOYD ('74) released the latest in his WWII-era series, The Reflecting Man. With three volumes now in publication, there are, Boyd says, "…only two remaining." The Reflecting Man series is available in the Apple iTunes store and on Amazon in trade paperback and Kindle, and digitally on Kobo. davidboyd.ca
---
1980s
CYNTHIA (WESTBAY) HERRON'S ('80) memoir, Paint By Number: An Artist's Search for Meaning, was self-published in September 2016. The story begins at Mount Allison in 1980, where she flunks printmaking, then follows her through Arizona, Alaska, Georgia, and New Mexico, arriving in Oregon in 2004. Along the way she questions the role of art, raises two boys, earns a master's degree, and finds her authentic voice on her own terms. Available through Amazon.
Teacher-scholar MICHAEL SHAW ('88), PhD, professor of chemistry in the Southern Illinois University Edwardsville College of Arts and Sciences, has achieved the rank of distinguished research professor for his outstanding and sustained contributions to electrochemistry.
---
1990s
On a recent trip to Japan in April, AARON HICKS ('94) and his wife Beth MacNeil spent time visiting with STEPHEN DALY ('94) and his wife Hiroko. "It was quite surreal meeting up with Steve half way around the world after more than 18 years since last seeing each other. Many good memories and laughs were shared."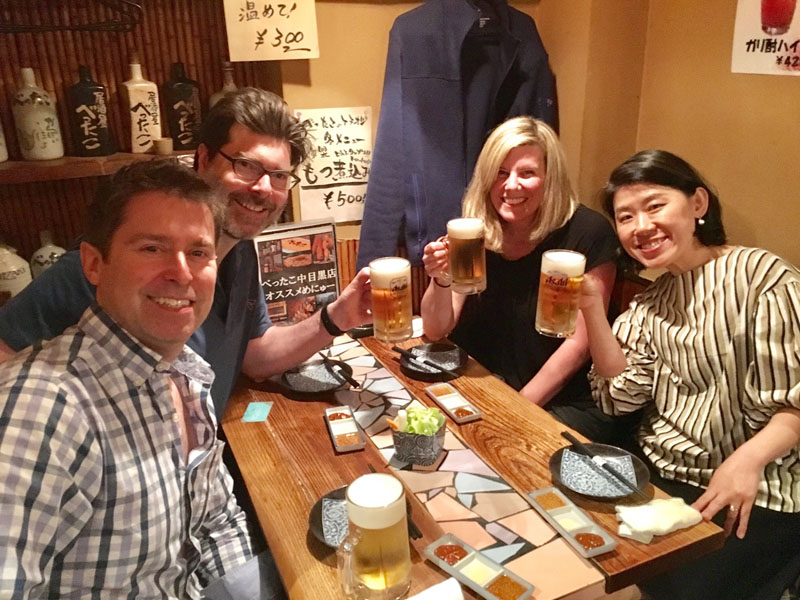 ---
2000s
MATT BRENNAN ('02) published a book: When Genres Collide: Down Beat, Rolling Stone, and the Struggle Between Jazz and Rock (Bloomsbury, 2017).
After much hard work and natural miracles, SEAN THIBAULT ('05) and his wife Julia, welcomed their first son, Jacob Elan, on April 2, 2017 in Los Angeles, CA.
FRANCES ROSS ('06) and SARAH ALDEN ('07) attended the wedding of ADITI DIWAN ('07) in Shivpuri, Madhya Pradesh, India in March 2016. Also in attendance was LOVETTE TANNOCK ('07). Frances travelled from the Yukon, Sarah from Finland, and Lovette from Bermuda for the weekend celebration.
From l-r: Sarah Alden; the bride, Aditi Diwan; and Frances Ross.