MtA's closest alumni chapter is active once again


Thanks to the help of two young alumni volunteers, one of Mount Allison's closest alumni chapters is active once again.
The Moncton and Area Chapter held its first alumni event in the city in 2016 following a five-year hiatus.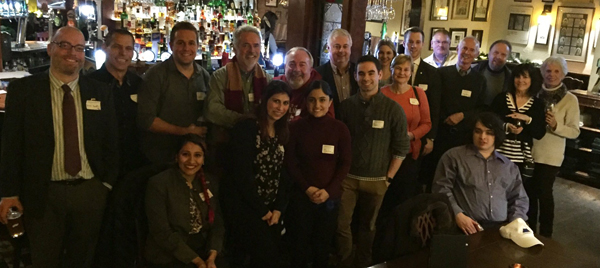 "Like many Allisonians, Mount Allison played a huge role in my life and continues to do so," says chapter volunteer Ryan Sargent ('12). "Moncton is so close to campus and has a large group of grads, but I think many people don't think about attending events, maybe because of this close proximity."
Sargent and fellow chapter volunteer Justin Allain ('14) have been working to change this. Working with the Alumni Engagement Office, the pair organized a pub night at Moncton's Old Triangle in late 2016. It was well attended, with grads from several decades represented. The chapter also organized a special event on campus as part of Homecoming celebrations this fall.
"It was so nice to see grads from different decades getting together," says Sargent. "We had a great time talking about campus, what's changed, what hasn't. We're hoping to plan similar events in the future."
"The Moncton and Area Chapter is one of our largest, per capita, with more than 2,100 grads," says Eric Donovan, Mount Allison's alumni relations officer in charge of events. "We're looking forward to having more events in the Moncton area and seeing local grads on campus for events here as well."
Originally from Bathurst, NB, Sargent says becoming involved as an alumni volunteer in his new community of Moncton has been helpful in many ways.
"Getting involved in your alumni chapter is a great way to connect with former classmates, but also gives alumni the benefit of networking in their community," he says. "Many young grads move to areas like Moncton to begin their careers. The alumni chapter can give you some great professional connections, along with your Mount Allison one."
Connect with the Mount Allison Alumni Moncton and Area Chapter on Facebook.
Interested in volunteering with your alma mater or starting an alumni chapter in your area? Contact Eric in the Alumni Engagement Office — alumni@mta.ca