1950s-2010s Class Notes Fall 2017
Find out what your classmates are up to
1950s
TOM FORRESTALL ('58) and ROGER SAVAGE ('63), pictured, at Parrsboro's Art Lab in early July. Tom and his son WILLIAM FORRESTALL ('82) led a painting workshop in egg tempera painting technique. In mid-June, Savage was the art judge for Creative Parrsboro's first annual Parrsboro International Plein Air Festival and taught the Art Lab's Plein Air Watercolour Workshop.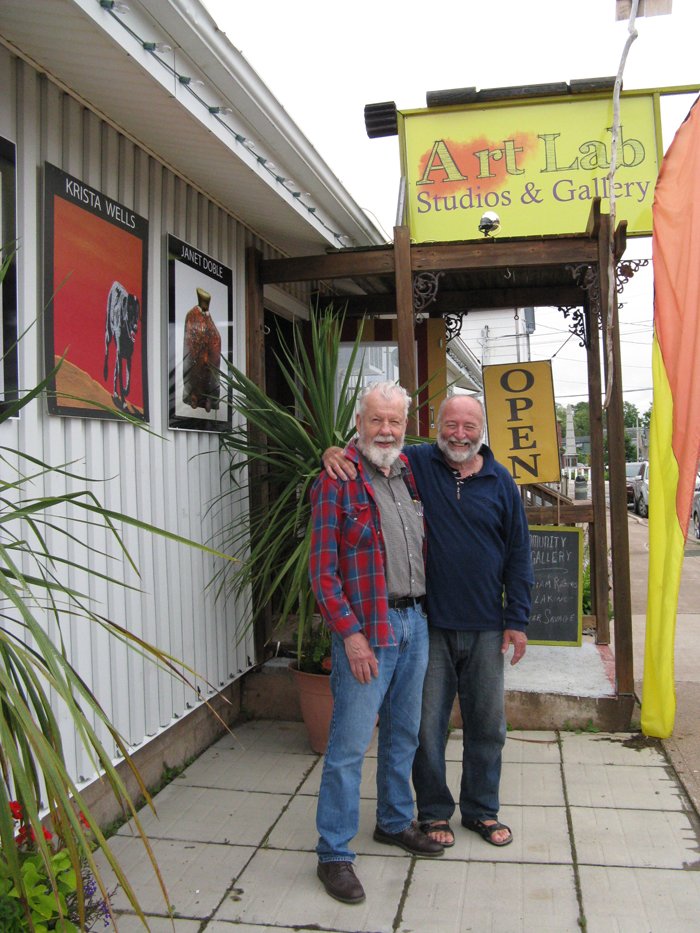 ---
1970s
JIM APPLETON ('75) was recently appointed to the Board of Governors of the Atlantic School of Theology (AST) in Halifax, NS, on behalf of the Diocese of Fredericton (Anglican Church). The appointment runs for three years.
RICHARD MUNGALL ('78), legal counsel with the federal Department of Justice, was recently presented with an award by the Deputy Attorney General of Canada in recognition of his many years of service in the field of emergency management law and major events. His son Luke is a member of the Class of 2020.
After 20 years, veteran broadcaster JOHN MOORE ('79) stepped down as the voice of the Halifax Mooseheads this year.
---
1980s
TRACY DUGGAN ('82), left, celebrated her retirement from teaching at Ashbury College for 25 years on June 17 with current math teacher ZACK MACAULAY ('08) and future Mountie EMMA ZUCKER ('21), who started her BSc this fall.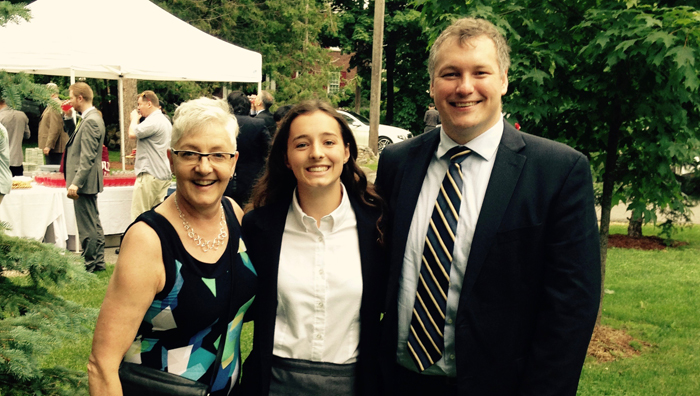 IAN HANOMANSING ('83, LLD '03)was named one of the new hosts of CBC's The National, which began on Nov. 6.
---
1990s
ANGELA RYAN BOURGEOIS ('93) has been appointed to the Social Security Tribunal as a full-time member of the employment insurance section for a term of two years.
---
2000s
CAROL L. LYNCH ('04) was awarded the 2017 IndieReader Discovery Award (IRDA) for humour for her first book, Chemistry.
SARAH JERVIS ('05) met Toni Ljungqvist on her year abroad in Strasbourg in 2003 and they got married on Nov. 4, 2016. On April 12, 2017, they welcomed their first child to the world, Maximilian Louie.
HENRY ADAM SVEC ('05) is pleased to report that he has co-created a digital game about the donair, entitled Donair Academy (donairacademy.org).
CARMEN MOREIRA ('08) received the 2017 BC Social Innovation Youth Award and Shaw's Canada 150 Award as a national leader contributing to youth for her work as the executive director of SQx Dance Company.