Zettel Magazine crosses disciplines and borders
Professional arts and culture magazine features student work alongside artists, writers, and thinkers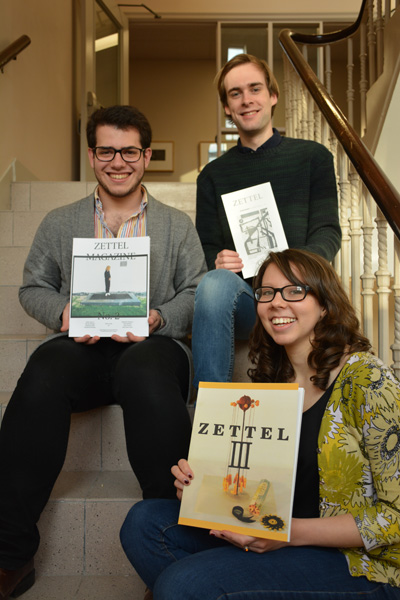 Five Mount Allison students are taking their University experience to a whole new level. Since 2013, the group has been producing Zettel, a professional arts and culture magazine that features student work alongside artists, writers, and thinkers from around the world.
"For me, Zettel started as something to do outside of my studies. It was all about creativity," says co-founder and honours philosophy and political science student Alexi Katsanis ('16). "We worked with Underbridge Press (Mount Allison's student run publishing organization) and have since grown to be international."
The first issue of Zettel was produced in 2013, with annual issues following. Recent graduates Jisun Kim ('15), Kristian Gilbert ('14), and current students Katsanis, Jesse Francis ('15), and Emma Bass ('15) make up the core team for the publication, writing and editing work and contributions, as well as overseeing the production process for the 82-page magazine.
The team is currently working on Issue Four, due out in April 2016.
Magazines are available for purchase online (zettel.ca) or at Sackville's Tidewater Books, the Inverness County Centre for the Arts in Inverness, NS, Trident Booksellers and Café Ltd in Halifax, NS, Cheap Thrills in Montreal, and Spoonbill and Sugartown Booksellers in New York City.
Photo caption: Three of Zettel magazine's founders Alexi Katsanis, Jesse Francis, and Emma Bass.