New installation commemorates the Memorial Library and University Centre
The next time you return to campus, please make sure to visit our newest installation, which commemorates the Memorial Library and University Centre. In 2010, when plans were being made to build the new Purdy Crawford Centre for the Arts, the University proposed to remember the building. Although we did not know what this would look like, at the time, we did know that we wanted it to be something that was symbolic and easily visible on campus.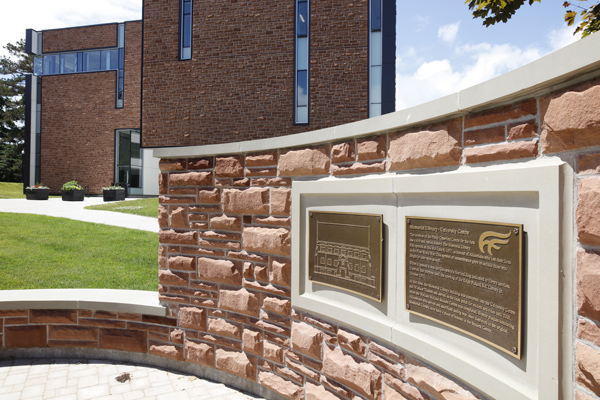 This past fall construction began on the structure, designed not only to remember the former building, but also serve as a focal point and an outdoor gathering spot on campus. Located next to the new arts centre, near the heart of campus, this installation is a circular structure that encourages individuals and groups to gather. It is constructed with the iconic Mount Allison rose sandstone and will have two plaques. One plaque has the architectural sketch of the original building by architect Andrew Randall Cobb. The second bears the following inscription:
"The location of the Purdy Crawford Centre for the Arts has a rich and varied history. The Memorial Library first opened on this site June 8, 1927, in honour of Allisonians who lost their lives in the First World War. This symbol of remembrance grew to include those who fought in later years as well.
"When it opened it was the University's first building dedicated to library services. It served that purpose until the opening of the Ralph Pickard Bell Library in October 1970.
"At that time, the Memorial Library building was converted into the University Centre and Windsor Theatre and served as the focal point for student activities until 2008, when the Wallace McCain Student Centre was completed. Bronze plaques honouring Allisonians who served and sacrificed during war, once displayed in the original Memorial Library, now have a place of honour in the Student Centre."
We know that for many Allisonians, this was an important building. We hope this commemoration will help preserve the memories that so many of us have of this building and its role on campus.
Carolle de Ste-Croix ('90)
Director of Alumni Relations