Annual Summit examined role of social media in mobilizing revoluntionary ideas
This year, the Mansbridge Summit hosted guest experts on the theme Social Media: Mobilizing Revolutionary Ideas.
Dr. Molly Shoichet and Mike MacMillan visited from the company Research2Reality to share about using social media as a platform to showcase cutting edge Canadian scientists. Steve Ladurantaye and Mike Chan represented Twitter and Facebook, respectively, to offer a perspective on the roles of these platforms as moderators. Dr. Rhonda McEwen, a professor from the University of Toronto's iSchool, provided a more critical analysis of some of the common practices of social media.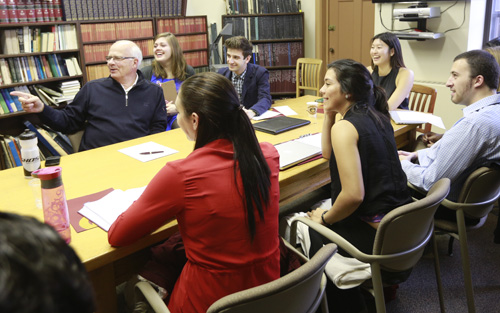 "The Summit exceeded expectations this year. The theme reflected a subject area that engaged students from all disciplines," says this year's Mansbridge Summit intern Willa McCaffrey-Noviss ('17). "Being conscious about the ways in which we use and represent ourselves on social media is increasingly important as we are the first generation to see the repercussions of carelessness online."
Students spent two days with the panelists, discussing the theme and formulating questions for the final panel event. The panel discussion was moderated by drama major, Xavier Gould ('16).
Generously funded by the John E. Irving family, the annual Mansbridge Summit brings the Chancellor to campus for a day of academic discussion, debate, and learning around a central theme.