1930s-2010s Class Notes Winter 2016
Find out what your old classmates are up to
1930s
FRANCES TITUS (nee ETTER) ('37) celebrated her 100th birthday on Dec. 19, 2015. A native of Sackville, she met her husband, ROBIE TITUS ('38) at MtA. They have one son, Allan, who lives in Toronto with his wife, Ellen. Fran lives in a retirement home not far from them. Robie died in 2003 and Fran continued to live on her own for five years, shopping for food bargains herself and carefully preparing meals for herself. Although she is partially blind now and in a wheelchair she still enjoys a good game of cribbage. She also enjoys visits from her grandchildren, Alyssa and David. Her greatest delight is her first great-grandchild, Sarah, pictured with Fran, who arrived recently.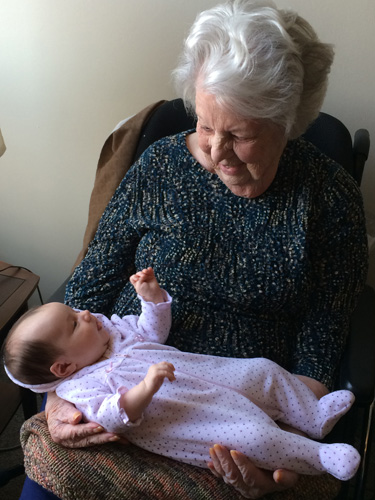 ---
1940s
MARIE BISHOP-LEBLANC ('48) and her husband have both moved into a senior's home. She is now 88 years old, retired after 35 years of teaching, and still holding Mount Allison University close to her heart.
---
1960s
PAT BARRY ('60) writes: Wanted to Buy: A ladies Mount Allison dress blazer in the Mount A colors in size 10 or 12 (new or used). E-mail Pat at patbarry@nbnet.nb.
IAN CAMERON ('64) was recently named one of the Top 20 Pioneers of Family Medicine Research in Canada by the College of Family Physicians of Canada. Cameron was recognized for his recounting of history to influence present day practice ("storytelling" and "oral influence" in medicine).
GARY SAUNDERS' ('65) newest book My Life with Trees was published by Gaspereau Press this fall.
As a retirement project after 35 years of teaching, IAN A. ANDREWS ('67 '68) returned to school and received a PhD in Canadian history in 2013 from the University of New Brunswick. He had previously received a MEd (1973, curriculum and instruction) and a MA (1987, military history/conflict studies) from UNB, after graduating from Mount Allison. He is looking forward to attending the 50th reunion of his graduating class in 2017.
MARTHA BROWN, ('69), of Lochaber, Antigonish Co., NS has received the Woodland Owner of the Year award for 2015 for the Eastern Region of the Province as well as being the provincial winner for the whole province. She was honoured at a Public Woodland Owner of the Year Field Day in October.
---
1970s
STEPHEN FORBES ('71) is now retired.
MONICA BARRETT JOHNSON ('73) writes, "My husband, Larry Hill Johnson, passed away on Feb. 1, 2015 from cancer. After his diagnosis, he was only given three to four months to live, which he spent with me, his wife of ten-and-a-half years. I am fortunate to have his legacy left behind in the two daughters, eight grandchildren, and one great-grandchild that remain close to me."
NATALIE ALLEN ('76) is a professor of psychology at Western University.
ELAINE (DOGHERTY) DAVIDSON ('78) writes, "Swimming for Mount A was a highlight of my university days and a legacy that has stood the test of time. I, along with five team mates (four pictured) are tackling the English Channel as a relay team in July of 2016. The team has been training hard and bracing for cold water, jellyfish, tides and currents in the busiest shipping lane in the world as they attempt to swim from Dover to Cap Gris Nez.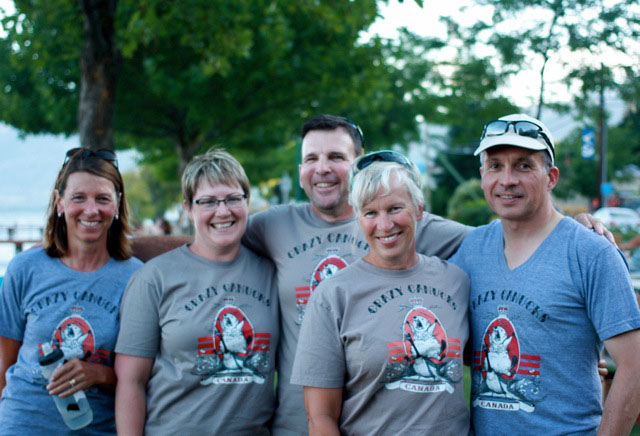 L-R: Charlie Llewellyn, Jaime Williams, Al Davidson, Elaine (Dogherty) Davidson ('78), and John Ostrom. Not pictured is Janet Robertson.
MARGARET (BARNES) ALLMAN ('79) is working in the transplant department with London Health Sciences Centre, University Hospital. She is fortunate enough to have grandchildren.
---
1980s
CAROL CHAPMAN ('81) writes, "A mini Mount Allison reunion happened completely by chance in China on a Yangtze River cruise in November 2015. The stars aligned and Allisonians met. It was such a treat and so many things in common so far from our alma mater!" From left-right: ALLAN MACLELLAN ('76); LEE (WALKER) TAGGART ('68); CAROL (WILBUR) CHAPMAN ('81); and STEVE CHAPMAN ('82).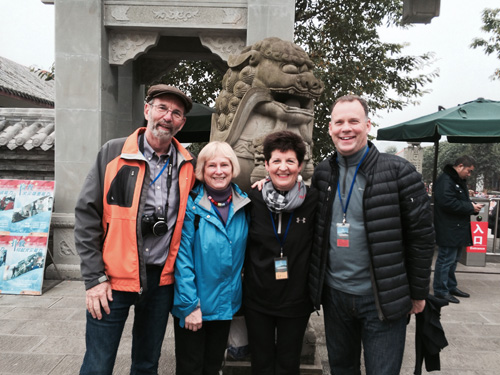 STEPHEN MCCALLUM (BComm'80) completed his MBA from Aspen University, Colorado in May 2015.
PHILLIP FINE ('81) and his wife, Ruth Esther Fine, have made Aliyah: Hebrew for immigrating to Israel. They've settled in the city of Nahariya, north of Haifa on the Mediterranean Sea.
PAMELA GOULDING ('82) has been appointed the province's first female chief judge with the Provincial Court of Newfoundland and Labrador.
MARY INGRAHAM ('83), professor of musicology at the University of Alberta, was recently appointed director of FolkwaysAlive!, UofA's partnership with Smithsonian Folkways Records. FolkwaysAlive! is a research centre dedicated to the preservation and investigation of world-wide cultures of sound in visual, aural and material practices and to increasing cross-cultural understanding through the creation, preservation, and dissemination of knowledge about diverse cultural heritages and sonic environments.
KAREN CUNNINGHAM ('86) was appointed as the University of New Brunswick's vice-president (administration and finance) in August 2015.
This MtA gang gathered in Hubbards, NS in August 2015, celebrating over 30 years of friendship! Back row (l-r): LAURA QUARTERMAIN ('85), KATHY ANDERSON ('85), JANICE BROWN ('85), JANE (CORKUM) YOUNG ('84), MARSHA (SIMMONS) WILSON ('85), LAURA MACNUTT ('85). Front row (l-r): KIM (MATHESON) MACKENZIE ('85), LESLEY ROGERS ('85), VICKY LAKE ('86), JUDE ROBERTSON ('85), KATE (HOUSTON) BROOKS ('85), MARVA SWEENEY-NIXON ('85). Photo submitted by Jude Robertson.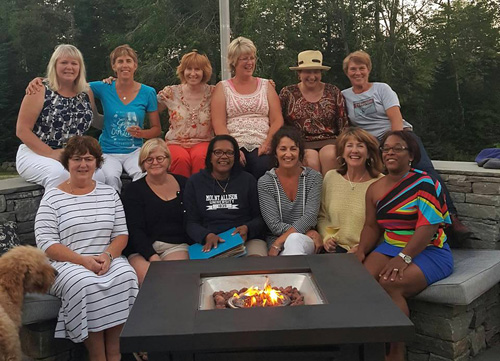 Pictured here are three Mount A alumnae who are all currently working at Ridley College in St. Catharines, ON. From left to right: KATHY ANDERSON ('86), teacher in the science department and dean of teaching and learning; SUE HAZELL ('77), director of development; and SARAH THOMPSON ('92), teacher in the science department and head of Mandeville House.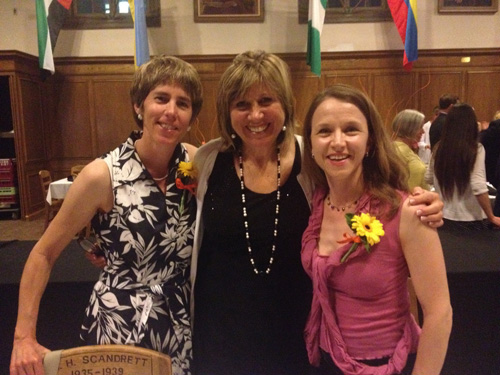 ---
1990s
MELISSA CORKUM ('94) was recently awarded a Paul Harris Fellow certificate and pin from Rotary International for her 13 years dedication to the eradication of polio. Corkum works with UNICEF and has been heading the polio vaccination campaigns in Pakistan and Nigeria.
MATT PHILLIPS ('96), founder of the award-winning Phillips Brewery in Victoria, BC, is now malting his own barley, a process in which grain germinates in water and is then dried, producing enzymes needed for brewing and distilling. He's the only beer producer in the region malting barley from local farmers.
ELLEN CLARE DAVIDSON ('96) married her high school sweetheart on Oct. 3, 2015.
BRAD PROCTOR ('97), GAVIN MACDONALD ('98), and BRAD ROSS ('00) were all recently named to the 2015 Lexpert Rising Stars: Leading Lawyers Under 40 list. Both Proctor and MacDonald practise in Halifax at McInnes Cooper and Cox and Palmer respectively, while Ross is in Toronto with Goodmans LLP.
---
2000s
Friends MARIE REINSBOROUGH-WADDEN ('01) and LAURA DILLMAN RIPLEY'S (Mount Allison staff) group of neighbourhood trick-or-treaters had an Allisonian connection this year. Laura's daughter Carmen, end right, dressed up as Princess Pinecone, inspired by KATE BEATON'S ('05) children's book, The Princess and the Pony. Also pictured (l-r) are: Claire dressed as YouTube star Miranda Sings; Vincent as a monkey; Liam as Clark Kent/Superman; and Callum as a ninja.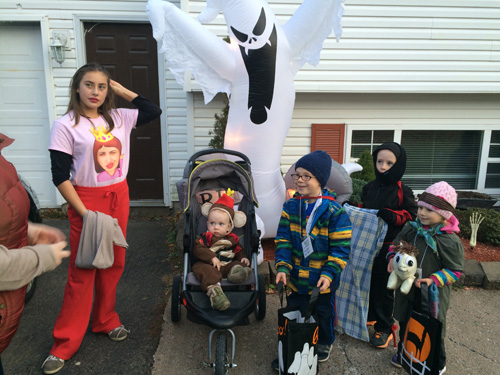 ELEANOR BELSHAW-HAUFF ('04) and LIAM COONEY ('02) met while hanging lights at Windsor Theatre back in 2000. It took 13 years of friendship for love to grow. Liam and Eleanor were married on Oct. 11, 2015 in Toronto with a large number of Mount A friends from across the country in attendance: Front row: HEULWEN RANKIN ('03), Rowan Hatfield Rankin, JESS GREEN ('04), BRIGID WILKINSON ('05), ERIN "DARK" LAURISTON ('04). Back row: ERIN "RED" JAMIESON ('04), MAX MCQUINN ('04), THOM BRYCE MCQUINN ('04), JULIE FACCHIN ('04), Eleanor and Liam, MATTHEW TRAFFORD ('02), DEVIN UPHAM ('01), and LISA PATRICK ('04).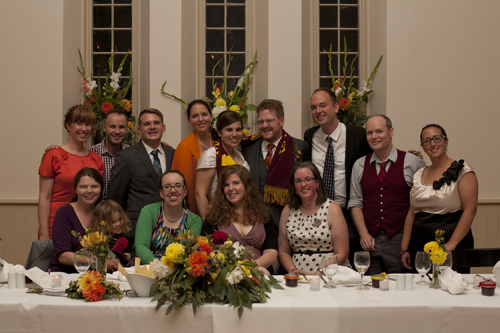 SHAUNA POLLOCK ('04) has just published her first book — Creating Classroom Magic: Using Lessons from the Life of Walt Disney to Create an Experimental Prototype Classroom of Tomorrow. Shauna has spent the past ten years teaching, and won the Prime Minister's Award for Teaching Excellence. In 2015, a publisher contacted her to write a book about Walt Disney and teaching. After researching, spending time with Disney legends, and telling stories of Disney's life and her own teaching career, Shauna's book was published.
ZACHARY VANTHOUROUT ('05), who teaches at Moncton High School in Moncton, NB, has received The Royal Canadian Geographical Society's (RCGS) 2015 Geographic Literacy Award. The award is given for efforts to advance geography education in Canada. Vanthourout, a veteran of the Afghanistan war and recipient of the Medal for Bravery, now devotes his energy, creativity, and enthusiasm to advocating for geographic education.
ELSPETH LEMON ('06) married Kameron LeBel on Aug. 29, 2015 surrounded by close friends and family in Fredericton, NB. Elspeth received her CGA in 2011 and CPA in 2014 and is a financial analyst with the Government of New Brunswick.
ELIZABETH CAVALIERE ('07), currently a doctoral student in art history at Concordia University, was awarded a Michel de la Chenelière Prize by the Montreal Museum of Fine Arts on Sept. 10 for her doctoral dissertation Surveying the Landscape: Cultural Imprints in Nineteenth-Century Canadian Topographical Photography.
ERYN CREAMER ('07) and ERIC MATHESON ('07) welcomed a baby boy, Camden James Matheson on Feb. 18, 2015.
ALLAN BEAN ('07) was married in September 2015.