1950s - 2010s Class Notes Fall 2015
Find out what your old classmates are up to
1950s
HARRY CURRIE ('53) is busy as ever as an author and composer. His second novel Portal to the Past is being published this year. Harry also conducted at a Windjammers concert in June, and celebrated his 36th year conducting music for the University of Waterloo's ten convocation ceremonies.
---
1960s
RON MURDOCK'S ('62) new book Born to Sing was published in June 2015. The book is illustrated with 49 hand drawn anatomical drawings (Korina Kaisershot) and comes complete with DVD containing an interview with Ron.
EARLE LOCKERBY ('62) and DOUGLAS SOBEY ('69) launched a co-authored book at Holland College, Charlottetown, on July 6, 2015. The title is Samuel Holland: His Work and Legacy on Prince Edward Island. Holland surveyed and mapped much of the northeastern part of North America in the 1760s and 1770s. Nowhere has the imprint of his work been greater than on Prince Edward Island. In their book Lockerby and Sobey provide new insights into the long-lasting and far reaching effects of Holland's work on the Island and into Holland himself. The book may be ordered at https://store.upei.ca/isp
---
1970s
Textile artist LAURIE SWIM ('71) is celebrating the 10th anniversary of her art gallery in Lunenburg, NS. Her solo show, Transitions ran in June and July and featured her latest work Time Goes By, a 7'4" x 11'6" tapestry-like quilted mural created for a private client over the past ten months. (Photo credit Larry Goldstein).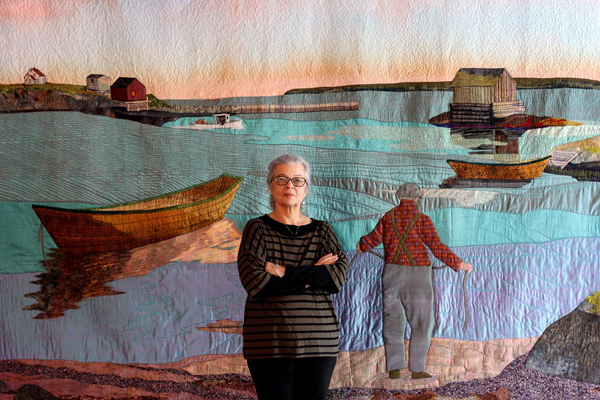 SUZANNE ATKINSON ('72) has just released her third book and second novel, Station Secrets: Regarding Hayworth Book I. It is the first in a four-part series of psychological suspense novels set in the fictitious northern small Alberta town of Hayworth. Suzanne and her husband David Weintraub continue to make Nova Scotia their home. You can connect with Suzanne via her website: http://lpsabooks.wix.com/lpsabooks#
---
1980s
MARIANNE CARLYLE ('85) is one of five people inducted into the Brockville Sports Hall of Fame.
TRISH FRY ('86), manager of the Historic Gardens in Annapolis Royal, NS, was honoured this year through the Gardens being named Canadian Garden of the Year.
---
1990s
DR. PATRICK LO ('92) is currently serving as associate professor in the Faculty of Library, Information & Media Science, University of Tsukuba (Japan). Patrick just published his first book with the City University of Hong Kong Press, entitled Preserving Local Documentary Heritage—Conversations with Special Library Managers and Archivists in Hong Kong. It was showcased at the Hong Kong Book Fair in July 2015.
NICHOLAS OLDLAND ('94) recently published his latest children's book Big Bear Hug.
---
2000s
Mount Allison's Department of Geography and Environment, in partnership with EOS Eco-Energy, headed by AMANDA MARLIN ('01), and the municipalities of Port Elgin, Sackville, Dorchester, and Memramcook, received an award from the Gulf of Maine Council on the Marine Environment on June 17, 2015. The award was in recognition of the ongoing community climate-change adaptation work that has been going on in the region over the past five years.
DUNCAN HARVIE ('01) is pleased to announce his call to the Nova Scotia bar on June 5, 2015. He began his corporate practice with McInnes Cooper in their Halifax office in July.
KIMBERLEY HINDY ('03) and CHRISTOPHER GOODWIN ('04) would like to announce the arrival of Nigel Lewis Wycliffe Goodwin, born July 3, 2015 in Toronto. Mother and baby are both doing very well.
HENRY ADAM SVEC ('05) completed his doctorate in media studies at the University of Western Ontario (2013). He began work this fall as an assistant professor of communication studies at Millsaps College in Jackson, Mississippi.
ELIZABETH ADLAM'S ('07) MFA Graduate Exhibition in Painting was held at FAB Gallery, University of Alberta this fall.
Two Mount Allison soccer alumni met up in the Athletes Village at the Pan Am Games in Toronto: Pictured left is JULES ALIE ('07), team leader men's soccer, and right, COLIN WHITMEE ('07), manager of sports services, Canadian Olympic Committee.