Departed Allisonians Winter 2022
Compiled from information sent to University Advancement Sept. 16, 2021 to Jan. 15, 2022.
Please feel welcome to submit memories of departed Allisonians you have known and loved.
Jean (Sutherland) Saunders — 1944
Gordon C. Mouland — 1946 (former Regent)
Mary E. Donnachie — 1948
Robert W. Read — 1948
Dr. Howard M. Harris — 1949
George (Graham) Muttart — 1950
Winifred (McLay) Heys — 1952
Eleanor G. (MacNair) Brown — 1953
Mary Lou (Swim) Nicholson — 1953
Dr. Robert Murray Mundle — 1953
Paul Douglas Haley — 1953, 1955
Graham N. Langley — 1955
Leslie E. Parrott — 1955
Raymond M. Sutherland — 1955
Violet P. Bailly — 1956
William Kenneth MacLeod — 1956 (former Regent)
Dr. Allison H. Gray — 1957
Dr. George A. Cooke — 1957
Jessie L. (Cameron) MacDonald — 1957
Layton S. Fisher — 1957
Dr. George E. Carter — 1959
Clyne L. Boodoosingh — 1960
Lorne H. Chapman — 1960
Peter G. Jollymore — 1960 (former Regent)
Robin C. Nasmith — 1960
Ronald V. Colpitts — 1960
Wendy F. (Tidmarsh) Betts — 1961
Phyllis Catherine (Pace) Chapman — 1962
Suzanne J. (Seely) Meier — 1962
Gary L. Bickerton — 1967
Michael E. Fox — 1969
Charles L. Haskell — 1975
Michael Vaughan Dickinson — 1978
Dyana (Werden) Asimakos — 1981
Elizabeth A. (Chisholm) Hale — 1981
Sarah M. Allen — 2003
Preston Andrew Allen — 2010
Former staff
Florence E. (Sullivan) (Atkinson) Hicks
Former faculty
Dr. Guy R. MacLean (President Emeriti)
Dr. Peter Penner
Dr. Martin Duckworth
Friend
Beverly Adele Hennigar
Norman Webster
---
DR. ROBERT MURRAY MUNDLE ('53)
Submitted by Mabel Mundle Bannerman ('54)
Dr. Murray Mundle passed away in October 2021, after a long and interesting life.
He was a graduate of Mount Allison and subsequently studied at Oxford University as a Rhodes Scholar in 1954, and then at McGill University, attaining an MDCM degree in 1959. 
After serving in the Royal Canadian Navy for several years, he received his FRCS in urology and began a practice in Charlottetown in 1968. At that time, he was the only urologist on PEI. 
He retired in 2001 but maintained his association with the Queen Elizabeth Hospital and continued his many hobbies until the last few months of his life. Although not born on PEI, he became a true-blue Islander. He is greatly missed by his family, his colleagues, and many friends.
---
PAUL DOUGLAS HALEY — BA ('53), BEd ('55)
Submitted by his daughter, Pamela Haley
Doug arrived on scholarship at Mount Allison in 1950. When asked whether he wished to take Arts or Science, he replied, "Hell, man, I can't draw." It was this quick wit, personable nature, and ability to play bridge that won him many life-long friends.
He actively participated in university life. In a packed lecture hall, Doug made the winning argument for the 'no' side for the University's Debating Society, against the school's "Theologs", on the question of whether Sackville should remain "dry." He was Prime Minister of the Mock Parliament (Premier Paul), and Head Boy of Trueman House. During his life, Doug spoke often and fondly of his time at MtA.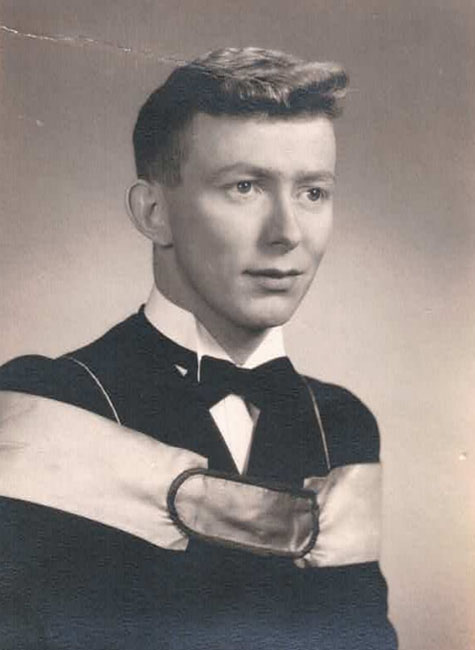 In 1955, Doug accepted a teaching position in Sherbrooke, NS. After 34 years of teaching, it was his time here that remained his favourite. He fondly remembered each student and their eagerness to learn. Doug also taught in Moncton, NB; Fredericton, NB; Whitby, ON; and Campbellford, ON.
He lived out his retirement years travelling between his home in Kingston, ON, and the family cottage in Baie Verte, NB. He passed on July 27, 2021, at Kingston General Hospital in his 91st year.
He is survived by his wife of 67 years, Betty, and three daughters: Kimberley, Pamela, and Cynthia, as well as one grandson.
Doug is no longer where he used to be, but he is everywhere we are.
---
WILLIAM KENNETH "BOOTS" MACLEOD JR. ('56) 
Submitted by his son, Donald Robert (Bob) MacLeod
Boots died peacefully on Oct. 8, 2021, in his 89th year, at the Thetford Mines Hospital after a brief illness.
Born in Montreal, and a long-time resident of Thetford Mines, QC, Boots was a loved and respected alumnus, with many stories and laughs to share at milestone class reunions. Via Stanstead College, he became a faithful garnet and gold Allisonian. He was the first of three generations to attend Mount Allison. His granddaughter Breanna will soon graduate, Class of 2022, and eldest son, W.K. MacLeod III (Peter, pred. 2015), 1976, also attended Mount Allison. His father W.K. MacLeod Sr. (WWI veteran, pred. 1982), was an honorary degree (LLD) recipient in 1967 and his mother Marion Lamb Knight (pred. 2007) was a friend of MtA.
While at MtA, Boots played four years of varsity sports, excelling in rugby and on the University's first season Canadian football team (fall 1955). He was a past president of Gesner geological society, graduated with a BSc in geology, and was awarded a Golden A. As the lore goes, song, dance, and exiting dorms to meet up with friends was a favorite pastime. Boots then married the 1956 campus queen, beautiful Judy Hollett ('57), from Burin, NL, in Sackville United Church on her Convocation Day. They even named their daughter Allison after MtA.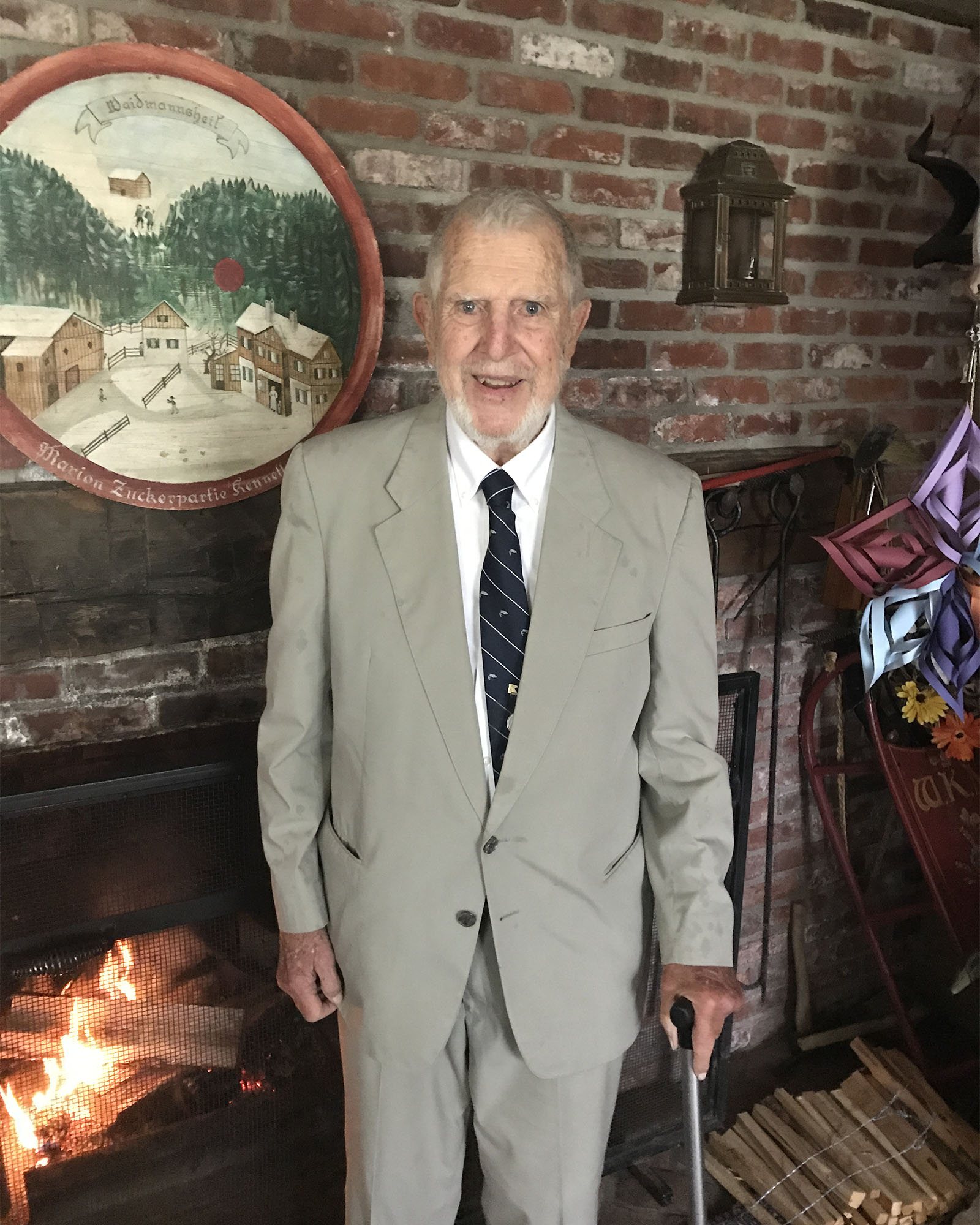 Over the years, Boots was many things: a geologist, President of Lynn Macleod companies, a world traveller, an accomplished sportsman, an antique folk art collector, Canadiens season ticket holder, and foremost a family man. He loved jazz, photography, flying his floatplane, being the Christmas tree guy until the young age of 85 (a fixture in Westmount, QC for over three decades), and known for giving epic toasts for all occasions. He was also a member of many organizations: Saint Hubertus, Freemasons, Royal Canadian Numismatic, Ducks and Trout Unlimited, and the Atlantic Salmon Federation to name a few.
A life well-lived, forever young at heart, he loved his family, friends, and is fondly remembered for his twinkling blue eyes, his red (then grayish) beard, heartfelt smile, good sense of humour, and willingness to help care for others.
Godspeed Boots, until we meet again.
---
CLYNE LINCOLN BOODOOSINGH ('60) 
Submitted by Timothy Lincoln (Boodoosingh)
It is with great sadness, but beautiful memories, that the family of Clyne Lincoln Boodoosingh — beloved husband of the late Nellie Boodoosingh — announces his passing on Oct. 6, 2021, at the age of 94.
Born in Tunapuna, Trinidad on June 10, 1927, he was a son of the late James E. Boodoosingh and Alice (Seecharansingh) Boodoosingh.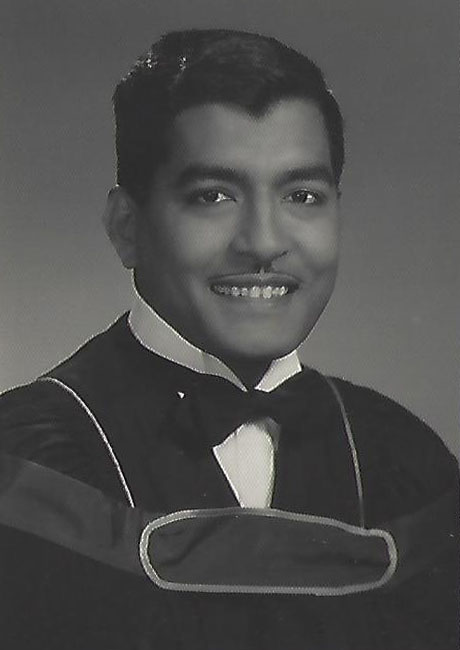 Clyne's teaching career spanned nearly 40 years, starting with the Pupil-Teacher-System, then graduating from Government Teacher's College in Trinidad. He later attended Mount Allison University and graduated in 1960 with his BA and BEd. Moving his family to Digby, NS in 1963, he continued his career at Digby Regional High School, teaching history, political science, and the Modern World Problems class. In 1969 he completed his Master of Education at the University of Toronto. In 1977 he spent a sabbatical year at Cambridge University studying under the distinguished professor and philosopher of education, Dr. Paul H. Hirst.
His retirement years were full of travel, golfing, and writing. His semi-autobiographical novel Of Anthuriums and Maple Leaves has become a favorite of family, friends, and peers. He was honoured that his former students sought his counsel years after graduating and he remained a resident of Digby, NS for 58 years until his passing.
---
CHARLES L. HASKELL ('75)
Submitted by his close friend the Honourable David Near ('76)
Charles Haskell passed in his sleep on Dec. 5, 2021. He is survived by his wife, Kathleen, and his sons, Nathan and Trahern, and stepdaughters Carolyn and Kristen, as well as his cherished grandchildren, Logan, Benjamin, and Zachary.
Charles was born in Colorado before making his way to MtA where he settled on a small rustic farm in Aulac with a cast of assorted characters. He was a big friendly mountain man and well known at MtA and in the Sackville community. At MtA he played football and was an Atlantic Conference Allstar offensive tackle and co-captain of the team when I first met him at football camp in 1973. Charles was also a two-time Atlantic Conference heavyweight wrestling champion while at MtA.
Charles worked at Westmorland prison before attending law school at Queen's University. After a few years in private practice, Charles worked in Ottawa for the Correctional Services of Canada legal team until his retirement in 2009.
We shared so many wonderful memories, first at MtA in our 'back-to-the-land' phase, and then as we raised our respective families in the Ottawa area over the subsequent decades. Charles was a big, gentle man full of kindness, good humour, and integrity. His bravery while dealing with health issues in his later years was an inspiration to us all. His big smile never left him. Rest in peace, my friend.
---
PIERRE MALLOY, FORMER CHMA STATION MANAGER
Submitted by Bess Winter ('08)
Pierre Malloy, beloved former station manager of CHMA 106.9FM, is now transmitting from beyond the dial. He passed away on Jan. 28, 2022 with his wife, artist Tara Wells, by his side.
After several previous careers, Pierre served as station manager from 2003 to 2019. He's largely responsible for the CHMA you know and love, having started Stereophonic, made the move from the attic in the STUD to the Wallace McCain Student Centre, and done lots of technical things with transmitters, wires, and broadcasting regulations we're all glad he worried about so we didn't have to. He mentored hundreds of students and community members who formed an eccentric family of amateur broadcasters, several of whom went on to professional broadcasting careers.
Though he helped so many of us find our voices in life and on air, Pierre disliked being the centre of attention. He kept secrets. It was unclear, for example, what his real name was. We still don't know. His birthday may be classified government information. How did he build that full-sized movie theatre in his basement? Did he have help from extra-terrestrials? At one point it seemed he'd developed a pilot for a prestige TV show. Where did he get the scrawny taxidermied pheasant he introduced to us one day as our new mascot? It's possible he exists, now, as a radio wave wobbling its way through space.
We'll keep tuning in for his messages.