Kente and Mi'kmaw graduation stoles worn by students for first time at 2022 Convocation

The 2022 Convocation ceremonies at Mount Allison were historic for several reasons. Along with being the first in-person ceremonies since 2019, Kente and Mi'kmaw graduation stoles were worn by Black and Indigenous students respectively, symbolizing an important step forward in growing cultural diversity and inclusion on campus.
Mearon Mulugeta ('22) will graduate this fall with a degree in psychology and religious studies. Having grown up in Ethiopia, she says bringing the Kente stole to campus was important to help celebrate Black culture and strength.
"The Kente stoles are originally from Ghana and are symbols used to embrace our accomplishments and culture," she says. "There are three colours: the red represents the blood of our ancestors, yellow symbolizes strength, and green stands for growth. As a Black student, I really wanted to see this stole at Mount Allison."
Mulugeta worked with staff members in Student Life, the Bookstore, and the Alumni Engagement Office to bring the Kente stoles to campus for the 2022 ceremonies. Altogether, 17 students wore them as they crossed the stage this spring, a number the University expects will grow in the future.
Throughout her studies, Mulugeta has been involved with several groups on campus, including the Black Students Union, where she served as co-president her final year. She says this network was an incredible support during her time at Mount Allison.
"Coming to study in Canada was a challenging experience; I had to adjust to a new country, new studies, and there were social challenges," she says. "But I grew from these experiences and got to know myself in the process. Meeting other students on campus who were also passionate about the Black experience created a support network, but also gave a sense of community and a way to celebrate my culture so far away from home."
Mulugeta has been accepted into a master's program at The Chicago School of Professional Psychology.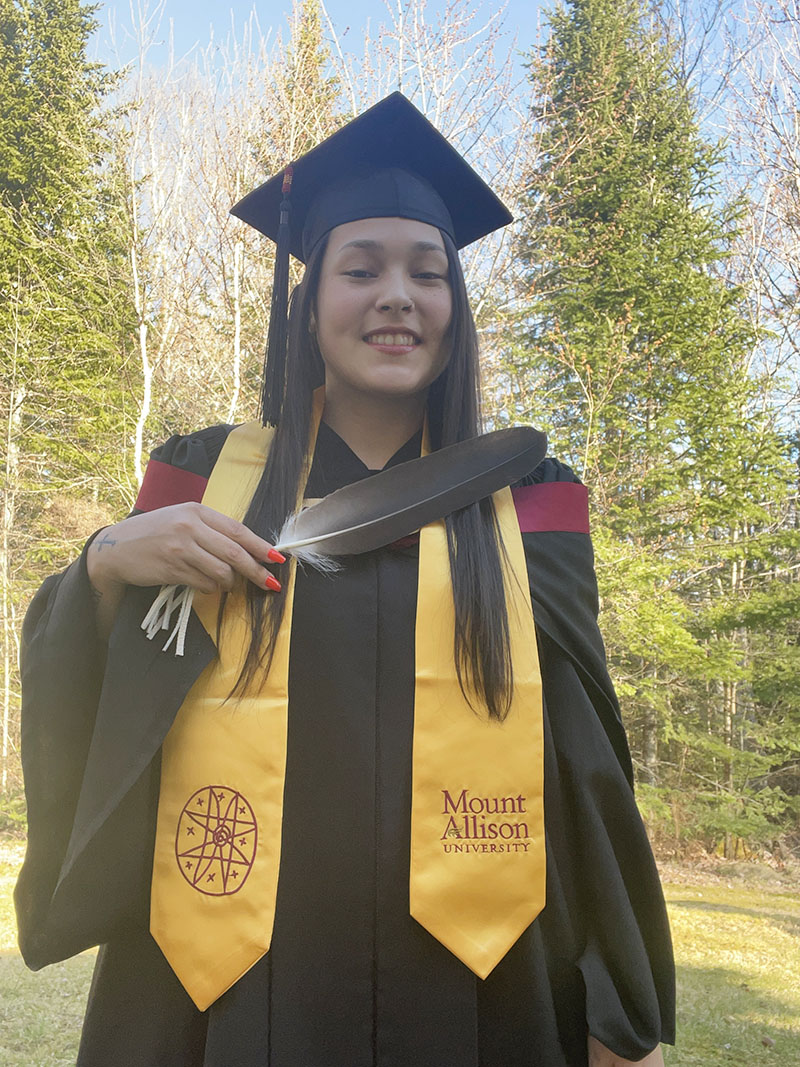 The Mi'kmaw stole also became part of Convocation traditions this spring. The stole is embroidered with the Mi'kmaw eight-point star. Indigenous students wore these for the first time in May.
Indigenous students Emma Penton and Hannah Ward are pleased to see this new development and symbolism on campus.
"It's a win for the entire community," says Penton, "As an Indigenous student, I feel this symbol gives more connection towards Mount Allison and feels more inclusive. I think this is just the beginning for the University's commitments towards reconciliation and decolonization."
Penton, who is from Payun Aqq Payunji'j near Bay St. George, NL but grew up outside St. John's, is the 2022 recipient of the Chris Metallic Prize in Indigenous Leadership and graduated with a Bachelor of Arts in psychology, minor in Canadian studies, and a certificate in equity, diversity, and inclusion. In the fall, Penton will be doing a post-graduate internship in equity, diversity, and inclusion in the University's Human Resources Office and the Office of Research Services.
Ward, from Metepenagiag (Red Bank) First Nation in NB, is graduating with a BA in psychology with minors in sociology and Canadian studies. She will be working at Kouchibouguac National Park as an Indigenous interpreter's assistant.
"It's an honour to be among the first Indigenous students to wear the stole. It's a source of pride for me, along with the other initiatives on campus such as the Sweat Lodge and Tipi," she says. "These facilities gave community members an important resource to come together in dark times." 
Along with the Mi'kmaw stoles, Indigenous students have beadwork completed in garnet and gold on their graduation tassels as a cultural symbol and celebration. Graduating students were also presented with eagle feathers from Mount Allison's Elders-in-Residence, William and Connie Nevin, earlier in the term.