The psychology of driving and traffic safety
Robert (Bob) Dewar ('57) has been doing driving research to make Canadian roads safer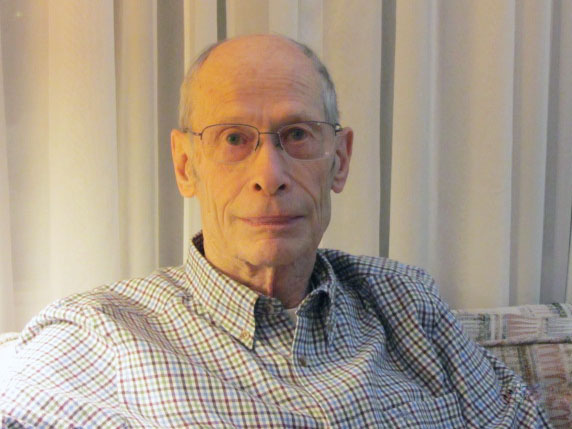 When Bob Dewar heads out on a road trip, he tends to look at the highway a bit differently than the average driver. Dewar, a psychologist, has spent most of his career studying driving and traffic safety on roadways across Canada.
"I started looking at psychology and traffic safety in the 1970s," says Dewar. "There wasn't a lot of research being done by psychologists in this area at the time, but it became my 'thing' in recent decades."
Following degrees from Mount Allison, University of Toronto, and McMaster, Dewar enjoyed a career in academia at the University of Calgary. Retiring in 1991, Dewar then moved to consulting work and set up his own consulting company. 
"My research began on traffic signs and broadened from there — traffic safety, driver and pedestrian behaviour," says Dewar. "I learned a lot working with traffic engineers."
Dewar has worked on both national and international studies around traffic signs, addressing problems such as lack of clarity, legibility, and uniformity. He has also worked as a consultant with Transport Canada, the U.S. government, and both engineering and legal firms. His work has included conducting road safety audits, evaluating traffic accidents, as well as traffic sign studies, which combines insights from psychology and engineering to improve safety on the road. 
One famous roadway Dewar influenced will be familiar to many Allisonians — Confederation Bridge, linking New Brunswick and Prince Edward Island. The curved, 12.9 kilometre bridge is the longest in the world crossing ice-covered water and celebrated its 25th anniversary this year.
"Another Mt. A alumnus, the late Bob Butler ('56), was working in Calgary at the time as an engineer; his firm was the one that designed the bridge," says Dewar. "I was brought in as a consultant around traffic safety for the project. When I suggested a curve in the bridge [near the New Brunswick side], I was not sure if the designers would accept the idea, but they did."
The curve helps to break up the straight bridge, increasing driver attention and, as Dewar explains with chuckle, "makes it less boring." 
"If you are driving in a low car, there really isn't much to see over the Bridge. The curve helps with alertness," he explains.
Dewar has worked on other notable roadways such as Toronto's Yonge Street and the Sea to Sky highway from Vancouver to Whistler, looking at safety aspects prior to the 2010 Olympics. He's also studied internationally in the US and Australia and has published many papers in peer-reviewed journals over the course of his career and co-authored two books on road use and behaviour and traffic safety: Human Factors in Traffic Safety and Forensic Aspects of Driver Perception and Response.
Originally from St. George, NB, Dewar now calls Calgary home with his spouse Mary Lou (Fleming) Dewar ('57). He continues to work as a consultant, assisting in making Canada's roadways safer, one traffic sign at a time.