The community as a classroom
Mount Allison introduces new degree minor, certificate in Community Engaged Learning
Mount Allison University students are known for their passion for social justice and commitment to their communities. Now, there is a new program designed to help students purposefully connect their academic learning with community partnerships and advocacy. Community Engaged Learning (CENL) was introduced as one of several new academic programs in late 2020.
Dr. Fiona Black is the CENL's program director. As a professor in the Department of Religious Studies, Black says the new academic program grew out of close connections and conversations between a few departments on campus and as a response to what students valued most about their undergraduate experience.
"About five years ago, we [Religious Studies], as a department, really began exploring how we could address the practical or applied aspects of our discipline in new ways and connect students with what they were identifying was important to them. This was one way of answering that perennial "so what?" question. For example, what does a compassionate community look like and how do you teach this?" says Black. "It is one thing to want to change the world, it's quite another to be able to explore that world critically and to know how and where to begin the work of positive social change in partnership with community."
With the collaboration of community partners and numerous faculty in several academic departments, the Community Engaged Learning program was officially established as a degree minor and embedded certificate option at Mount Allison last year.
"The interdisciplinary nature of the program has allowed us to offer students a classroom component, but also access to applied or hands-on projects, working directly with community partners," explains Black. "Our current partnerships cover four main areas: climate change and education; community-supported learning; partnerships around education with Indigenous communities; and community education for the wider public in various aspects of equity, diversity, and inclusion."
One of these partnerships is with Sackville's Marshview Middle School. Beginning in 2018, faculty and students partnered with school staff and students to launch Project Engage! The program saw students from both schools working with teachers and community members on a number of projects, from bird studies, robotics, and coding to cooking, creative writing, and the environment. The initiative has continued virtually this year with a school-wide project dedicated to learning about local wetlands and climate change.
Another project underway is the addition of a green roof on the Wallace McCain Student Centre. Working with the University, the Mount Allison Students' Union (MASU) and partners EOS Eco-Energy and the Town of Sackville, CENL students and faculty members are working to design a green learning and research space outside Tweedie Hall.
The impact of CENL has been immediately apparent.
"Community Engaged Learning has completely changed my life, it has shown me firsthand that my actions can truly help my community," says Ethan Miller, one of Mount Allison's first CENL students. "By taking learning out of the classroom — from working with community-based partners and studying the factors that affect my community — CENL facilitates our growth to becoming active, compassionate citizens."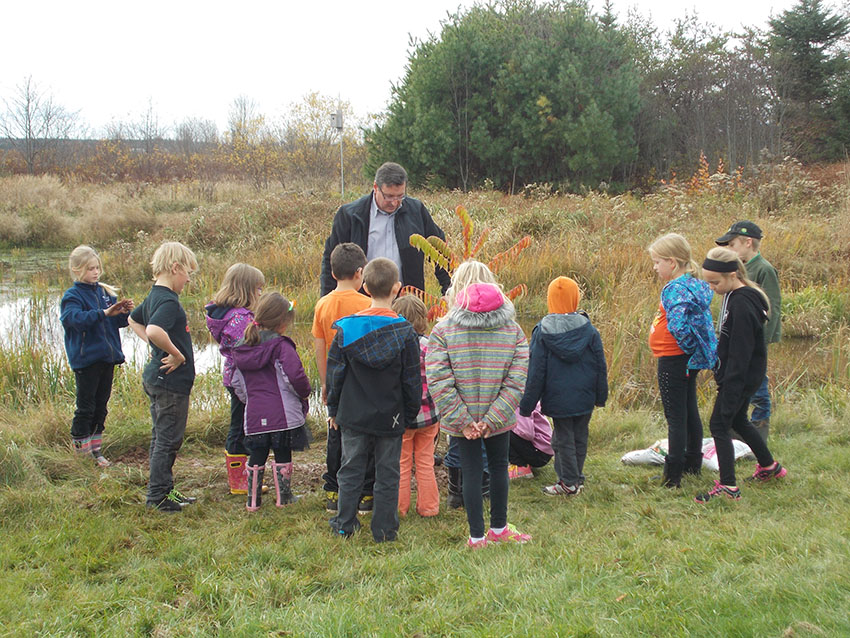 Faculty teaching in the area of CENL have also collaborated on research endeavours — the most notable being the Research Partnerships for Education and Community Engagement or R-PEACE (www.rpeace.org), launched by Black with Dr. Mike Fox (Geography and Environment), Dr. Erin Steuter (Sociology), and Dr. Andrew Wilson (Religious Studies) in 2018. The connection with R-PEACE will allow the new program to leverage other partnerships, such as those with Harvard's Education Redesign Lab, the NB Department of Education, and Three Nations Education Group, Inc.
While the CENL program is a new formal academic offering for Mount Allison, in many ways it is simply providing concrete form to existing learning pathways. Hence, the CENL program helps express something of the Mount A experience; it affirms and deepens the sense of belonging to this community that graduates carry with them long after their time on campus is over. There are already several students like Miller who will be among the first graduates. The University is also exploring potential expansions for the program, both in the form of more intensive study and as an opportunity for post-graduate accreditation.
"Knowledge and understanding in a field like Community Engaged Learning can be applied to any career path," says Black. "Students at Mount Allison have a real passion for making positive change and contributing to their communities. We want to help equip them with some of the skills and experience they'll need to put these plans into action in their future communities. We also want to offer them an opportunity to discover their passions and appreciate what it means to belong to such a remarkable community."
---
Read more about Community Engaged Learning at Mount Allison.