Mounties' Women's Hockey make program history with all-female staff
For the first time in program history, in 2020-21 Mount Allison's Varsity Women's Hockey team had an all-female staff at the helm, including Head Coach Lucrèce O'Neal, Assistant Coach Kristen Cooze ('15), Goalie Coach Keri Martin ('17, '20), Team Manager (2020 Female Manager of the Year) Laura Hopper ('20), Student Trainer Maria Morefield ('21), and Head Athletic Therapist Jocelyn Dowling.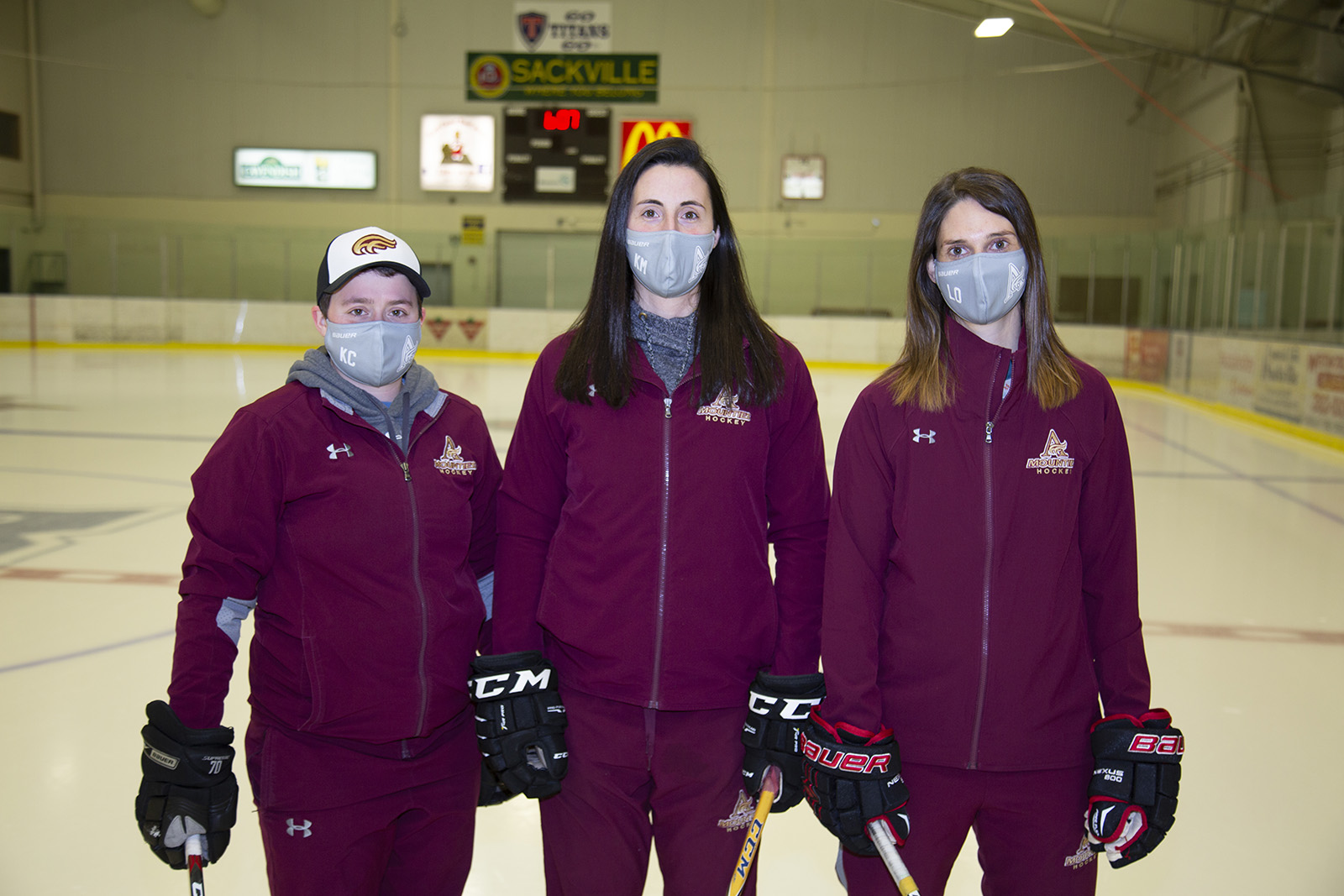 O'Neal's first year as head coach came at an unprecedented time as Atlantic University Sport (AUS) competition was halted this past season due to the pandemic. Although a challenging year, she says there were so many positives to taking over the team at this time.
"It is always tough when, as an athlete, you can't compete, but at the same time we had that time to build relationships and get to know the players and for them to know us," she says. "We brought our philosophy in and had the time to slow things down and work with them."
O'Neal says the team kept an intense schedule throughout the year. Each week consisted of two dryland training sessions, three gym sessions, and four times on the ice, as public health restrictions allowed. The team was able to play three exhibition games at the end of the season before pandemic restrictions came into place again.
"Overall I was happy with how far we came," says O'Neal. "We improved a lot and I can see we are on the right path. I learned a lot and I'm sure the players did too."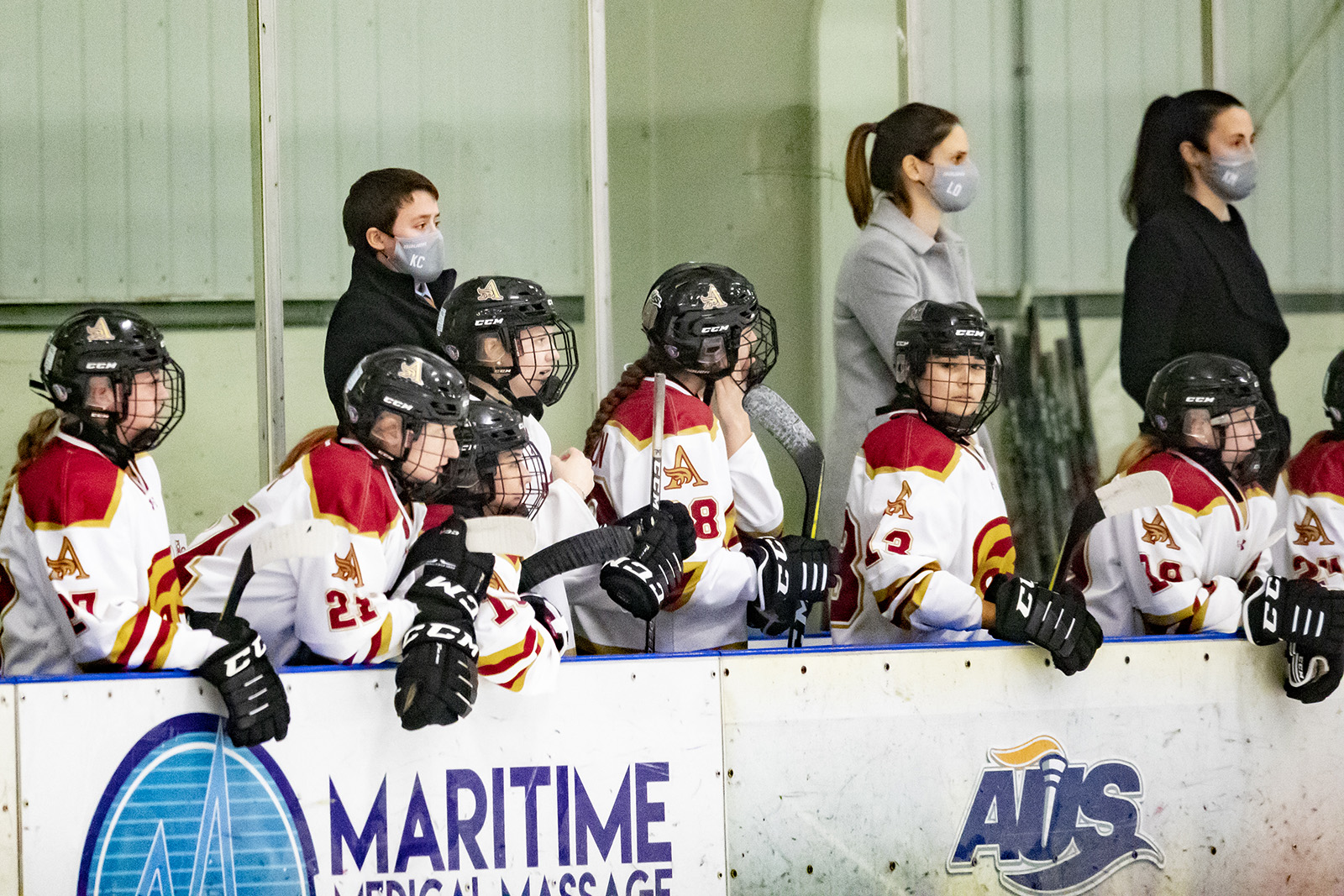 The team graduated seven players this year, including four forwards, two defense, and one goalie.
O'Neal, originally from Switzerland, brings a strong resumé to the squad, having played defense with the Swiss National Team in three world championships and at the 2010 Vancouver Olympics.
She played five years in the AUS with the St. Thomas Tommies, graduating in 2011. Her coaching career includes head coach of women's Bantam AAA in Fredericton for three years, assistant coach with the Tommies for two seasons, and one season as an assistant coach with the Tantramar women's high school team.
Growing up with five brothers in Switzerland, she was always the only girl playing on boy's teams. She never had female coaches and says she didn't even realize women's hockey existed until she got an invite to the national team selection camp when she was 12.
"It never mattered to me to be the only girl in hockey, I just wanted to play and fortunately I was always included," she says. "Many women before my time had to fight to just be able to play and to now be standing here as the head coach of a women's hockey team in Canada makes me not only feel proud, but also privileged."
Martin has been an assistant coach with the Mounties for the past three seasons. She was the starting goalie for the Mounties during three of her five years from 2013-18. Her experience growing up in Ontario was very different from O'Neal's.
"I was lucky growing up in Ontario because the women's hockey organization is so large there. I don't think I realized how lucky I was to be so surrounded by female hockey and to have so many opportunities," she says. "My coaches were almost exclusively male though, so this is my first-time being part of an entirely female coaching staff."
Originally from Brampton, Martin started out playing road hockey and at the age of eight moved on to the ice as a goalie in her hometown and then on to the Provincial Women's Hockey League (PWHL), playing for the Etobicoke Junior Dolphins.
Martin's stand-out moment as a Mountie was actually one she experienced as the back-up goalie in her first year — beating top-ranked St. FX in the second round of the playoffs in OT to advance to the AUS Championships against UdeM.
"Just being a part of that huddle, breaking expectations, and the mold that we were a last place team. I still remember sitting in the dressing room after the game and it was such an incredible feeling," says Martin.
Cooze, from Stephenville, NL, has been an assistant coach with the team for five years after her stand-out playing career at both forward and defense with Mount Allison from 2010-15. When she was nine years old she was playing on the U-20 women's team in Newfoundland. She says this is when she really started focusing on women's hockey.
"One of the girls on my team went to the Canada Games and that was really eye-opening for me," she says. "That became my goal. When I watched the Canada Games, I really saw the possibilities in female hockey and that shaped what I thought of it and where I wanted to go next."
Cooze played for the Newfoundland Canada Games Team in 2007, finishing fifth in the country — the province's highest-ever standing. She also played for Team Canada in the women's ball hockey world championships five times — twice in Slovakia, and in Switzerland, the Czech Republic, and in her home province of Newfoundland — earning three golds, a silver, a bronze, MVP honours, and a 1st team all-star defense nomination. She is currently trying out for the next world championships to be held in Brandon Manitoba in 2022.
This past season, Martin prepared a presentation for their team on the history of women's hockey at Mount Allison — 120 Years of Women's Hockey — which included interviews with hockey alumni and historical photos from Mount Allison's Libraries and Archives.
"Hearing the history of the program was an eye-opener for all of us," says O'Neal. "Part of my mission as head coach is to make sure our players understand how lucky they are to be playing varsity women's hockey. We want to honour the work that went into building this program and continue to build on it."