Music degree leads Presley Hynes ('16) down a less traditional path
Mount Allison University's Department of Music has some strong connections with the Cape Breton music community including The Barra MacNeils [Sheumas ('84), Kyle ('85), Stewart ('87), and Lucy ('91)], and Lydia Adams ('75, '76, LLD '03). Nearly 10 years ago, Presley Hynes ('16) followed this path, intending to study the piano. 
"I started playing piano when I was about five years old; it was both a family and local tradition of playing music, it just kind of happened," explains Hynes. "By the time I got to high school, I had started figuring out what I would do after graduating; it made sense to continue with what I had been doing my whole life — playing piano."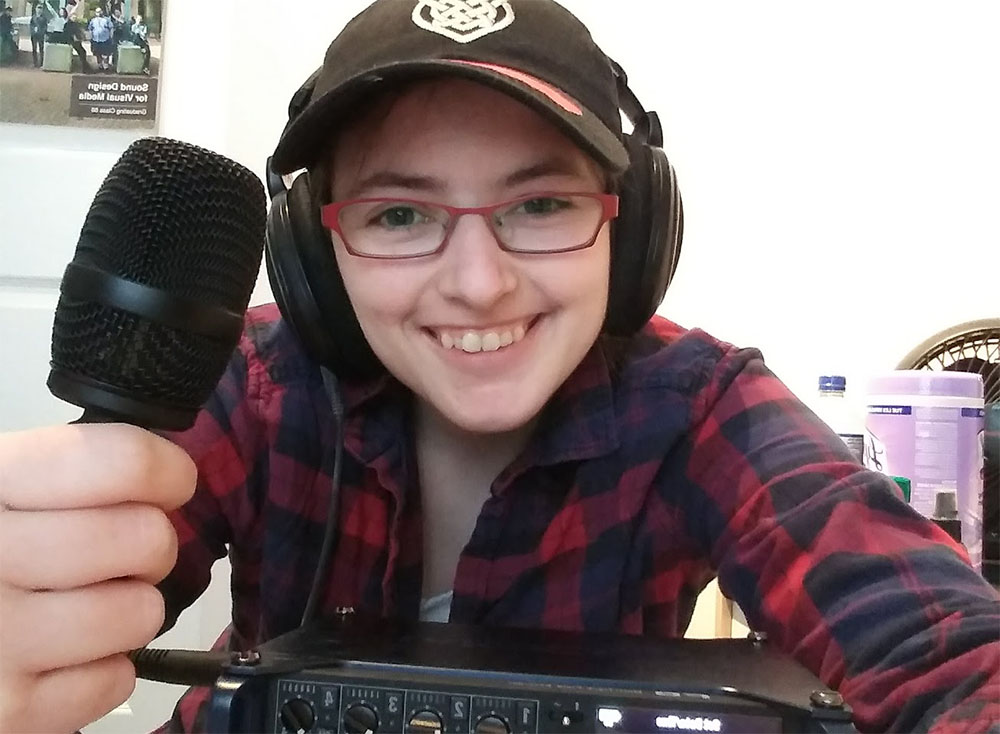 Following graduation in Cape Breton, Hynes moved into Hunton House, where she would live for her first two years at MtA before moving off-campus. It soon became apparent that the stress of performing was negatively impacting her well-being — she suffered from performance anxiety. Dr. David Rogosin, Hynes' piano professor, recognized this early in her degree.
"He noticed that piano was not going well for me, he was the one who suggested I try percussion," says Hynes. 
She took this advice, switching the focus of her studies to percussion, instructed by Dr. Joël Cormier.
"Dr. Cormier is a wonderful human; he found new ways of helping me in my studies, improving my early experience at MtA," she says. 
However, she only began to find her place through her involvement in theatre productions, where Hynes worked closely with Paul Del Motte, production manager at the Motyer-Fancy Theatre.
"Paul asked if I had any interest in sound design, which at the time I knew nothing about," she says. "I thought it might be fun since I had always loved the idea of behind-the-scenes production."
This exposure to the field of sound design was a pivotal point in Hynes' life, giving her the opportunity to create music, while avoiding situations where she would face intense performance anxiety.
"By the time I was graduating," she says, "Paul saw I was interested in mixing music, and suggested I apply for an internship at the Banff Centre."
Her hard work and determination earned her a year-long internship as a live sound technician at the Banff Centre for Arts and Creativity. After this internship, Hynes gained acceptance to the Vancouver Film School, studying sound design for visual media, enabling her to create sound for video. Hynes says the experience "naturally progressed to finding my ideal career in video game sound creation." 
Following graduation from the Vancouver Film School, Hynes' first job in this field was at Bioware, a Canadian video game developer based in Edmonton, AB. She spent about two-and-a-half years with this company, where she worked on various video games including Anthem, and the next iteration of Dragon Age before being hired at PlayStation where she is a sound designer, creating sound effects for their games.
Reflecting on her time at MtA, she says, "I had no idea what I wanted to do; I focused on piano because that was what I knew best. MtA helped me in several ways, even though I didn't end up studying piano. It solidified the fact that I am not a performer, that I am not going to be on stage, which was both a positive and negative."
These realizations led to some difficult feelings, forcing Hynes to question whether she had made the right choice in pursuing her passion for piano. Although her time at MtA was difficult, it was also characterized by immense personal growth. 
"I will never be able to repay all the wonderful individuals that helped me along the way," she says. "Everyone from professors to classmates set me on this journey to find my passion."
Hynes offers some advice to graduating students: "If you know exactly what you want to do, great, go for it! If you aren't exactly sure, there are going to be thousands of jobs that you had never even imagined that you will come across that could be perfect for you."