Communicating clearly — one image at a time 
New interdisciplinary program in Visual and Material Culture Studies sees exceptional growth in first two years 
Visual and Material Culture Studies (VMCS) is an interdisciplinary program that studies images, objects, and spaces from various cultural contexts and historical periods.
One of Mount Allison's newest programs, VMCS includes degree honours and major options (pending MPHEC approval), as well as two minor options (Visual Communication and Culture/Visual and Material Culture Studies), and an embedded interdisciplinary certificate program (Visual Literacy and Culture), which is the only one of its kind in Canada.
It was an observation by Dr. Lauren Beck in her Hispanic Visual Culture class a decade ago that helped plant the seed for this new program, which was founded in Spring 2019 and has been growing ever since.
"I noticed there wasn't a high degree of visual literacy among students; there seemed to be a gap in this area for a lot them," says Beck.
Her colleague in Modern Languages, Literatures, and Cultures, Dr. Christina Ionescu, shared the same observations. Working with colleagues across campus, the pair have been instrumental in the development and growth of the interdisciplinary program.
"Mount Allison has a concentration of faculty who were already doing research related to VMCS and it's really an institutional strength," says Ionescu. "Working collaboratively, we've been able to offer core courses in both visual and material culture streams, which is unique among Canadian universities."
Dr. Patricia Kelly Spurles taught the inaugural Material Culture Studies introductory course, as well as upper-year courses including Craftivism and Repair, Recycle, Waste, focusing on the life cycle of consumer objects. She is also the editor of Material Culture Review, Canada's only scholarly journal dedicated to the study of material culture, now based at Mount Allison.
In 2021, Kelly Spurles was awarded funding from the Government of Canada's Innovative Work-Integrated Learning Initiative and CEWIL Canada's iHub Initiative (CEWIL-iHub). The funding has helped support student work on community projects and training opportunities, in partnership with local businesses and non-profit organizations, as part of their undergraduate degree.
"This area of study is picking up on trends emerging in a number of disciplines," says Kelly Spurles. "There are lots of opportunities for students to make connections and for collaborations on a campus like ours."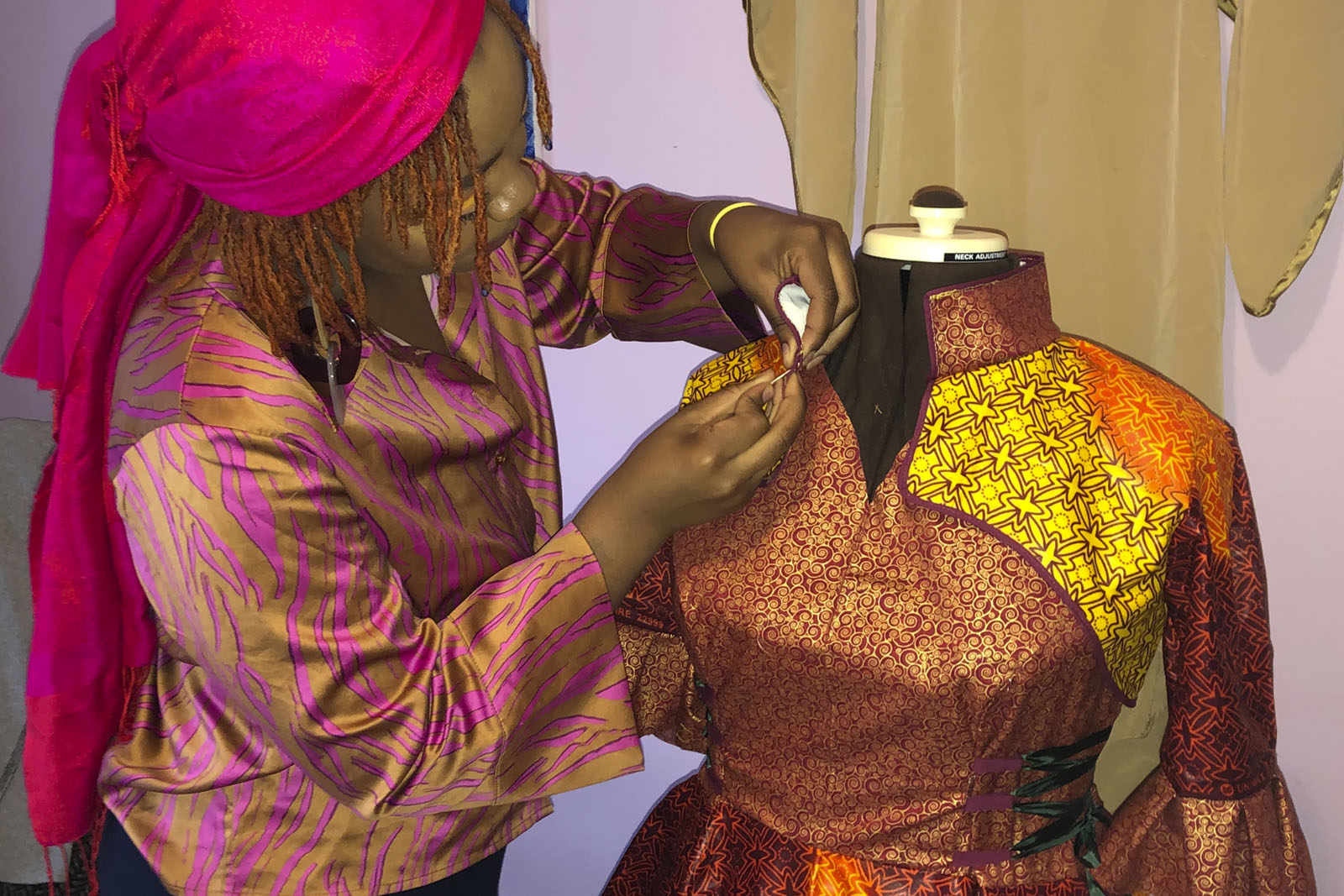 This spring, Mount Allison celebrated its first graduate with a self-designed VMCS major, Amy Walker of Pointe-du-Chêne, NB. Walker is hoping to pursue a career in marketing.
"Learning about and understanding different cultures is useful in any degree, job, or field to ensure amicable relationships. Visual communication, anything that is non-verbal, is also important. The material covered in this program is very much relevant to daily life," says Walker.
Beck, Kelly Spurles, and Ionescu all say the interdisciplinary nature of the program has helped to advance its growth and student offerings in a relatively short timeframe. They are working to offer more courses and to establish a Centre for Material Culture on campus in the future.
"Having good communication and visual literacy skills are important in any professional field," says Beck, who is also the Canada Research Chair in Intercultural Encounter. "In VMCS, we look at everything that is visual, from social media to graffiti and tattoos. I've found that this has led to some great discussions and learning around identity; students see something for themselves in these classes and may take away a new perspective or understanding they might not have thought of before."
Banner caption: International community planning, French, and environmental studies student Hannah Ehler was selected as a delegate for the Atlantic Council of International Cooperations' Photovoice program, an eight-week workshop combining photojournalism, sustainable development goals,and a sense of place in the community. Putting skills learned from her independent study in VMCS Intercultural Communication into place, Ehler was able to apply her knowledge, bringing different cultures and outlooks together through translation services to help foster understanding.
---
Find VMCS on social media and see current students' projects and research: