Planting the seeds of knowledge
Dr. Jesse Popp weaves Indigenous and Western ways of knowing to promote culturally-inclusive research
An assistant professor in geography and environment and a wildlife ecologist, Dr. Jesse Popp has been a driving force in raising awareness around Indigenous knowledge and supporting reconciliation efforts on campus. And her work is getting noticed — big time.
Popp came to Mount Allison in 2018 from Laurentian University and is a member of Wiikwemkoong Unceded Territory. In that time, she has had a phenomenal list of accomplishments, including being named the Canada Research Chair in Indigenous Environmental Science.
With a truly cross-country research program, Popp says her research interests were inspired by unprecedented environmental changes seen globally and a desire to help build culturally-inclusive research and studies.
"Researchers around the world are recognizing that Indigenous and Western ways of knowing are equally important and should be part of all studies and programs," she says.
Popp's work and cross-country collaborations are helping to bridge these knowledge forms. With the assistance of a New Frontiers Research Grant, valued at $250,000, through the Social Sciences and Humanities Research Council of Canada (SSHRC), Popp is working with researchers at the University of British Columbia, and York University, First Nations communities, and Parks Canada sites across the country to learn more about cultural keystone species in different regions.
"Our work at Mount Allison is based in the WISE Lab (Wildlife, Indigenous Science, Ecology) but also in the community," she says. "We've been working with Indigenous Elders and knowledge holders from the local region to help share the Mi'kmaq culture and knowledge with our students."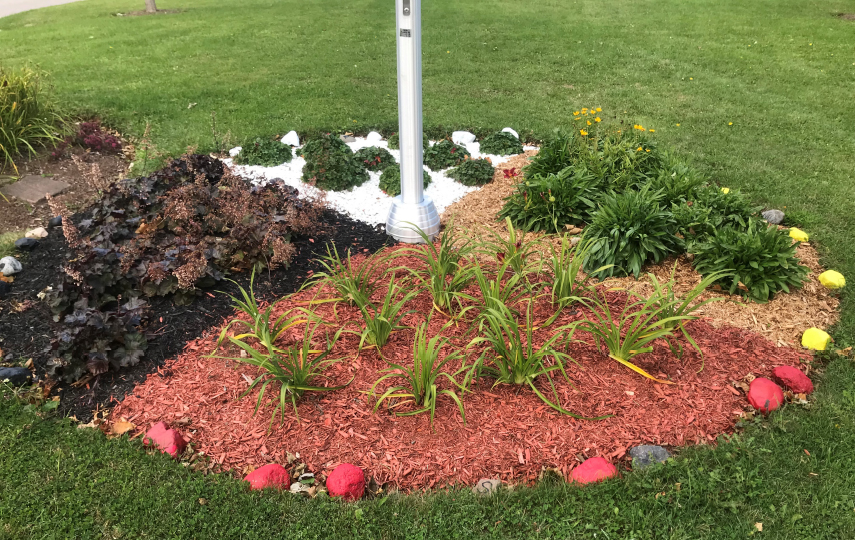 Visitors to campus can see elements of this transformation on the ground. The Mount Allison Indigenous Gardens project, overseen by Popp and local Elders and employing two student interns and one student research assistant, was launched on campus in 2019. The current project includes several plots on campus — the Medicine Wheel Garden, a decorative plot near the Mi'kmaq flag; the Sacred Medicine Garden, which includes tobacco, sage, cedar, and sweetgrass; and the Three Sisters Garden, which uses traditional gardening techniques with three plants — corn, beans, and squash — that work together to increase productivity. The project also includes new campus signage in English, French, and Mi'kmaw, identifying existing native plants to highlight their importance and use among Indigenous communities.
"The garden project is one we had talked about previously on campus. It was exciting to see it fall into place," says Environmental Science student Raven Elwell, who worked as an intern on the project this summer. "I've enjoyed working with so many members of the community, including Doreen Richard ('96) [Mount Allison's first Indigenous affairs co-ordinator and member of the Board of Regents], Nicole Dubé from Fort Folly, Jesse Popp, [fellow students] Laylia Bennett and Mihar Raouf, and the campus grounds crew, who were so helpful."
Popp has also worked to incorporate these partnerships into her classes, introducing several new courses around Indigenous knowledge and Indigenous environmental science, efforts that garnered her a FutureReadyNB Faculty Excellence Award announced last fall.