Departed Allisonians Summer 2020
Compiled from information sent to University Advancement Jan. 16, 2020 to May 15, 2020

Please feel welcome to submit memories of departed Allisonians you have known and loved.
Dr. Adelaide L. (Fleming) Mcleese — 1941
James W. Fraser — 1943
Elizabeth (Bradford) St-Louis — 1944
Margaret J. (Trueman) Palmeter — 1947
David W. Murdock — 1948
M. Ruth Rideout — 1949
Rhoda C. Palfrey — 1950
Isabel J. (Campbell) Henderson — 1950
Elizabeth H. (Knock) O'Brien — 1950
Ermine A. Gandy Holland — 1951
Frederick J. Neal — 1951
Joyce (Gould) Cahill — 1955
C. Gilbert Dodge — 1955
Thomas E. Bursey — 1956
Alan K. Clarke — 1956
Rev. W. Robert Hussey — 1956
Howard H. MacKinnon — 1956
Joan A. (Foote) Craigie — 1957
Jessie V. (Bingham) Joyce — 1957
Mary C. (McReynolds) McDonald — 1957
Rev. A. John Roberts — 1957
M. Halizullah (Hafiz) Khan — 1958
Max H. Dingle — 1959
Creelman Lee MacArthur — 1959
James D. Price — 1959
Eric E. Bent — 1960
Malcolm R. Burrill — 1960
James S. Russell — 1960
Kenneth M. Anderson — 1962
Geoffrey R. Smith — 1963
Grant Putnam — 1964
Stanley A. Barnhill — 1965
Peter K. Gummer — 1966
J. Frederic Jardine — 1966
Margaret A. Sticklen — 1967
Monica A. Ewart — 1968
Frank L. Martel — 1969
Terry D. (Lewis) Bolduc — 1970
Earl Wiseman — 1970
Cynthia G. (Whitten) Maynard — 1971
James W. Rodger — 1971
R. Bruce Carter — 1973
F. John Cheesman — 1973
Audrey B. (Crowe) McCallum — 1973
John B. Lefort — 1975
Ardis A. (Watts) Urquhart — 1975
Pamela J Holm — 1982
Alexander (Sandy) MacDonald — 1982
Andrew A. Longpre — 1984
Gregory J. Keating — 1985
Joseph A. Marino — 1986
Cathy Ann Scott — 1986
Lisa R. (Kierstead) McCully — 1993
Angela L. (Vatcher) Randall — 1996
Karen J. (Abbott) Hewett — 2000
H. Jarrett King — 2013
Jeremy C. Fisher — 2014
Donald Lake — former faculty
Alan Sherwin — former staff
---
TERRY DIANA (LEWIS) BOLDUC ('70)
Submitted by her sister Linda (Lewis) Guest ('72)
Terry Diana (Lewis) Bolduc, BA 1970, died on Jan. 27, 2020, from a short bout of cancer. She leaves her husband, Donald Bolduc , sister Linda (Lewis) Guest ('72), and brother-in-law Robert Guest ('72) to mourn her.
---
BRUCE MCCUBBIN ('63)
Submitted by his wife Betty (Dykes) McCubbin ('64)
Feb. 22, 1941-Oct. 29, 2019
Mount Allison Board of Regents 2002-2011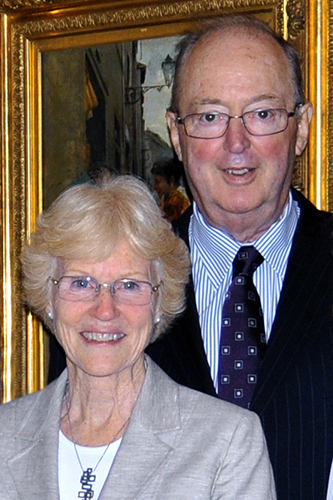 Bruce McCubbin moved back to New Brunswick from Ontario in the fall of 1998, 35 years after he graduated from Mount Allison. This new Maritime chapter in Bruce's life was his chance to re-connect with the formative time he spent at university. Bruce had continued his studies at "Nova Scotia Tech" (now a Faculty at Dalhousie) and graduated from NSTC with a PEng, in 1965. He immediately went to work as a design engineer at Imperial Tobacco Ltd., in Montreal. On May 29 that year, Bruce and Betty Dykes ('64) were married.
Bruce enjoyed an often challenging, but gratifying career. In 1971, with his growing family, he was transferred to Guelph, as plant engineer. Less than a year later he was selected to be the engineer on an acquisition team, assembling what would become Imasco Incorporated, and with which his association continued. Among many roles, his tenure as President of Collegiate Sports emerged as an obvious favourite. Bruce's strength as a business administrator had surfaced, and he held a variety of senior executive positions throughout the rest of his career.
Bruce spent two decades in Toronto, with his family of six. The years, with two major firms, were spent managing the manufacture and sale of retail and industrial products in North and South America. Leading a number of different companies, Bruce travelled extensively for business, building a diversity of experience.
In 1997, a position became available at Moosehead Breweries Limited. Bruce and Betty loved the Mount Allison undergrad experience and had frequently wished that they might work and live in the Maritimes again, so Bruce applied. Derek Oland (Moosehead, CEO) was encouraged by Bruce's old MtA friends, John Bragg (Oxford Frozen Foods) in particular, and Purdy Crawford (CEO at Imasco) to consider him. Derek went to Toronto to interview Bruce, and so began some very rewarding years.
A family-owned company, Moosehead gave Bruce a taste for a different business environment. He frequently said how much he enjoyed working with the Oland family, and Moosehead opened many doors to Board positions at other family-owned businesses in New Brunswick and Nova Scotia. For 20 years, Bruce thoroughly enjoyed his association with the people on those Boards.
The move back to New Brunswick also re-connected Bruce and Betty with Mount Allison University. Bruce accepted an invitation to join the Board of Regents. It was a great pleasure for him to meet and work with the many exceptional men and women on the Mount Allison Board. Bruce was very proud to have been on the team that brought Dr. Robert Campbell and Dr. Christl Verduyn to Mount A. During one noteworthy period while Bruce sat as Board Chair, he and President Campbell worked tirelessly on the groundwork to establish a new, much-needed Fine Arts building. The final result, practical and original in design, the Purdy Crawford Centre for the Arts honours the memory of an outstanding Canadian and Allisonian and provides a valuable addition to the Mount Allison experience. As the arts are important to the culture of his family, three of his children are professional artists, this project was of personal value to him.
Bruce's last visit to Mount Allison was for Convocation in 2018. It was the 55th Reunion of the Class of 1963, and importantly, it would be the final Convocation presided over by his good friend, Robert Campbell. Lynn Loewen ('82), a respected colleague and friend, was to be installed as the new Chancellor of Mount Allison and Bruce was very happy to be there and congratulate them both.
In Rothesay, the McCubbins lived within a short distance of the golf club. A life-long athlete, Bruce became a golfer. With several old Mount A friends, an annual golfing jaunt to Hilton Head South Carolina began and the McCubbins never missed one.
In 2012, Bruce was diagnosed with Parkinson's Disease. He coped, kept busy, and continued to enjoy life. His last Board meeting and golf game took place at Digby Pines, NS in August 2019. The result of Parkinson's irregularities, Bruce passed away suddenly and unexpectedly, on Oct. 29, 2019.
Bruce is dearly missed by Betty, by his children Jill (George), Beth (Martin), Colin (Kate), and Sally (Clayton) and by his grandchildren Calvin, Pippa, Finn, Alice, and Charlie. Also missing Bruce very much are his sister, Heather Carson ('70), his brothers-in-law Bob Dykes (Brenda) and David Dykes, and their families.
Bruce was a hard-working and enthusiastic husband, father, brother, friend, and colleague. He lived with integrity, respect, and kindness and encouraged these qualities in his family. He loved his children and grandchildren and especially enjoyed time together at the McCubbin island cottage on Stony Lake, in Ontario, where they spent every summer since they built it in 1987.
---
LISA KIERSTEAD ('93)
Submitted by Alex Fancy ('61), Kathy Hamer, and Judith Weiss, who are all professors emeriti of Modern Languages; each teaching many students for more than three decades at Mount A, including Lisa
Lisa Kierstead was one of those students any teacher would be fortunate to encounter. We knew her in our classes and in less formal exchanges in hallways and on campus; wherever we met her, we could see an avid learner and a consistently lively and colourful presence. She was a lover of language, and took special delight in new expressions, nuances, and the playful aspects of French and Spanish.
Lisa took full advantage of campus activities, from rugby to theatre to study abroad. She embraced any opportunity to grow, both in the classroom and beyond it. On the rugby field she distinguished herself as a team player, bright-green leggings included. In the theatre, her empathy shone, whether in support of fellow cast members or her ability to take on a role and character that might be quite different from her own. She relished the experience of total immersion in a language and culture during her Strasbourg year, where, like her fellow students she learned to deal with everything from the vagaries of French bureaucracy to unfamiliar grading systems to strong cheeses. She rose to every occasion — flexible, curious, able to see humour even in the midst of frustration. It was in some of these extracurricular contexts that we saw so much more than might have been glimpsed in an exclusively classroom setting.
She was very much her own person, confident, and positive; she was also a consistently generous spirit, easily drawing people to her, supporting and cheering them. We remember her unflagging humour, infectious enthusiasm, compassion, and ability to draw the best from others even as she gave them the best of herself; she revelled in life and her joie de vivre was contagious.
We knew a number of Lisa's Mount Allison friends and associates, since they too were our students. From the many messages we have received from them, we are reminded again of the interconnections of friends and former students, as those we knew as young adults now confront the terrible events that transpired in Portapique, and commemorate — through Facebook, e-mail, and many other channels — the unstinting friendship she offered them all.
It is not uncommon to speak of the impact teachers can have on their students. Perhaps less frequently we reflect on what and how we learn from our students, whether they be young adults at university or children in elementary school. By her own example of a life so well lived, Lisa taught us all, teachers, friends, and colleagues.
We have all heard and read that Lisa was an exemplary teacher in her post-university life. We are not surprised. As she learned, so she taught, or as Chaucer said of the Clerk of Oxenford: "Gladly would [s]he learn and gladly teach." She will be deeply missed and long remembered.