"The world needs more Frank McKennas"
The Frank McKenna School of Philosophy, Politics, and Economics announced at Mount Allison with $1M leadership gift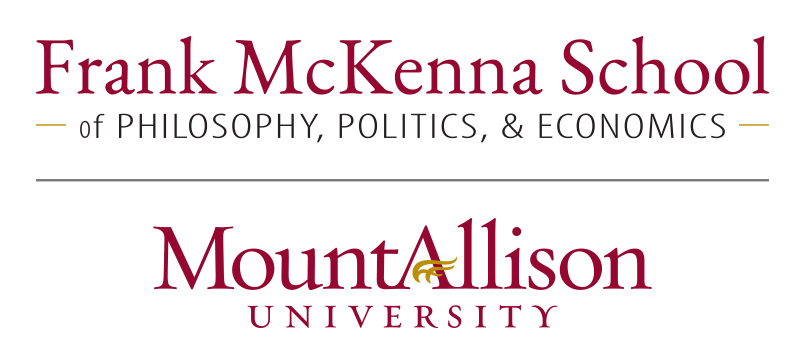 Mount Allison's Philosophy, Politics, and Economics (PPE) program has received a significant boost from one of New Brunswick's most accomplished political and business leaders — Frank McKenna (LLD '91). On Sept. 25, the University celebrated the establishment of the Frank McKenna School of Philosophy, Politics, and Economics.
"Academic innovation is core to what we do at Mount Allison and our newest academic entity — the Frank McKenna School of Politics, Philosophy, and Economics — reflects this," University President and Vice-Chancellor Dr. Jean-Paul Boudreau noted at the announcement. "The world needs more Frank McKennas. On behalf of the entire Mount Allison community, we extend our heartfelt thanks to the McKennas and the project's founders for their philanthropic support and leadership, and their commitment to our students."
To date, $5 million has been raised to support the school concept from a number of donors across Canada — the Founders of the McKenna School — including McKenna and his family, who contributed a leadership gift of $1 million and inspired others to give.
McKenna addressed the small crowd with his trademark style, drawing on his own background in the three disciplines.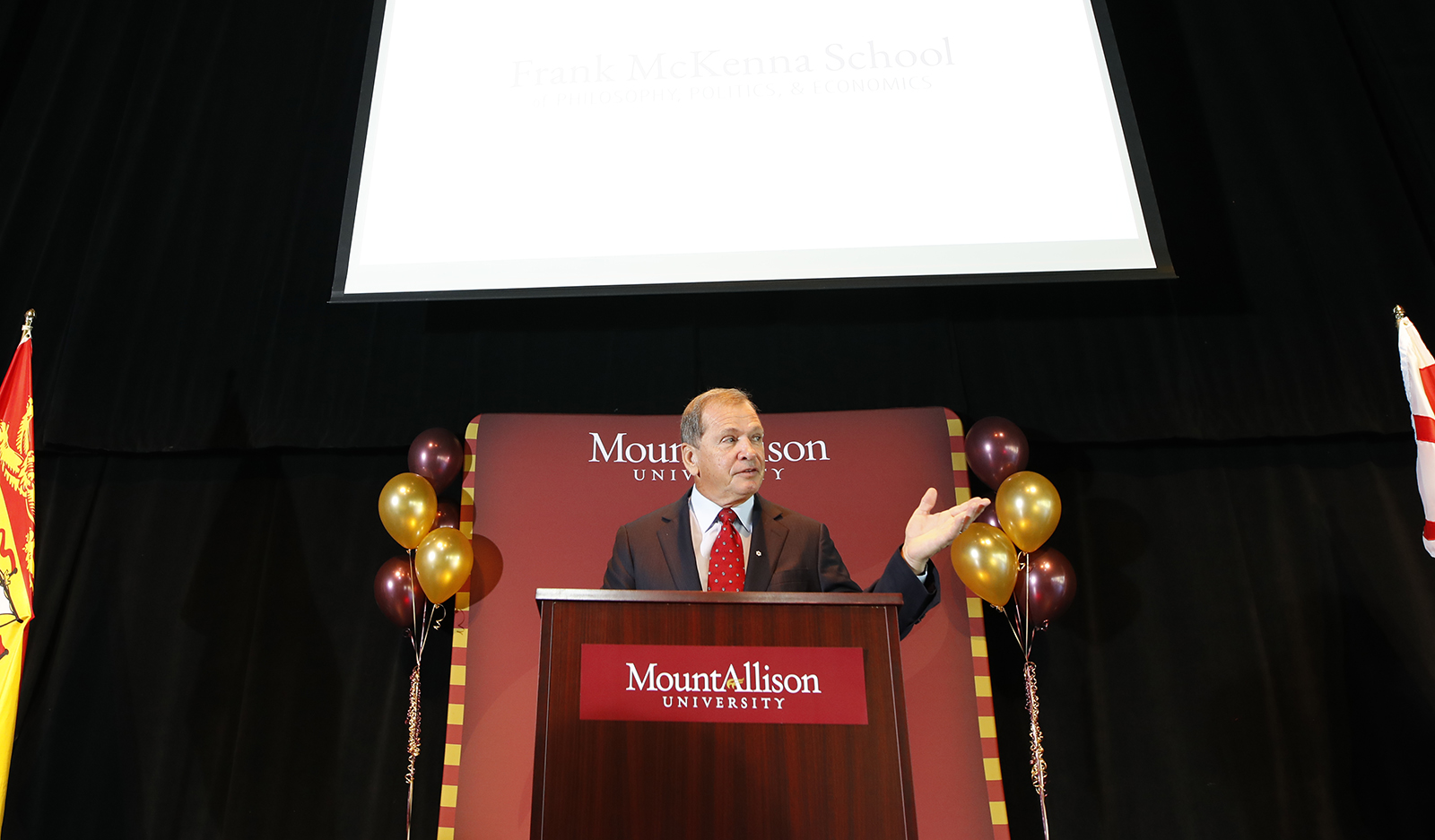 "This is the right program, at the right institution, at the right time for the challenges our world is facing today," McKenna said. "Linear thinking doesn't work with today's problems. I predict we're going to see a lot of extraordinary leaders coming out of this program and being able to help our province and our country. Wonderful gifts from wonderful people have made this all possible. My family and I treasure the support that this program is getting."
The September event was held both on campus, following Public Health protocols, and virtually. Along with the McKenna family, several guests brought virtual greetings to the event including long-time Beauséjour Member of Parliament Dominic LeBlanc and Mount Allison Chancellor Lynn Loewen.
"Frank McKenna was a transformational premier of our province for over a decade and continues to be an important and transformational leader in the business community, also a leader in public service, and he continues today as a leader in philanthropy and generosity as he prepares future leaders," LeBlanc said as he addressed the event from his home in the region. "The gift is a great benefit to the Mount Allison community, students, but to the whole country as well."
Chancellor Loewen echoed these comments.
"As passionate advocates of Mount Allison, we are thrilled about the McKenna School of PPE and the potential it has to prepare our students for both public and private sectors upon graduation and to attract students to Mount Allison and to New Brunswick," she said from her home in Montreal.
The campus announcement was emceed by fourth-year PPE student Martha Pitre from Shediac, NB.
"I chose Mount Allison specifically because of the PPE program. I wanted a path that could help me find my place…" Pitre said. "More than [all of] that, I wanted the skills to approach real-world problems in a multi-dimensional way, where my background in economic modelling and political theory could be just as strong as my understanding of logic and ethics. I'm happy to report that this is exactly what the PPE program has given me. As fulfilling as my PPE experience has been, I can't wait to watch the McKenna School take shape."
The Frank McKenna School will support new scholarly activity and scholarships for students in the program, enabling new international and work-integrated learning opportunities and global internships for Philosophy, Politics, and Economics students. The gift will also fund the new McKenna Scholars program, providing scholarships and bursaries for students throughout their degree.
Frank McKenna is currently the Deputy Chair, Wholesale, TD Bank Group. He is the former Canadian ambassador to the United States and a former premier of New Brunswick — a position he held for 10 years. Under his leadership, he brought thousands of jobs to the province and nurtured the growth of business and industry, universities, and youth.
Established in 2013, the Philosophy, Politics, and Economics program is the only PPE program in Canada east of Ontario, and one of only three in the country. The program offers students the opportunity of a multidisciplinary immersion in these three academic areas, helping to prepare them for a myriad of career paths.
The McKenna School of Philosophy, Politics, and Economics at Mount Allison is expected to be officially launched in 2021.
---
Find out more:
McKenna School of Philosophy, Politics, and Economics: http://www.mta.ca/mckennaschool
The announcement of the Frank McKenna School of Philosophy, Politics, and Economics was featured on several Maritime media outlets: