Philanthropic impact remains high through pandemic
A report on giving 2019-20
In the fall of 2019, we experienced the largest intake of new students in over seven years and launched a number of new academic programs and certificates. In the winter of 2020, we navigated a labour disruption, threatened changes to regional health care, and then a pandemic.
Through the highs and lows there was — and remains— a constant: the generosity and support of Mount A alumni and friends.
Normally the University produces an annual Giving Report publication that shines the light on fund raising achievement and a few notable donors and gifts. This year, as with many other initiatives, we have opted to go online. Below you will find a short reflection on recent fund raising efforts and you can find several recent donors stories at mta.ca/givingreport.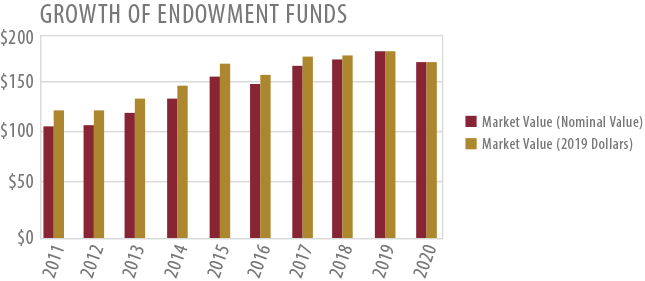 It is no surprise that our endowment returns for fiscal year (FY) 2019-20 were negative due to volatile markets. Due to our policy of calculating annual spending allocations using a smoothed average market value over 16 quarters, the spending amount is not negatively affected for FY 2020-21, though the market value of some endowments will have slipped below the principal value donated. The real risk is if markets remain volatile and take an even larger loss over the next year.
Mount Allison has weathered difficult periods in the past and each time has emerged stronger as a result. We are resilient. We are resourceful. And, most importantly, we have support from alumni and friends who care deeply about the University, its students, its community, and its sustainability.

In FY 2019-20 the University received over $9.4 million in new philanthropic commitments from nearly 1,800 donors from across the world. This generosity provides critical support for innovative academic programming, financial aid, and experiential learning opportunities — all of which has a direct impact on students and the signature Mount Allison undergraduate experience. This philanthropic support also provides long-term financial sustainability for the University. The best time to make a gift is when the need is greatest — and that time is now — as we begin to chart a post-pandemic path and a return to a focused strategic direction.
Thank you for entrusting the University with your financial support, which continues to have meaningful impact during these challenging times.
Jeff Wright
Executive Director of Development
Photo caption: First-year Science student Jonathan Antenanie, recipient of  funding through Mount Allison's new Mountie2Mountie Financial Aid Fund.