1950s-2010s Class Notes Fall 2020
Find out what your classmates and friends are up to
1950s
JOYCE KNAPP ('50) wants to know, "What about us Class of 1950 people? Some of us are still here and expect to be recognized! I, for one, am living on my own and loving life. Maybe Class of 1950 will have a reunion next May."
---
1960s
JOHN FRASER ('60) writes, "I have published an e-book, Building Modern Backyard Boats, available on Amazon, Apple, Kobo, and in Europe on Vivlio. After MtA I began working in journalism, then switched to teaching. Building boats has been a 60-year hobby, including eight kayaks, which were built in regular school classrooms. Twelve pupils took home their own boat. I retired in 1995 and my wife Lyn and I live in Victoria, BC. The book has been a seven-year labour of love. One chapter is 'A Boat In Every Classroom.'"
---
1970s
SUSAN LEAMAN ROUSE ('76) writes, "After a 40-year career with NBCC Moncton, I retired on April 30, 2020. Very much enjoying this new chapter of life."
PHILIP CAMPBELL ('79) was awarded the Criminal Lawyer's Association (CLA) G. Arthur Martin Criminal Justice Medal this July. This medal is awarded in recognition of lifelong achievement and sustained commitment to the principles and advancement of criminal justice in Canada.
JOHN NAUGLER ('75) writes, "I have retired after teaching at King's-Edgehill School for 40 years. My wife, Janet, and I still live in Windsor, NS."
---
1980s
SUSAN PATERSON ('80) writes, "I was very pleased to have my painting 'Artist's Collection' chosen second place, still life, in the 14th Art Renewal Center Salon. This is a prestigious international online realist art competition with over 4,000 entries. The painting was also chosen for their live exhibit and was displayed at the MEAM in Barcelona, Spain, and was also scheduled to be displayed at Sotheby's in New York, but it was cancelled due to COVID. In October 2020 I had my 10th solo exhibit with Fog Forest Gallery, a wonderful gallery in Sackville that I have been with for over 35 years."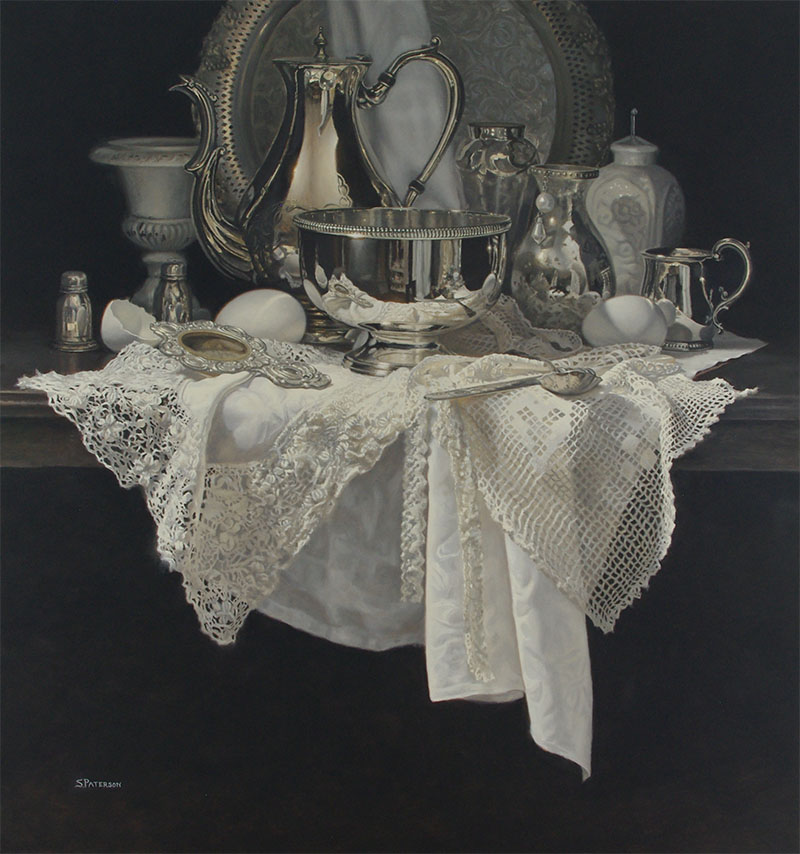 Several Mount Allison legends gathered at Covered Bridge Golf Club in Hartland, NB for some golf and renewal of friendships. STEVE CHAPMAN ('82, '83), NORVAL MCCONNELL ('80), GREG FASH ('79), DAVE MCCAIN ('79), STEVE WILBUR ('79), KEITH MACLEOD ('80), and DENNIS BEDARD ('74). We missed JIM HAZLEHURST ('77). No one's score matched their year of graduation.
THOMAS MCCAULEY (FATHER TOM) ('82) writes, "After 31 years of service to CRA, I retired on Feb. 26, 2020. I still have a year on the Board of Directors of Recycle NB and have been an elder in the Presbyterian Church in Canada since 1986."
ODETTE BARR ('88) BEd grad was the second-place winner of the 2019 national competition, the Pottersfield Prize for Creative Nonfiction, with her recently published memoir Teaching at the Top of the World (Pottersfield Press, June 2020). "I spent nearly 10 years completely immersed in Inuit culture in the decade prior to the official birth of Nunavut Territory. Teaching at the Top of the World is the account of my experience as teacher and community member in Pangnirtung, Hall Beach, and Grise Fiord. It centres on Grise Fiord, Canada's most northern permanently inhabited community, nestled on the south shore of Ellesmere Island."
---
1990s
JENNIFER DROVER ('91) writes, "Taking advantage of the Atlantic Bubble, DENISE SCHOFIELD ('90), SHELLEY THOMPSON ('91), JENNIFER (MARTIN) DROVER ('91), and WENDY (DELONG) VOKEY ('91) gathered at Anna's Place in Sandy Cove, NL in August. Anna's Place is the summer home of Jennifer's late mother, ANNA (CAMERON) MARTIN ('60), and we know that she would have been happy to have so many MtA grads spend time in this special place."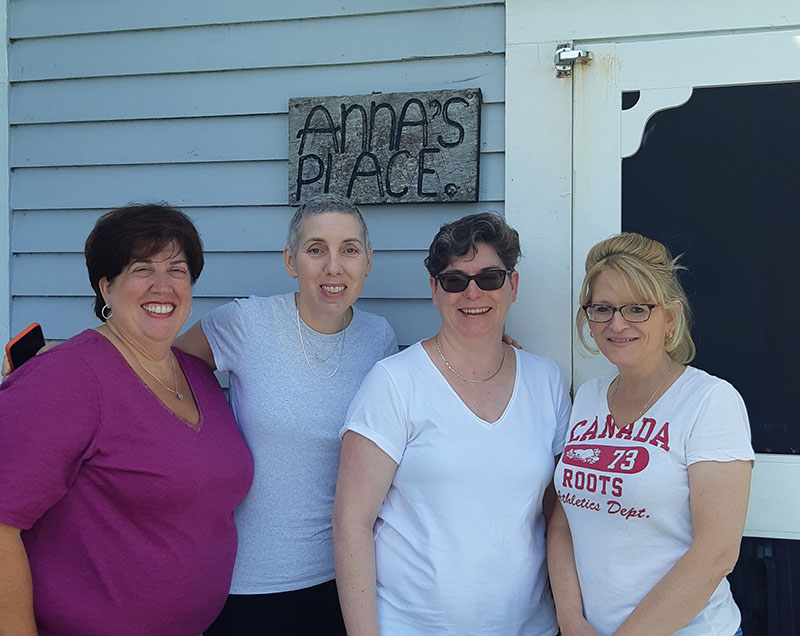 STEVEN SMITH ('93) started a part-time degree course at University of Cambridge.
---
2000s
LINDSAY (NELSON) WICKSTROM ('05) explores the history of the donair and how it became the iconic Canadian street food in her newly released Book of Donair: Everything you wanted to know about the Halifax food that became Canada's favourite kebab, published this August. It's available at your local bookstore and on Indigo.ca