Commerce case competitions revitalized at Mount Allison
Fourth-year Commerce student Alex Blades was looking to add another layer of hands-on learning to her degree. Last summer she took part in Mount Allison's internship program, working with Emera in Halifax on the tax team. Now she is working alongside a number of other Commerce students to develop a successful Case Competition Program through the Mount Allison Students' Union (MASU).
"Case competitions are taking what you learn in class and applying them in a competitive format," she says. "I plan to do my CPA after graduation and that is how they teach you — case-based."
The club was revived in 2017 by Brian Tulle ('18). This year Blades, along with other club executive members Kennedy Pope ('19) and Sam Jay ('19), worked with former manager of experiential learning Dawn Henwood to build on last year's success.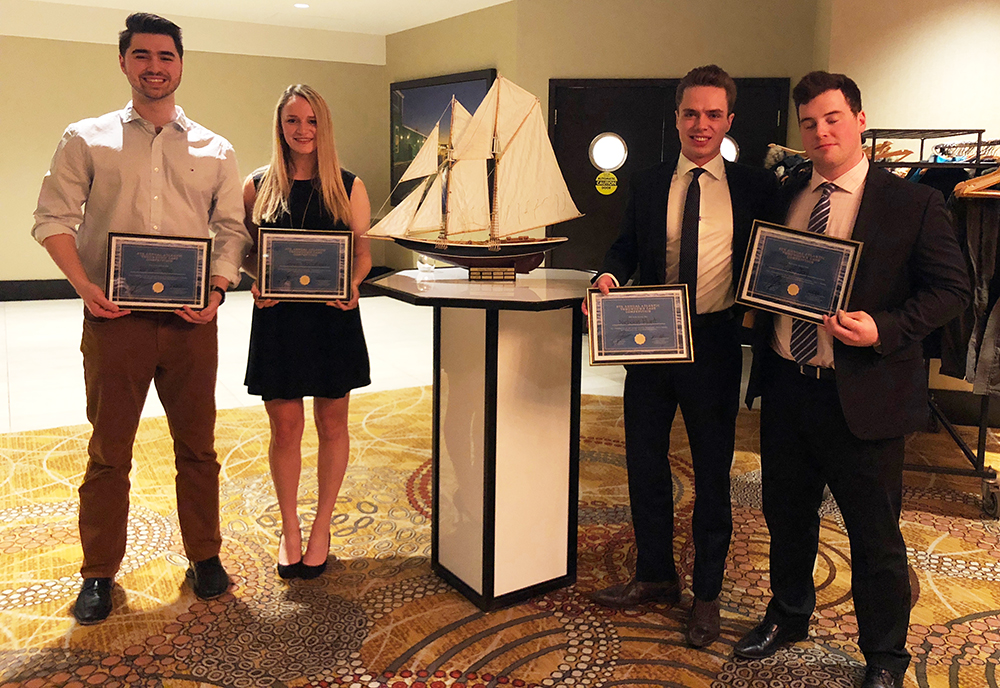 In its inaugural year, the club sent two teams to the Atlantic Throwdown at Dalhousie University, where they placed first and second.
"We were going off that high and worked hard over the summer to plan meetings, get more people interested, and secure more funding," says Blades.
Contributing to the club's success last year was Emera CFO Greg Blunden ('87). During his time at Mount Allison, case methodology was integral.
"That style of study at the time had a lasting impact on me both personally and professionally," says Blunden. "Case competitions were some of my more memorable experiences at Mount A."
Blunden worked with the students last year as a guest judge to help prepare them for the competition at Dalhousie.
"I think it's important for students to get out there, network, and build confidence," says Blunden. "I certainly saw this last year at Dal where the students got to see how they stacked up against students from larger programs. That benchmark helps them as they begin to think about graduation and starting their careers."
Working with Blades and Jeff Wright, Mount Allison's executive director of development, Blunden also spearheaded a fund raising effort to support the Case Competition Club moving forward. To date, more than $15,000 has been raised toward a goal of securing $30,000 by the end of the year.
Math and physics alumni Jim Dixon ('76), Principal of The Ashford Group in Moncton, NB, happily supported the initiative.
"I was at a stage of life where I wanted to increase my support of Mount A endeavours," he says. "In my business career I have lived my own case study, so I feel like this was a great opportunity to support students."
Blades is appreciative of the support.
"It emphasizes that case competitions are important," she says. "Many alumni donors talked about their experiences and how pivotal case competitions were to their business degree."
The club competed at the Maple League Competition in February at Bishop's University and will return to the Atlantic Throwdown at Dalhousie in March.
"I was terrified going into my first competition," says Blades. "But there is so much adrenaline in the moment, you don't think about it. I have gotten so much out of it. Case competitions bring together analytics skills, communications, working as a team, presentation skills, and creative thinking. After I finished my first one, I immediately wanted to do it again."
To learn more about supporting the Case Competition Program at Mount Allison, call 1-866-890-6318 or e-mail development@mta.ca