1950s-2010s Class Notes Winter 2019
Find out what your classmates and friends are up to
1950s
Two generations of Allisonians met up in downtown Ottawa in November 2017 — lifelong friends MABEL (MUNDLE) BANNERMAN ('54) and LIZ (FOSTER) CORKUM ('54), with their daughters ANNE (BANNERMAN) BLADES ('82) and JANE (CORKUM) YOUNG ('84).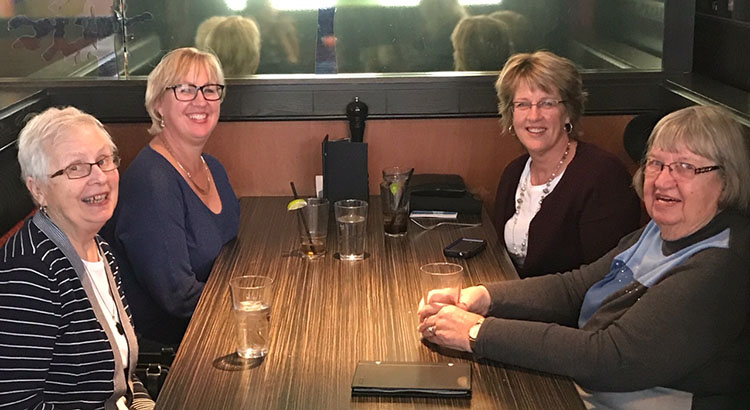 MARLENE JACKSON ('55) was honoured with the Valley Arts Award at the 2018 Deep Roots Music Festival. The award is presented to an individual who has made a significant, long-term contribution to the arts in Nova Scotia's Annapolis Valley.
TOM FORRESTALL ('58, LLD '87) will be back on campus this term to complete a special painting project, the Allison Family Spoons. Watch the Mount Allison Alumni and University social media pages the week of March 3 for updates on this exciting project that will see Tom painting the iconic spoons in the Ralph Pickard Bell Library. A limited number of watercolour prints will be sold as a fund raiser in support of the Natalie Forrestall Fund, which provides scholarships and bursaries to Mount Allison Fine Arts students.
REV. ARTHUR G. ELLIOTT ('63) and DR. CHRISTOPHER PRATT ('57, LLD '72) were recently honoured with the Order of Newfoundland and Labrador.
---
1960s
ALEX MORRISON ('68) was selected to represent the Black Watch, Royal Highland Regiment of Canada, as part of Canada's official delegation at Mons, Belgium to help celebrate the centenary of the end of the First World War. Read the full story in the Digby County Courier.
PETER FROST ('68) was sworn in as Councillor, Ward 2, Twp. of the Archipelago (Parry Sound District), for a second term on Dec. 6, 2018. He will be retiring as vice-chair, Ontario Seniors Liberal Commission, in early 2019 after serving two terms.
In March 2018, KATE BRAID ('67) published her seventh book of poetry, Elemental. She also moved from Vancouver to Victoria, BC and loves it! Only, old-time Victorians say she's not supposed to say that because everyone will want to come too.
---
1970s
Members of the CLASS OF 1970 recently met in Toronto to discuss their upcoming 50th Reunion in 2020. Back row (L-R): DAVE CONSTABLE, NORM BUCHANAN, ELEANOR (COMPTON) BUCHANAN ('71), and RON KERVIN. Front row (L-R): RON BUCKLE, GOR LLEWELLYN, LOUISE (OATES) COOKE, and ANN (GOODYEAR) HARVIE. Class members are urged to save the date for Reunion Weekend, May 8-10, 2020 for a fabulous opportunity to reconnect with classmates and Mount Allison. More information will become available in the 2019 newsletter from the Class of 1970 Reunion Organizing Committee. If you would like to participate further or volunteer that weekend, please contact Class President Bill Bishop at: billbishop1948@gmail.com. A sincere thank you to those who have made a tax-deductible donation or pledge to our class Bursary Fund, to be presented at the Reunion Banquet in May 2020, where our class will be the guests of honour. To donate to the Class of 1970 Bursary Fund, please contact Marcie Meekins, manager of Alumni Giving at: mmeekins@mta.ca. Although we are diligently trying to contact all class members to join in our 50th Reunion, please help spread the word. Looking forward to seeing you there!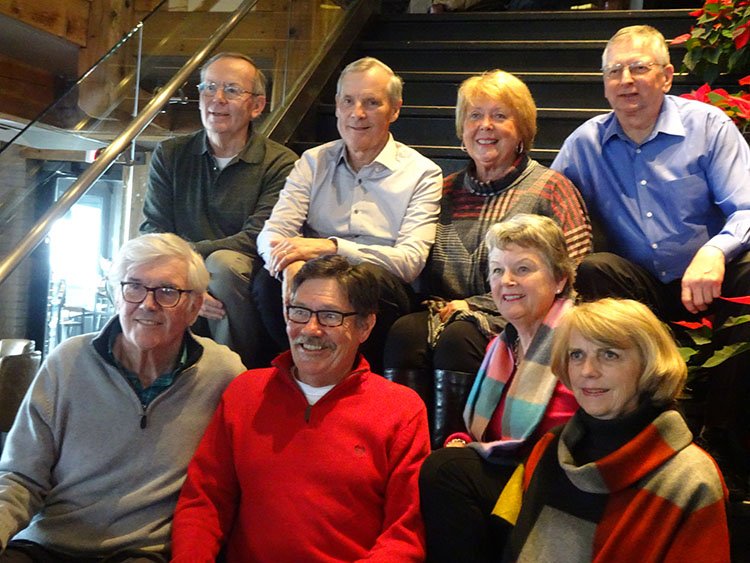 JAMES QUE ('72) writes, "After teaching EFL in Saudi Arabia for 15 years, I'm currently in my second teaching year in Qingdao, China. Also, as a United 1K frequent flyer if you need any tips on 'mileage runs' just contact me (WeChat ID: James Que) for any info, love to hear from you."
JAMES E. LOCKYER ('72) was invested in the Order of New Brunswick this fall for his extraordinary volunteerism and outstanding contributions to the legal profession.
PEG FRASER ('75) published a new book entitled Black Saturday: not the end of the story. The book was launched in Melbourne, Australia this fall and is available on Amazon.
ALISON WYLIE ('76) was appointed as the Social Sciences and Humanities Research Council (SSHRC) Tier 1, Canada Research Chair in the Philosophy of Social and Historical Sciences at the University of British Columbia. Wylie is a professor of philosophy at UBC.
---
1980s
KEVIN ESTABROOKS ('83) was inducted into the New Brunswick Baseball Hall of Fame at a ceremony in Fredericton in October 2018.
The Tantramar Heritage Trust announced the publication of a new book, People of the Tantramar, this fall. Written by DR. CHARLES (CHARLIE) SCOBIE, professor emeritus, religious studies, the book features biographical sketches of 47 women and men who have lived in the Tantramar area over the centuries, including several Allisonians, notably MARY ELECTA ADAMS and GRACE ANNIE LOCKHART (1875). MARY SCOBIE ('84) did the layout and design for the book and assisted with the editorial process. Copies of the book can be ordered by mail through the Tantramar Heritage Trust: heritage.tantramar.com
DONNA VIEIRA ('87), former CMO for JPMorgan Chase, was recently appointed as executive vice-president and chief marketing officer of Sallie Mae. Sallie Mae offers products that promote responsible personal finance, including private education loans, scholarship search, college financial planning tools, and online retail banking.
RON OUTERBRIDGE ('87), chair of Mount Allison's Board of Regents, was named a Fellow with the Chartered Professional Accountants (CPA) of New Brunswick at a ceremony held in Moncton on Feb. 2, 2019. The Fellow (FCPA) title formally recognizes CPA members whose achievements and contributions, in their careers and in the community, have rendered exceptional service to the profession. Becoming a Fellow is the highest honour that can be bestowed on a CPA.
---
1990s
IAN FOGARTY ('93,'96) was named a Global Top 50 Teacher by the Varkey Foundation in December 2018. Engineering Brightness (which he co-founded) was voted as a Top 10 globally for Sustainability in Education by the HundrED organization and a Top 100 in the world for Innovation in Education.
ROBERT JENSEN ('95) graduated with a Master of Science in GIS (Geographic Information Systems) from the University of Redlands in April 2018.
RACHEL THOMPSON'S ('97) documentary, Theatre Beyond Walls with Paul Thompson, on her father Paul and the early beginning of Theatre Passe Muraille is available for purchase online: https://www.mcintyre.ca/titles/300022.
MATTHEW HOLMES ('99) recently left his position leading the media industry group Magazines Canada to take on the role of director of government and institutional relations at Queen's University. He divides his time between Ottawa, Toronto, and Kingston.
---
2000s
ANDREW MCLAUGHLIN ('01), general counsel and corporate secretary with Major Drilling in Moncton, NB, was recently named to Lexpert Rising Stars — Leading Lawyers Under 40 in Canada.
After a brief stint in the New Brunswick civil service, JEFF HULL ('01) began a posting as director of education and research at the New Brunswick Nurses's Union (NBNU) in January 2019. Jeff obtained his Bachelor of Education degree from the University of Strathclyde (Glasgow) in 2005 and a Master's Degree in Global Studies from the University of Athabasca in 2014. Jeff has built a home on the North Side of Fredericton, where he and his two-year-old basset hound can often be found jogging through area trails. Jeff is also a board member with the Fredericton Intercultural Centre, where he is happy to be engaged in the work of growing New Brunswick's population.
BETH (LINDSAY) SWARBRIGG ('01) writes, "A big group of us (all from Trueman) met up in PEI this summer with our families for a holiday."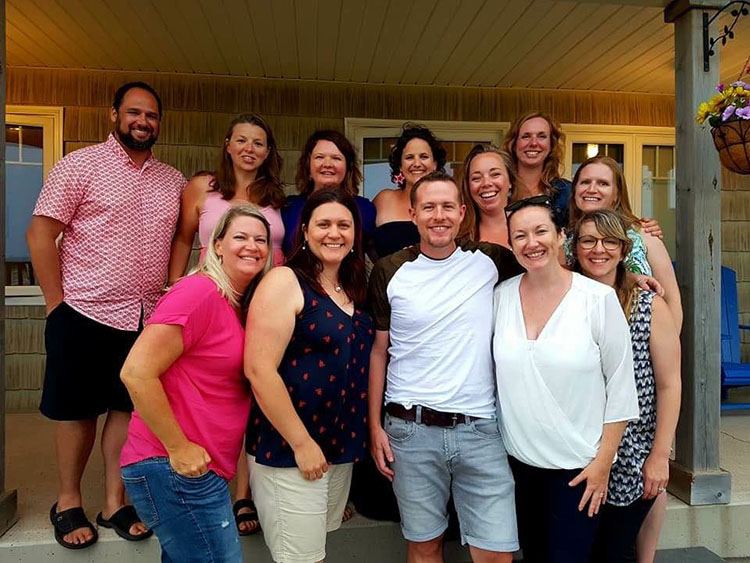 Back row (L-R): JEFF KEDDIE ('00); KATHY ANN RAINFORTH ('01); ERIKA BABINEC ('01); BETH SWARBRIGG ('01); and MARLA GREEN ('01). Middle row (L-R): MAIRI FRASER ('02); ANGELA ROACH ('01). Front row (L-R): JENNIFER GUNTER ('01); NORA FEVER ('01); JOEY CREELMAN ('01); LEANNE KEDDIE ('03); and KATHERINE HIBBERT ('01).
After almost three years in consumer protection and residential tenancies, BECKY (MCEACHERN) LETT ('02) has accepted a position as access and privacy co-ordinator for Manitoba Justice. She says there is always time for a catch-up drink with any Allisonians from her era passing through Winnipeg.
LAURA RITCHIE ('05) was named the new director of the Mount Saint Vincent University Art Gallery in December. Laura has served as head of exhibitions and collections management at the Art Gallery of Alberta, registrar of the Beaverbrook Art Gallery in Fredericton, executive director of the New Brunswick Crafts Council, and museum consultant at the National Museum of St. Kitts (West Indies).
ELSPETH LEMON ('06) and her husband Kameron LeBel of Fredericton, NB, welcomed their first child, Guinevere Kimberly Jean LeBel on May 23, 2018.
WILLIAM MCINTYRE ('06) received the Canadian Cardiovascular Society's Trainee Excellence in Education Award.
The REV. ANDREW MACDONALD ('07) has joined the clergy team of St. James Cathedral (Anglican) in Toronto as an associate priest.