Mount Allison alumni hold mini reunions throughout the summer and fall

Rugby Reunion
Sept. 20-21, 2019  
The first annual Rugby Reunion Weekend was held on campus this fall. Mount Allison Rugby alumni, players, supporters, and friends returned to campus for an alumni game, a banquet dinner with Chairman of Rugby Canada Timothy Powers, and to cheer on the current rugby team.
---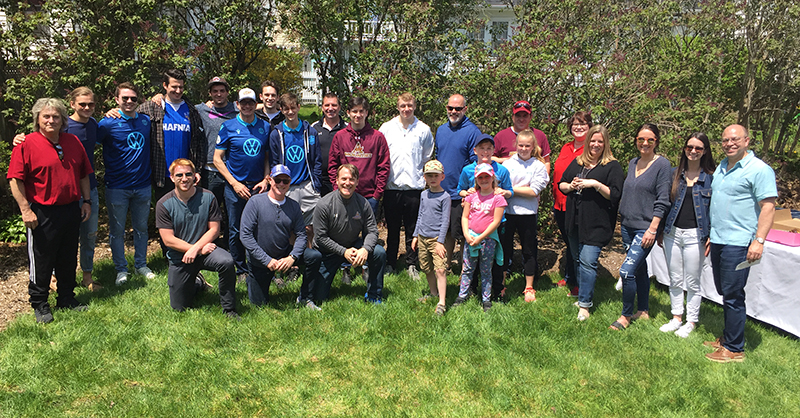 MtA Soccer Alumni
June 7, 2019
Mounties soccer alumni and friends gathered together at the home of Ian Sutherland ('96) and Meghan O'Neill ('96) before attending the Halifax Wanderers game. Attendees included: coaches George Jenkins and Ron Gould; recruits Cameron Bullerwell, Noah Hann, and Logan Reid; and soccer alumni and friends Graham Chandler ('87), Andy Chisholm ('95), Mike Cormier, Mario Hennessey ('17), Peter James, Kathryn Levandier ('14), Sarah Levandier ('18), Aaron MacGillivray ('96), Andrew MacGillivray ('95), Connor McCumber ('13), Marcie Meekins ('12), Jaryd Morrissey ('19), and Dave Taplin.
---
Hunton Wieners Reunion
Aug. 3-5, 2019
Sixteen Hunton Wieners from the 1970s and 1980s returned to campus on the August long weekend, raising funds for athletics and basketball. The group raised $2,650 and had a weekend to remember with golf games, a Whiskey tasting with Rob Daigle ('83) at Hammond House, and beer tasting at Sackville's Bagtown Brewery.
Participants included: Dave Bomberger ('82); Kevin Bone ('81); Paul Bourque ('79); Rob Daigle ('83); Wes Hanson ('82); Peter Hogan ('79); Kevin Hickey ('79); Norval McConnell ('80); Jim McIsaac ('81); Andy Oestreich ('82); Geoff Ritcey ('81); Peter Storey ('80); Steve Wilson ('79); Jack Drover (retired athletics director); Vince Reinsborough (professor emeritus chemistry and former Hunton don); and John Killoran ('77).
Hunton 2019 Reunion Reflections
Submitted by event organizer and Hunton Wiener Norval McConnell ('80)  
"Wieners Arise." I first heard those iconic words in early September 1976 when I was settling into my freshman year at MtA living in Hunton House, proud residence of the Wieners. Late at night upperclassmen arrived at my door chanting for all of the freshmen, taking us down the fire escape, one step at a time, getting a shower every step from cold water, learning our house chant (for the sake of our younger audience I will not repeat it) and finally our barely-clothed bodies ran over to Windsor Hall Courtyard. No more needs to be said. If you were at MtA in the 70s you know exactly of what I speak. We were part of a very special residence.
Over the last number of years, a group of us have been gathering at a variety of locations to golf, dine, and toast long-time friendships and incredible memories of our time at MtA. This summer I had the pleasure to host 15 of us from the late 70s in Bagtown. We stayed in Campbell Hall (a tad bit different from our Hunton) single rooms with a shared bathroom, storage space and yes, even more than one plug. The lap of luxury.
We played golf at the Sackville Course and then followed that up with a game in Memramcook. There was a bit of chirping I might add. Only a bit politer than what we used to yell at the Bombers from Bennett late into the night many years ago.
Dr. Boudreau, the new President hosted us at his home for a whiskey tasting event. Our own Rob Daigle ('83) was the expert and described in great detail each of the five whiskeys we tasted. Not one whiskey in this group ever touched our lips during our time at MtA. All were far out of our price range.
We headed to Hunton after for a tour. Although renovated and quite different then when we lived there, within minutes of venturing in we were back in the 70s sharing stories and memories of residence friends and shenanigans. We laughed so much and perhaps each of us felt a tinge of nostalgia.
We spent some time at the Bagtown Brewery, a local microbrewery that came about from a student's business project at MtA. The ales were great, the stories got better. The off to Joey's for a meal together of wine, pizza, and cold beer. It was an incredible gathering of people I consider more than friends.
During our most formative and critical years each of us was there for the other in some way. Fast forward over 40 years and as I sat in the common room in Campbell Hall before we headed out, here we were all over again. Just like when I first heard, "Wieners Arise" in Hunton House in 1976, I was to be part of something very unique.
See more about Chapter and campus events at mta.ca/alumni
[image gallery to be inserted]