1960s-2010s Class Notes Fall 2019
Find out what your classmates and friends are up to
1960s
SHIRLEY (ROBINSON) PEARMAN ('62)'s book Hands On! The Art of Traditional Crafts and Play in Bermuda was published in 2016. It received the prestigious Eric Hoffer Award in 2018 and the 2018 Literary Award (honourable mention) from the Bermuda Department of Community and Cultural Affairs in February 2019. In April 2019, Pearman was one of eight Bermudian female authors to receive the Crystal Butterfly Award by the Atlantic Publishing Company on the occasion of its 40th anniversary. A website is currently being prepared for the book. Pearman enjoyed a 35-year career in teaching and has devoted her time to all things cultural, historical, and artistic in the Bermudian context. She will be celebrating her 80th birthday this November.
Shirley (Robinson) Pearman ('62) receiving the Bermuda Literary Award for 2018 from Hon. Louitta Foggo, JP, MP, Minister of Labour, Community Affairs, and Sport.
A group of Allisonians from the 1960s gathered at the Old Fish Factory Restaurant in Lunenburg, NS in June 2019. Many good MtA memories were shared.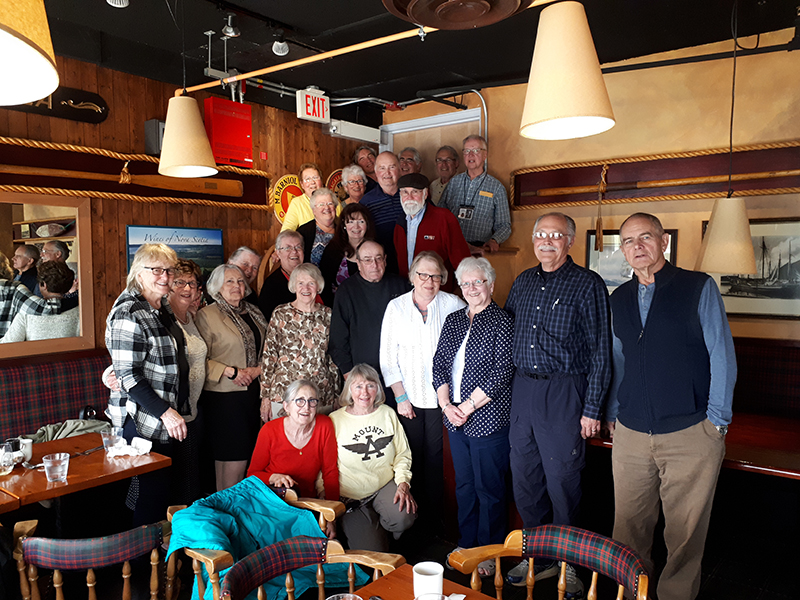 Foreground: Heather (MacGregor) Bagnell ('65) and Sherrie (Walker) Carey. First row: Cindy (Pierce) Embree ('66); Marg (Davidson) Forbes ('65); Mary (Bristow-Harlan) King ('65); Cate (Isner-Lenco) Bird ('65); Harry Hughes ('69); Sue [Gass] Morse ('68); Prue (Wilmshurst) Hansen ('65); Mike Hansen ('65); Phil Bagnell ('63). Second row: Judy (Mackay) VanRyckevorsel ('65); Corrine (Zwicker) Zinck ('67); Judy (Purdy) Corkum ('66); Sharon (Gregg) Gunn ('69). Third row: Mary (Vogler) Black ('63); Enid (Coles) Shaw ('65); Dave Boston ('65); Alex Gunn ('69). Back row: Sherm Embree; Ewart Morse ('68); Ivan Carey ('64); George Demmons ('65). Present but missing from photo: Kay [Antle] McNamara ('65); Linda [Trenholm] Boston ('68); Bob Forbes ('71). Photo credit: Cindy (Pierce) Embree ('66)
---
1970s
LORRAINE EDEN HERMANN ('70) was recently honoured for her contributions to research as a member of the International Scientific Committee of the Rennes Business School. She received the Medal of the City from the Mayor of Rennes, France. Lorraine is a professor of management at Texas A & M University from which she retired in August.
---
1980s
After practising intellectual property law in Ottawa for over 30 years, SUSAN BEAUBIEN ('80) has been appointed a member of the Canadian International Trade Tribunal.
JAMIE COTTINGHAM ('80) is the director of facilities and campus planning, University of Calgary in Qatar. He says hi to all the Hunton Wieners and the Football Mounties.
BETH W. JOHNSTON ('84) writes, "Have gone on a 'last adventure' before retirement and moved to a two-point pastoral charge in rural and northern Saskatchewan."
BRUCE MCKAY ('85) has been appointed artistic director of La Troupe du Jour, in Saskatoon, SK.
The 30th Annual Dirty Bird Golf Invitational was held on the May long weekend in Halifax and Fox Harb'r Resort. This group has played courses all over Eastern Canada and the United States.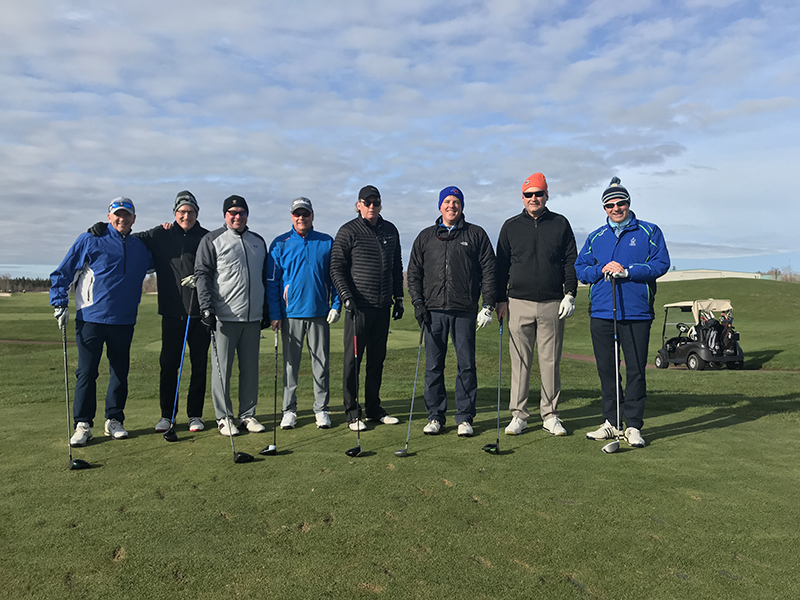 At Fox Harb'r (L-R): Mike Roberts ('88), Mark Farwell ('87), Wilson Bell ('87), Chris Watt ('87), Alan Kerr, Mike Oland ('87), Kevin Fogarty ('87), and Greg Blunden ('87).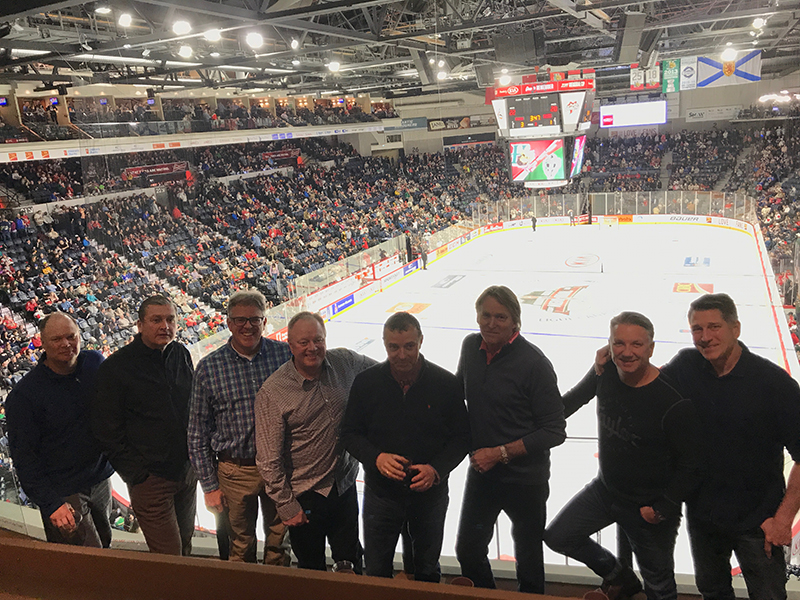 Pictured at the Memorial Cup Hockey game (L-R): Chris Watt ('87), Kevin Fogarty ('87), Mike Oland ('87), Wilson Bell ('87), Greg Blunden ('87), Alan Kerr, Mike Roberts ('88), and John Savoie ('87).
---
1990s
ANGELA BOYLE ('93) was awarded Female Entrepreneur of the Year for 2018 in Bathurst, NB. Angela is broker and owner of her own real estate company, also investing in rental/commercial properties and "flipping" homes!
CHERYL (WAY) YOUNG ('93) writes, "In 2018, I happily became the editor-in-chief and co-owner of Salty, a digest that focuses on PEI's food world. We print and distribute 7,500 issues across the Island each month. There are many great food stories to tell on Canada's Food Island! You can read our issues online as well at saltyisland.com."
DON MOORE ('96) has just been named to the Board of Directors of Service New Brunswick, a provincial Crown corporation, for a three-year appointment. He has been working for 3+ Corporation, the Greater Moncton Economic Development Commission, as the director of entrepreneurship and business start-up for the past two years. He also continues to teach business courses part-time at Yorkville University and Crandall University, as well as in the national program for the Masters Certificate in Project Management out of the Schulich School of Business at York University.
---
2000s
SYLVIA NICKERSON ('01, '03)'s newest book Creation was recently published by Drawn + Quarterly. Nickerson is a comics artist, writer, and illustrator who lives in Hamilton, ON. Her focus is storytelling in community arts and writing comics examining parenthood, gender identity, social class, and religion (sylvianickerson.ca).
LINDSAY BIRD ('05) published her first book, Boom Time, with Gaspereau Press in May 2019. The book of poetry was inspired by her time working isolated construction camps in Northern Alberta. Lindsay is a poet and journalist in Corner Brook, NL.
A group of Mounties Soccer Alumni met up for an Ottawa Fury FC match against North Carolina FC in May 2019.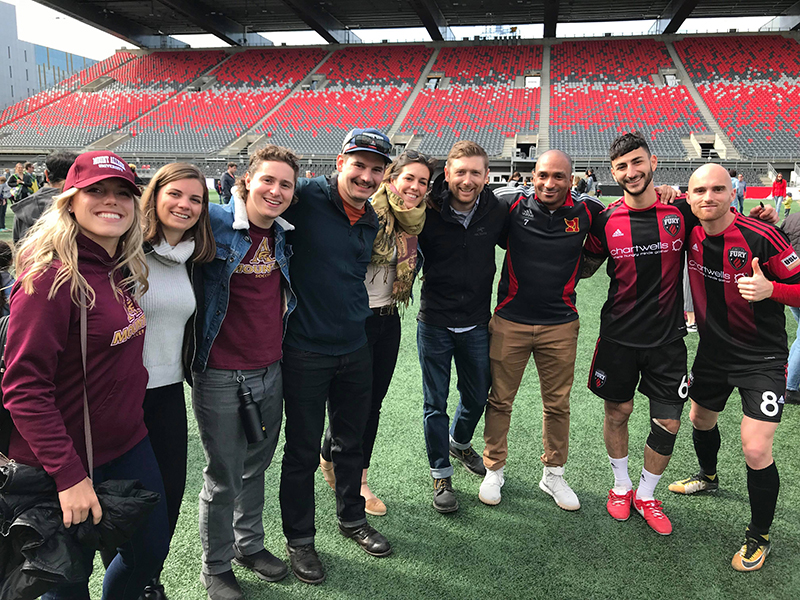 (L-R): Lindsay Cormier ('13), Julia Hafey ('14), Adam Brown ('12), Iain MacLeod ('13), Elissa McCarron ('11), Eric Jones ('10), and Jules Alie ('07) with Ottawa Fury FC players Chris Mannella and Jeremy Gagnon-Laparé.