Toqolugwejig — Working together
Mount Allison's Indigenous Student Support Group leads University's first powwow, celebrates permanent installation of the Mi'kmaq flag
Hundreds of students, faculty, staff, and community members braved a late March snowstorm to attend the University's first powwow. The event opened with the permanent installation of the Mi'kmaq flag in front of the Chapel, a project completed with the help of funds raised by the Indigenous Student Support Group.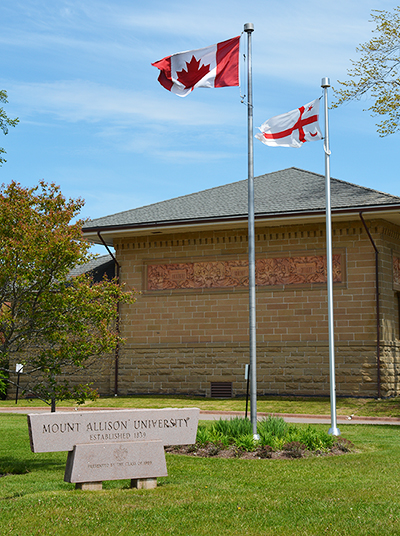 The powwow and flag raising were highlights of the many initiatives undertaken by Mount Allison's Indigenous Student Support Group (ISSG) over the past number of years. Founded in 2012, the ISSG is made up of Indigenous students and allies. With the assistance of the Indigenous affairs co-ordinator, the student group has helped lead efforts to bring Indigenous culture and knowledge to campus as part of the University's larger efforts in these areas.
The group has grown in both numbers and momentum. This spring the ISSG was named the Club/Society of the Year by the Mount Allison Students' Union at the annual ASCARS Awards. The 2018 Grad Class Executive also announced their class gift as a $1,500 donation to the group.
Emma Hassencahl-Perley ('17), who worked as the Indigenous affairs co-ordinator last semester and was also a member of ISSG as a student, says these kinds of actions are important on campus.
"Events like this help celebrate Indigenous culture on campus and, more importantly, allow Indigenous students to see themselves in the University community. There is still a lot to do, but I have seen some big steps in the past five years," she says.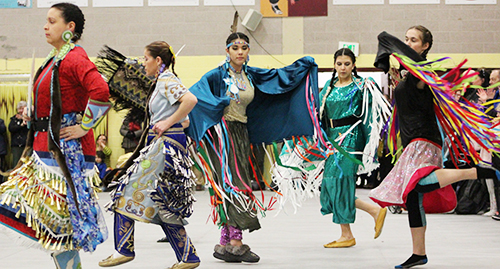 First-year student Talon Simon ('21) from Elsipogtog First Nation, the main organizer for Mount Allison's powwow, says celebratory events like these are important, and a lot of fun, but the University's academic decisions are key for Indigenous students. Mount Allison hired two Indigenous faculty members this spring.
"Having Indigenous faculty members on campus is really important for both Indigenous and non-Indigenous students," says Simon. "It gives a different perspective and is another way for Indigenous students to see themselves on campus. I'm very excited to see where things go on the academic side in the next few years."
Ashley Cummings ('20), a psychology student from Whitehorse, YK, received this year's Chris Metallic Prize for Indigenous Leadership, announced at the powwow (photo above).
Cummings says she was thrilled to receive the award at such a special event.
"The tears came instantly as they announced my name and looked at me. I'm so grateful to have had Doreen [Richard ('96), retired Indigenous affairs co-ordinator] hug me when I went to accept, and to have had Emma to hold my hand during the victory dance," she says. "The hardworking people who act against all the terrible things that come our way as Indigenous people, be it racism, colonialism, or anything else, are who inspire me to speak and lead the way I do. They are the inspiration, passion, and love that drive me forward."
Learn more about initiatives around Indigenous student support, curriculum advancement, and community events and announcements at Mount Allison, including the Years of Indigenous Knowing (2016-17) and Indigenous Action (2017-18) at mta.ca/indigenous
[image gallery to be inserted]