The past, the present, and the future
Dr. Robert Campbell and Dr. Christl Verduyn reflect on their time at Mount Allison
On Friday, Dec. 13, 2005 there was only good luck for Dr. Robert Campbell as he received the call that he had been chosen to become Mount Allison University's 14th President and Vice-Chancellor. He and his wife, Dr. Christl Verduyn, were in Leiden in South Holland. Both say it was a day they will never forget.
"We always wanted to be where we could build something and make an impact," Campbell says. "Mount Allison allowed us to express ourselves in that way."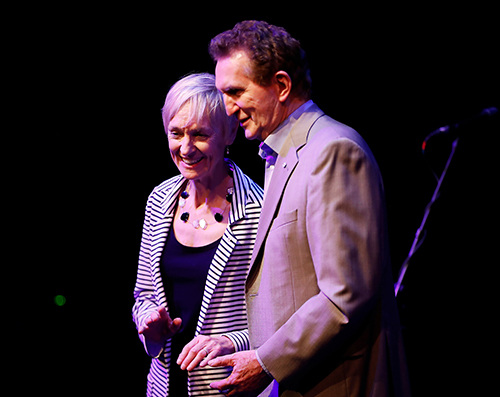 Verduyn says there could not have been a better landing place for her than Mount Allison. She was cross appointed to English and Canadian Studies, eventually becoming the Davidson Chair in Canadian Studies and the University's director for the Centre of Canadian Studies.
"I was ready to go anywhere that Robert was going, but coming to Mount Allison could not have been better," she says. "It was like life starting all over for the both of us in all the best ways."
After eight years, Campbell agreed to extend his second term for another two years. He now believes it is time to turn the University over to the next generation.
He explains that being a university President means living in three time zones — the past, the present, and the future.
"A university President must balance the heritage of the past with present expectations and future needs," he says. "This requires trade-offs, compromises, and discipline. Institutions must change to reflect evolving social expectations while working to sustain core values."
During Campbell's tenure Mount Allison has enjoyed a reputation as one of the country's best undergraduate universities. Since his arrival in 2006, nine Mount Allison students have been named Rhodes Scholars, six professors have been named 3M National Teaching Fellows, and the University's endowment fund has nearly doubled.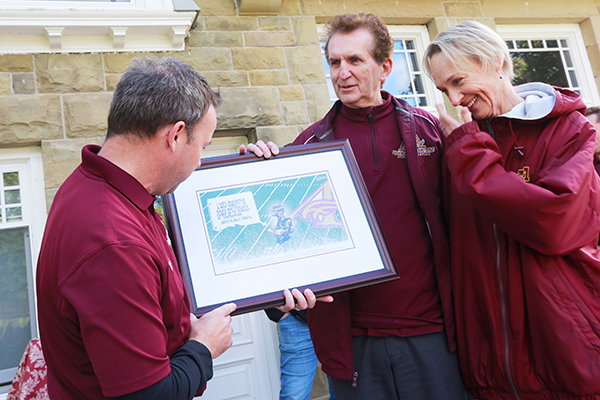 The campus has also been transformed with the addition of the Purdy Crawford Centre for the Arts, the creation of the Wallace McCain Student Centre and a science research facility in repurposed buildings, as well as renovations to residences and academic buildings.
"I always ask two questions when making any decision: 'Will it improve the quality of the Mount Allison experience?' and 'Will it contribute to the institution's sustainability?'" he says.
Campbell has especially championed the student experience and their mental and physical health, via increased supports for students, the provision of more co-curricular and extracurricular opportunities, and the advancement of athletics and recreation programs.
The pair created the Campbell-Verduyn Fund in 2006, which has financially supported all types of student life initiatives for the past decade and has now been endowed through generous donations by alumni and friends.
He has also been a strong advocate for the indigenization of campus, helping Mount Allison implement Universities Canada's principles on Indigenous education and supporting the addition of an Indigenous affairs co-ordinator position and the creation of Mawita'mkw, a designated Indigenous gathering space on campus.
Campbell graduated from Trent University and the University of Toronto. He earned his PhD in political economy from the London School of Economics.
He began his career at Trent in 1980 and served as its provost and dean of arts and science, receiving the Symons Teaching Award in 1994, before becoming dean of arts at Wilfrid Laurier University from 2000 to 2006. He is the author of ten books on politics and public policy and a former editor of the Journal of Canadian Studies. He is an international expert and consultant on postal systems and their modernization.
In 2016, he was appointed to the Order of Canada for his contributions to academia, as an authority on postal services, and as President of Mount Allison University.
After a dozen years, Campbell says that what he has found most surprising about heading up a small, residential university is the sheer variety of issues and activities.
"I do not think that anybody can be ready for the scale and scope of what you are doing as a university President," he says.
Verduyn's career at Mount Allison has been equally notable. She is a Fellow of the Royal Society of Canada and has greatly enriched the experiences of her students, colleagues, and the wider community through the many authors and scholars she has brought to speak on campus, such as Thomas King, Margaret Atwood, Lawrence Hill, and Pamela Palmater, as well as the conferences she has organized.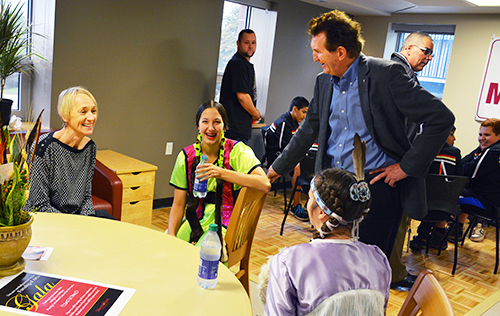 Verduyn's expertise broadly is Canadian literature, but she has focused on voices that sometimes have been overlooked or sidelined, in particular women's literature. She is a passionate advocate of Indigenous literature and authors, and included their works in her teaching long before the Truth and Reconciliation Commission created national awareness of the need to indigenize the curriculum at all levels of education.
"I would like people to know more about Canada — the good and the bad," she says. "I believe the University has one of the best Centres for Canadian Studies and I hope that continues to grow. The study of Canada remains strong at Mount Allison, but there is much still to know."
Verduyn was named a 3M National Teaching Fellow earlier this year and has previously been awarded the Herbert and Leota Tucker Teaching Award (2014) and the Paul Paré Medal of Excellence (2012) at Mount Allison, as well as the Symons Award for Excellence in Teaching (1996) at Trent University. She has also written or edited 16 books.
Verduyn was appointed to the Order of Canada in 2017 for her contributions to Canadian studies and for her commitment to making Canadian literature accessible to a broader audience.
There have been many memorable moments along the way for Campbell and Verduyn as they have watched thousands of graduating students cross the stage in Convocation Hall over the past 12 years, including at their final Convocation on May 14, 2018.
"I see the intensity and variety of emotions as students cross the stage," Campbell says. "It is so much fun to be able to shake their hands because I appreciate what it took for them to get there. It was also memorable to be a part of Lynn Loewen's ('82) installation as Chancellor as she has been with us all 12 years — on the Board, as a parent of two Mount Allison graduates, and now as Chancellor."
Verduyn says her favourite moments from her final Convocation included hearing the Alma Mater Song one last time, performed by students that she and Campbell both taught, and seeing the new tradition of awarding an eagle feather to each Indigenous student who crossed the stage.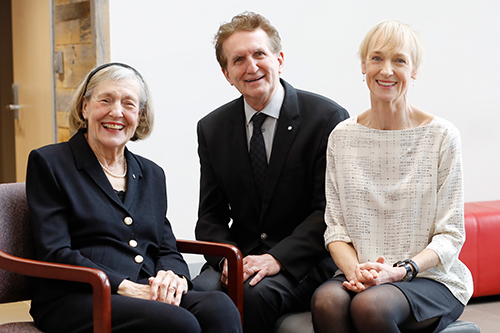 For the past several months, the pair have been on a farewell tour of sorts with a number of events being held to celebrate the dynamic duo. They describe the events as flattering, generous, and authentic.
"Everything was just so well planned and thought out," says Campbell. "This could not have happened unless people really knew us and our values. They reflected who we are and what we have been trying to accomplish."
Of the many things they will miss about Mount Allison and Sackville, Campbell says the beautiful landscape ranks around the top.
"I will miss running in the Waterfowl Park and swimming at Silver Lake in the mornings," he says.
He will also miss the day-to-day camaraderie with students, faculty, and staff.
"I can banter my way through the day," he says. "That only happens in a place like this. Nothing will replicate that."
Verduyn adds, "People here are endlessly interesting. I will never get tired of hearing their stories."
So the big question…what's next?
The pair plan to split their time between Montreal and Europe and spend time with their four children: Malcolm, Lachlan ('07), Colin, and Frances ('12,'15).
While Campbell admits he will be taking some time to decompress, Verduyn says she is rewiring.
"I am looking forward to being a part of the 3M community," she says, "and continuing to work on teaching and learning projects."
Campbell adds, "It has been a privilege and a pleasure to serve this great University. Allow me this opportunity to thank everyone who has provided help and support over these dozen years."
PHOTO CAPTIONS: 1) Christl Verduyn and Robert Campbell at a farewell event held during Reunion Weekend. 2) Athletics director Pierre Arsenault, left, presents Campbell and Verduyn with a thank you gift during the opening weekend of Alumni Field. 3) At the opening of Mawita'mkw, a designated Indigenous gathering space on campus in September 2016. 4) Campbell and Verduyn with Marilyn Trenholme Counsell ('54, LLD '00).
---
Editor's note: On June 28, 2018, Federal Finance Minister Bill Morneau announced that Robert Campbell had been appointed to the Bank of Canada's Board of Directors. The Bank of Canada is responsible for Canada's monetary policy and bank notes and also has responsibilities relating to the financial system and funds management. For more, see Dr. Robert Campbell named to the Bank of Canada Board of Directors
---