Meet Our 2018 Alumni Award Winners
The Alumni Board recognized a few outstanding alumni for the valued contributions they make to their communities
CHARLES FREDERICK ALLISON AWARD — SCOTT MCCAIN ('78)
The Charles Frederick Allison Award recognizes outstanding contribution to Mount Allison by an alumnus or an alumna.
Scott McCain ('78) joined a long-standing family tradition of attending Mount Allison, graduating with a Bachelor of Commerce. He joined McCain Foods, eventually earning the title of vice-president of production, and later joined Maple Leaf Foods. In 1999, he became President and COO of Agribusiness Group at Maple Leaf Foods Inc., retiring in 2014. McCain is currently the President of JSM Capital Corporation, a private investment holding company.
McCain has shown his passion for sports and Mount Allison by supporting the Alumni Field project, numerous athletic scholarships, and the volleyball, hockey, and basketball teams. His support is rooted in his experience that athletics provides a great venue for personal growth, achievement, and making lifelong friendships. He is a member of the Fifth Quarter Club, vice-president of the Class of 1978, and served as a member of the Board of Regents for 15 years. As co-chair of the Mount Allison JUMP campaign, he helped raise more than $96 million for the University. McCain is also involved with the Ron Joyce Centre for Business Studies, hosting commerce students during their annual trip to Toronto, and he sat on the Ron Joyce Advisory Board for many years.
This year, McCain led the way for the Class of 1978 to reach their goal of raising $84,000 to go towards their Leadership Scholarship fund for their 40th Reunion.
---
LIFETIME ACHIEVEMENT AWARD — PETER GERMAN ('73)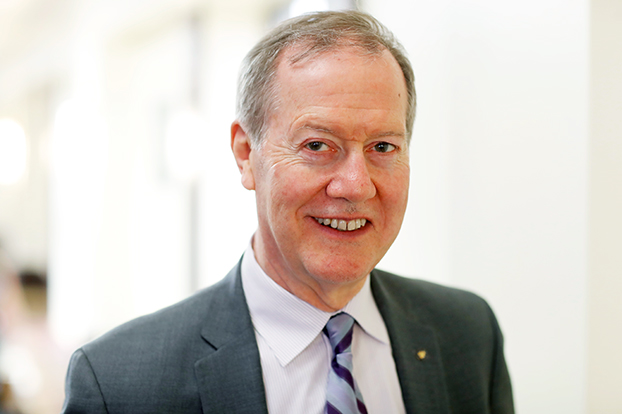 The Lifetime Achievement Award recognizes outstanding achievement within or contribution to a community outside of the Mount Allison community. This could include volunteering or professional service in a wide range of arenas such as civic, religious, community, etc.
Peter German's ('73) outstanding accomplishments throughout over 35 years of service to the public as a member of the Ontario and British Columbia bars and as an RCMP officer have earned him many career awards, such as Officer of the Order of Merit of Police, and the Gold Medal of the International Society for the Reform of Criminal Law. He received Queen's Counsel designation just last year.
After graduating with a Bachelor of Arts honours in political science, German, who is from Halifax, NS, went on to earn three more degrees before receiving his doctorate degree from the University of London's Institute of Advanced Legal Studies. He held positions as the RCMP deputy commissioner for Western and Northern Canada and regional Pacific deputy commissioner for Correctional Services Canada. He also organized teams within the RCMP to focus on market, international anti-corruption, and integrated counterfeit enforcement.
In 2008, German was the initial team commander during the search for kidnapped diplomats in Mali in West Africa, an experience he describes as a unique life event.
Read about Peter German's work: Flawed regulation blamed for B.C. casino money laundering (Globe & Mail, June 2018)
---
CONTEMPORARY ACHIEVEMENT AWARD — SCOTT JONES ('08) AND LAURA MARIE WAYNE ('07)
The Contemporary Achievement Award recognizes outstanding achievement by an alumnus/alumna within 15 years of graduation from Mount Allison.
Scott Jones ('08) and Laura Marie Wayne ('07) are co-recipients of the Contemporary Achievement Award in recognition of their inspirational leadership towards social justice.
In 2013, Jones was left paralyzed from the waist down after an attack believed to be motivated because he is gay. Jones was driven by the overwhelming support he received to create something positive from this traumatizing, life-altering event and forgiving his attacker was a part of that process.
He created the Don't BE Afraid campaign, which spreads a message of empowerment for individuals to be themselves and to promote a loving society with the goal of dissolving fear surrounding intolerance.
"Mount Allison's small, close-knit community was a really safe space for me to come out of the closet and to get in touch with my authentic self and that has been the basis of the rest of my life, really, as an openly gay man," says Jones.
Jones and Wayne's strong bond paved the path for Love, Scott, a documentary directed by Wayne that follows Jones three years after the attack. As the first Canadian to graduate from Cuba's renowned International School of Film and Television and a lifelong friend, Wayne knew that the camera could offer Jones the space to explore his grief and his journey towards healing. The documentary premiered this year at the British Film Institute Flare Festival and at the Hot Docs Canadian International Documentary Festival.
View the Love, Scott trailer: