Music professor Linda Pearse's collaborative project tells one family's experience with residential schools
As Mi'kmaq singer, drummer, and composer Hubert Francis performed the Mi'kmaq Honor Song, Mount Allison Music professor Vicki St. Pierre's voice entered quietly, a subtle counterpoint with a Latin chant, ubi caritas.
It was magnificent — and deeply distressing.
"I just started crying," says Wolastoq singer, drummer, and educator Angee Acquin. "It sounded so beautiful and I didn't want it to sound that beautiful because Catholicism did such horrible things to my people. To be appreciating something like that as much as I was seemed contradictory in my heart."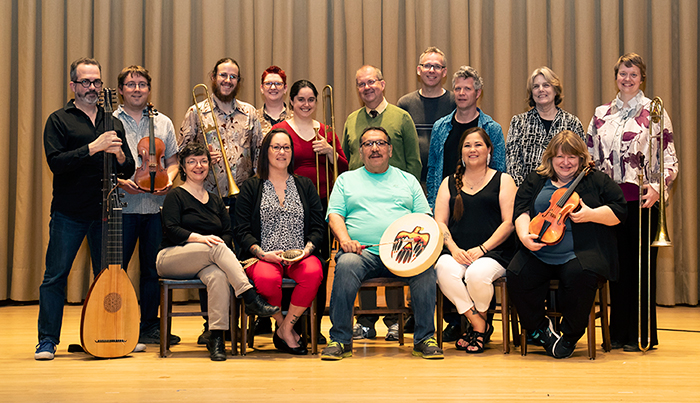 That moment would prove to be a significant turning point for the team behind the international research-creation project 'How Do We Listen?'.
The interdisciplinary project, which included a September 2017 workshop and a May 2018 recording session, began as a collaboration between Linda Pearse, associate professor of Music at Mount Allison, and Ann Waltner, a historian at the University of Minnesota. The pair have collaborated on several interdisciplinary projects in the past.
"This time we wanted to create a project that would look at identity in this region pre-Confederation," Pearse says.
The result is a deep exploration of how stories and truths are told, how we acknowledge the past and move forward together, and what can be learned by bringing together artists and scholars from disparate cultural traditions, including Indigenous performers, early music performers, a jazz musician and composer, a historian, and a literary scholar.
"The title, 'How Do We Listen?' puts the onus on non-Indigenous people, those who need to engage actively in the processes of decolonization and whose ability to connect meaningfully with Indigenous peoples can contribute to the betterment of our society as a whole," Pearse says.
When Acquin explained her reaction to the music, it completely changed the direction of the project. Both her grandmother and her grandmother's sister were sent to residential school, where her grandmother's sister drowned. Their experience has impacted each subsequent generation of her family.
"That experience of Angee talking about the layered melodies was so profound it transcended everything we'd done in the project," Pearse says. "We ran with the idea of having her narrative guide and structure the entire new work and having her join us as a main collaborator. That was, for me, a really wonderful, humbling learning experience as a creative artist. You have to be prepared to throw out what you know and what you've decided to be open to a new way of collaborating, a new way of thinking and seeing."
Acquin, whose sister Judie Acquin, a singer and drummer, is also part of the project, says she is proud the final recording honours residential school survivors and the  Acquin ancestors.
"(Composer) Joel (Miller) composed songs for those survivors," she says. "It has meant giving honour not only to my grandmother, but to a lot of people's grandmothers, grandfathers, aunties, and uncles. Every time their names are spoken or the tragedies are spoken, it gives them validation, justice, and honour."
The final recording tells the Acquin family's story through early and new compositions; text; soundscapes; whisper texts representing the lost voices of those who died at residential schools; and the Honor Song, beginning before and ending after the Latin chant, symbolizing the endurance and perseverance of the region's Indigenous people.
---
This video highlights aspects of a Collaborative Communities Workshop held at Mount Allison University, September 23-25, 2017. The workshop brought four different communities of creative practice and scholarly engagement together for a workshop on interdisciplinary collaboration.
[image gallery to be inserted]