The Alumni Engagement Office and Board share updates from the governance committee and a revamp of the Record
Over the spring, the Record staff have been working to launch a 'refresh' of our magazine. We've incorporated some new design elements, added some new features, and continue to build our ever-growing online presence through the magazine's website.
You can also enjoy and share your story on Mount Allison's alumni social media channels using #shareMtAstory (facebook.com/mtaalumni, Twitter: @MtAalumni).
The Alumni Board and the Alumni Engagement Office have also been working on changes on the governance side.
The Board constituted a Governance Committee at our Fall 2017 meeting. The intent of creating this Committee was to address some outstanding issues and make sure that the Mount Allison Federated Alumni and its representatives on the Alumni Board, Board of Regents, and Senate are operating effectively and following good organizational practices. We want to ensure that the interests of alumni are being shared with the University and helping to influence the experience of current and future students.
Over the past several months, Committee members have worked to create an action plan including conducting an extensive review of existing governance materials, developing plans to update the constitution and bylaws, and reviewing our process around setting goals, making plans, and the structure of our Board Meetings. We are also working to find ways for the larger alumni community to participate in the Annual General Meeting through use of technology or social media.
Our intention is to take a fresh look at what we need to accomplish and how we will get there, and make sure and steady progress towards our goals for the Alumni Federation. We will keep you informed about our progress in the Record, on the alumni website, and at future Annual General Meetings.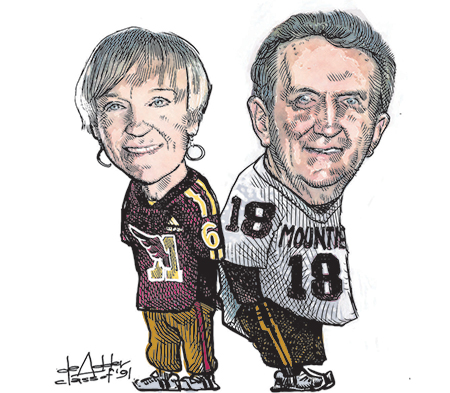 To quote Greek philosopher, Heraclitus, which our philosophy and classics grads will be well versed in, "The only thing that is constant is change."
This quote particularly rings true for Mount Allison this year — we bade farewell to President Robert Campbell and Dr. Christl Verduyn this spring, welcomed our 15th President and Vice-Chancellor Dr. Jean-Paul Boudreau this month, and are preparing to officially open the new life sciences research building on campus in the former Gairdner Building. It is truly an exciting time (as always) to be an Allisonian.
We hope you enjoy the changes made in the Record and by the Alumni Board and encourage you to keep in touch about changes in your own life.
Carolle de Ste-Croix ('90)
Editor of the Record
Christy DeMont ('80)
Director, Mount Allison Alumni Board