A new centre for engaged learning on campus
A few years ago, over lunch at the University Club on campus, professors Dr. Mike Fox, Dr. Fiona Black, Dr. Andrew Wilson, and Dr. Erin Steuter were discussing teaching and learning, including the role of educators and teachers in the community and ways for all disciplines to incorporate community partnerships into their teaching. This discussion marked the beginning of a journey towards creating R-PEACE (Research Partnerships for Education and Community Engagement) — a centre for engaged learning.
"We are committed as educators to the community," says Fox. "The fundamental role of Mount Allison is to serve the community through education."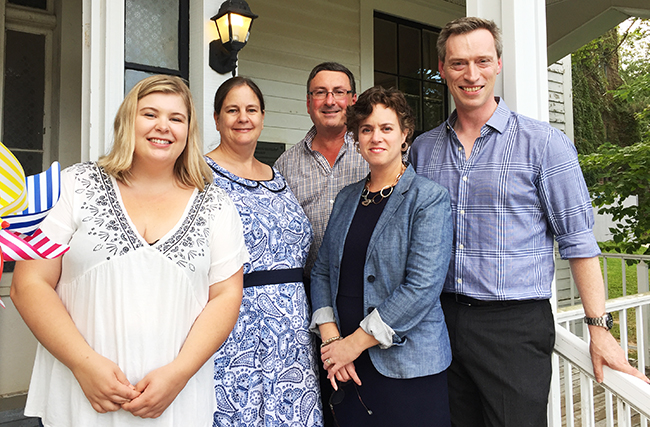 Black says the research centre is all about finding a vehicle to bring a lot of active moving parts together.
"It seems almost too good to be true that we have this university context in proximity to some really dynamic schools that are interested in deep learning and project-based learning," she says.
Among many other projects, the Centre has been working with Marshview Middle School to help them develop a deep learning project via a special university studies course on community engaged learning.
"We are thrilled to work alongside R-PEACE and Mount Allison, providing learning opportunities that encourage citizenship, community, and collaboration. What a wonderful way to engage our students," says Heather Dixon, principal of Marshview Middle School.
Through many other subsequent discussions, the group also decided they would need a dedicated research space on campus in order to get the answers to many of their questions and explore how to make solid, far-reaching, and interdisciplinary connections within the community. They also wanted to think about what they could bring to the conversation around changes in pedagogy and experiential learning on campus.
One important component of the research centre has been creating a physical space on campus to test what kinds of pedagogies best connect with this type of community learning model. The learning lab is located in Hart Hall and has been created as a space for flexible and project-based learning with space to collaborate and invite the community.
Recent graduate Shannon Power ('18) spent the summer with R-PEACE helping the group prepare for its launch in September. Through the process, she found her next step — a Bachelor of Education — which she began in the fall.
"It really opened my eyes to what education could be," she says.
Dean of Arts Dr. Elizabeth Wells says this advancement on campus is very exciting because the arts and humanities are under pressure to prove their relevance to society.
"This centre helps position us at the forefront of education and thinking about education in the future," says Wells.
The research centre will use its findings from the learning lab to inform and enhance the community and to create more partnerships.
"Through this kind of learning, you are setting students up to be engaged in their communities, compassionate about the world around them, to be citizens," says Black. "In a measured way, that should be what we are doing here in a university setting."
Community partnerships already established by R-PEACE include Sackville Schools 2020; Dorchester Moving Forward Model School; Sackville Festival of Early Music Youth Outreach Program; Marshview Middle School deep learning and outdoor classroom; and the Education Re-design Lab, Harvard Graduate School of Education.
Photo caption: Shannon Power ('18), Erin Steuter, Mike Fox, Fiona Black, and Andrew Wilson
---
For more information, visit rpeace.org, like R-PEACE on Facebook @rpeace.org, or follow them on Twitter @RPEACE17.