Sport psychologist professor Dr. Lindsay Ross-Stewart ('03) works with college teams on imagery-assisted virtual reality training
Lindsay Ross-Stewart has always wanted to work in sport psychology. This dream has become her reality, on a number of levels. Ross-Stewart is a psychology professor and sport psychology consultant at Southern Illinois University Edwardsville (SIUE). She recently made headlines for her research around virtual reality (VR) and imagery in sports training and recovery.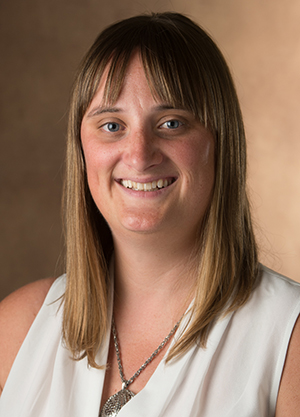 "Imagery is seeing, feeling, tasting, smelling, experiencing an action without actually doing it," explains Ross-Stewart. "We know that imagery increases performance. The more you're into the experience, being sweaty, wearing your uniform, the better the imagery."
"Many of our videos are recorded and stored on athletes' phones for training as part of guided imagery scripts," she says. "I work with one athlete who has over 100 training videos on his phone now."
In 2015, Ross-Stewart began working with SIUE's baseball team to bring imagery-assisted virtual reality into their training programs. The program has grown to include other university sports teams.
"We've worked to partner this with VR, which with today's technology can be done with a cell phone and 3D goggles," she says.
Athletes take the training in small steps, using videos as short as three seconds, and build from there with Ross-Stewart and her team's guidance.
Ross-Stewart's work is also being used outside the athletic realm. She recently partnered with Dr. James Daniels at a nearby medical school. Their project is using imagery-assisted VR to understand and assist in the recovery process of geriatric patients who have had knee surgery.
"Patients live in fairly rural parts of Illinois. Some people are quite far away from medical services," she explains. "We film the patients doing their physical therapy exercises and using VR they are able to keep up with their physical therapy more easily. The hope is that this technology will help decrease their recovery time and need for medically-assisted pain management."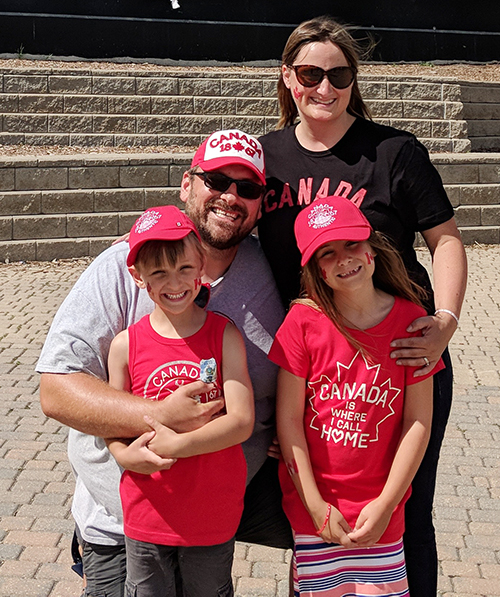 Following Mount A, Ross-Stewart, who is originally from Winnipeg, MB, completed her master's and PhD at the University of North Dakota where she started working in imagery.
Ross-Stewart says she works to incorporate her research into her teaching at SIUE, a skill she learned from former Mount Allison professor Karen Houle and current Mount Allison Psychology Professor Odette Gould when completing a directed study with her as an undergraduate. She teaches both graduate and undergraduate classes at SIUE.
"Dr. Gould was really good to work with," she says. "I follow her process with my own students and work to get them involved in research projects as part of their degree."
With a busy career as a teaching and research professor and serving as the SIUE NCAA Division I athletics department sport psychology consultant, Ross-Stewart's schedule is a full one. She is also a mom to two young children, Makenzie, 7, and Drew, 5, and is married to fellow Allisonian John (Paul) Charbonneau ('05).
"When I'm not at work, I'm with my family. We spend a lot of time at SIUE sports games supporting the teams. My kids have kind of become unofficial mascots for some of the teams," she says.
Ross-Stewart says she and Charbonneau, who played and coached football at Mount Allison, only have good memories of their time in Sackville.
"We loved it in Sackville. I learned a lot from my time there — and ate a lot of garlic fingers," she laughs.
---
Watch Ross-Stewart working with the SIUE baseball team: