1950s-2010s Class Notes Fall 2018
Find out what your classmates and friends are up to
1950s
DAWN MACNUTT ('57) writes, "We call ourselves 'The Scraggs' (defined as rawboned or scrawny persons...which we are not!). Rather, we are friends for life, having met one another on the MtA campus circa September 1954. Through our student years and the many years since, we have kept in touch with one another, often a couple or few at a time. We first came together as a group of nine on a summer's day in the late 1960s in Dartmouth where Jess MacDonald and Dawn MacNutt were neighbours. As many of us as possible have come together annually for a few days as often as we are able. We share stories of our families, friends, and ourselves and of the past. Tales of our times at MtA are central in our reminiscence. Many of our children and grandchildren have become acquainted and/or friends with one another. We share concern and sorrow when any of us experiences a health 'blip' or the loss of a loved one. And often, we celebrate one another. Our times together have been mostly joyful and filled with humour and laughter. We feel privileged that we have all survived into our 80s — that's more than 725 years of experience! This year, we gathered at JOAN CARLISLE IRVING's ('57) home in St. Andrews-by-the-Sea for three days. Only JESS MACDONALD ('57) was missing due to the poor timing of an illness on the days of our gathering. She's already booked in for the next gathering!"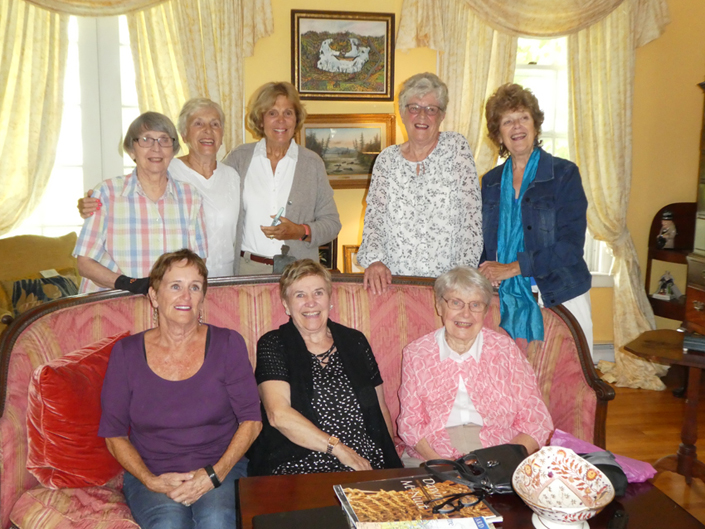 Front row L-R: Heather (Rice) Dickey ('57); Ann Lou (McPhail) King ('57); Jean (MacKenzie) Bakeeff ('56). Back row, L-R: Hope (Loomer) Fraser ('57); Lorna (McMahon) Gillis ('57); Joan Carlisle-Irving ('57); Jane (Hebb) Hartling ('58); Dawn (Reid) MacNutt ('57)
---
1970s
GRAHAM SMYTH ('75) was recognized by the Governor General with a 30-year service bar to the Fire Services Exemplary Service Medal. The presentation was made by Alberta Lt.-Gov. Lois Mitchell on May 27, 2018.
DAVID FOX ('77) has been working as a senior architect for WBCM, LLC in Baltimore, MD since 2015. He is responsible for design tasks under an open-end contract with the U.S. Postal Service for the mid-Atlantic region. During their free time, David and his wife, Nancy (Penn State '81), have been documenting historic lime kilns in Bermuda for the Bermuda Maritime Museum and working on documentation of a 1840 farmstead with a large Pennsylvania barn in Huntingdon, PA for nomination on the National Register of Historic Places.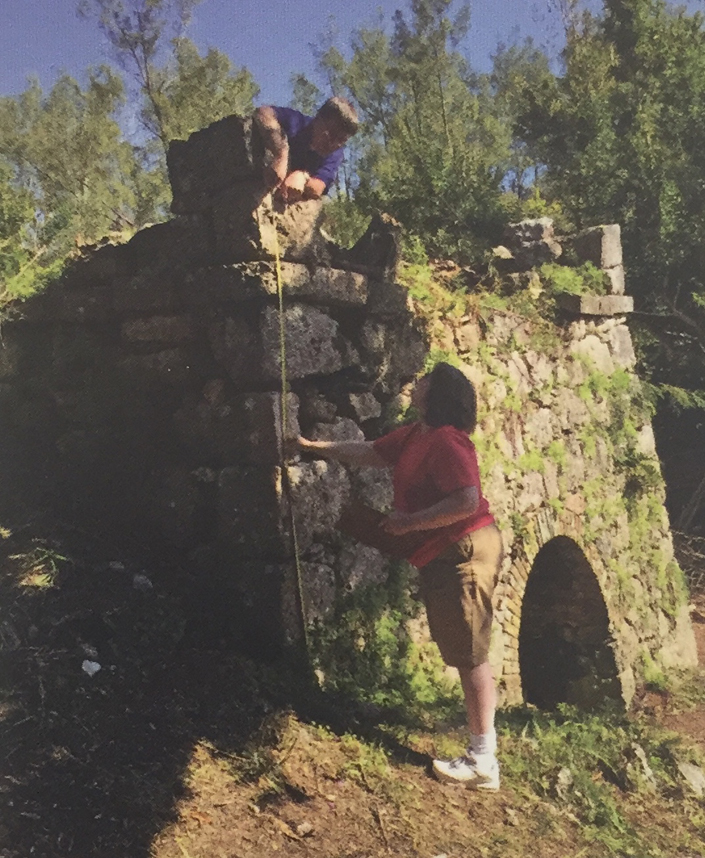 ---
1980s
NORVAL MCCONNELL ('80) writes, "In the fall of 1977 I was entering my second year at Mount Allison. I lived on the third floor of Hunton House. Yes, I was a proud Hunton Wiener. That fall, among several new freshmen were JIM MCISAAC ('81), DAVE BOMBERGER ('82), GEOFF RITCEY ('81), and KEVIN BONE ('81). The next fall ROB DAIGLE ('83) arrived. Fast-forward 40 years and we spent an incredible weekend in August 2017 together [along with MtA alum ANDY OESTREICH ('82)] at Kevin's home in Quebec. The original group has been doing this for six years. I was reminded that weekend of the impact my Mount Allison experience and choice to live in residence had on not only me but a group of people I was close friends with four decades ago. That weekend I spent three days reminiscing and reliving the 70s and again was reminded of the importance of the academic and non-academic factors that are so key in shaping who we become as adults. All of us named a professor or coach or staff member at MtA who had made an impactful impression on each of us. I heard names like Drover, Barclay, Beatty, Patridge, and Fensom. We talked about special times like Christmas trees, house parties, first loves and heart breaks (we all had these), Dining Hall escapades, the great NBLCC strike of '77, film festivals. We read old copies of The Argosy and paged through old yearbooks. We listened to old music in the background like the Stones, J Geils Band, Supertramp, and so many more. Not a sniff of disco, it still sucks 40 years later. We ate like we never did in the dining halls. No green Jell-O, or open-faced sandwiches or liver and onions, but instead salmon pasta and mussels and coconut cream pie and so much more. All made by our chefs Bone and Ritcey, not Chef René (God bless his soul). For those three days I relived some of the most joyful days of my life. I am so very glad I went! Thanks for the invite Jim and Kevin — I plan to be in Orillia next summer, even making the journey via VIA train to truly add to the experience. WES HANSON ('82) and KEVAN ROONEY ('82) are expected in 2018 as well so I am sure there will be even more stories recalled."
Editor's note: We received this lovely note late last fall. Apologies for the delay in publishing.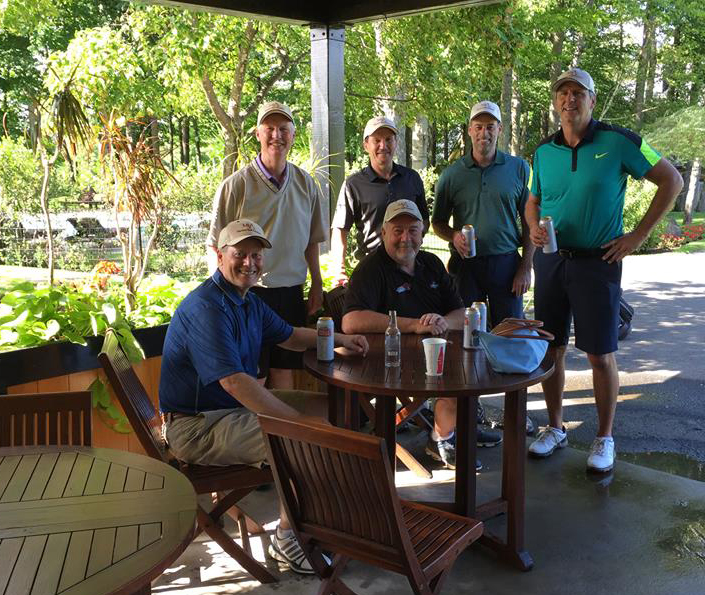 RUTH MACLEAN ('83) was named the Romance Writer-in-Residence at the Vancouver Public Library this summer. Ruth is a published Harlequin writer, retired registered nurse, and Certified Public Accountant. She conducted workshops on romance writing and provided one-on-one consultations with romance writers.
JOHN PHILLIPS ('85) writes, "Following a very brief retirement, we took off to Penang, Malaysia for an amazing year in Southeast Asia. While I worked at the International School of Penang (Uplands), LAURA (née Mason) ('85) explored the fabulous culture and surroundings of a great island. Even though Malaysia was awesome we're excited to be continuing our international journey this coming year in Neuchâtel, Switzerland. I will continue my 'retired' life working at Neuchâtel Junior College and Laura will get used to four seasons while chasing down European wine hot spots. Cheers to all. P.S. — Our apartment overlooking Lake Neuchâtel and the Alps has space forweary travellers!"
---
1990s
WANDA BAXTER's ('90) book If I had an Old House on the East Coast was published by Nimbus this spring and launched in Lunenburg, NS in July. Wanda works in environmental program development and policy and writes creatively in her spare time.
---
2000s
MATTHEW ROWE ('03) is vice-president of the Prince's Charities Canada, helping to run the Canadian charitable office for HRH The Prince of Wales in Toronto. The PCC's programs help veterans who want to start their own business, and young people facing barriers to employment as well as support the revitalization of Indigenous languages.
HENRY ADAM SVEC ('05) is pleased to report that his first book, American Folk Music as Tactical Media, has recently been published by Amsterdam University Press.
ALICIA (ALTASS) ARSENAULT ('05) and CHRISTINA MACLEOD ('05) recently opened their own communications and marketing firm, VOLUME 18 (www.volume18.ca) in Charlottetown, PEI.
CAPTAIN NIALL NEMECEK ('09), an Army intelligence officer, recently took over the position of deputy commanding officer of 11 All-Source Intelligence Centre located in CFB Edmonton. The mandate of the unit is to provide timely and accurate intelligence in both a domestic and a global scope; including for instance, assistance to civil authorities in Canada fighting wildfires or supporting counter-terrorism missions in Iraq. As well, Niall is concurrently working on his MA in Security Studies through Royal Roads University.