Music Department Head Stephen Runge discusses the past, present, and future of Music at Mount Allison
As our country marks a major milestone, celebrating its 150th anniversary, we are also looking back at Music's long history at Mount Allison.
Music education and performance have been a part of Mount Allison since before the birth of Canada. Music at Mount Allison actually dates back 163 years, to the opening of the Ladies' College in 1854, when music instruction became a key component of the Mount Allison experience.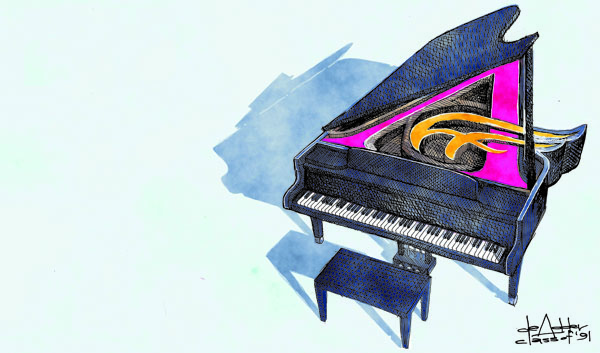 As we celebrate two milestone anniversaries in Music — the opening of the Marjorie Young Bell Conservatory of Music 50 years ago, in October 1966, and the granting of the first Bachelor of Music degree 100 years ago, in May 1917 — I am also thrilled to look ahead into an exciting future.
The Department of Music continues to develop mature and creative musicians as it has done for decades, but we are also constantly adapting our program to a changing world and the increasingly wide-ranging interests of our students. While maintaining our core focus on the great traditions and techniques of Western classical art music, we have in recent years widened our offerings to include courses in jazz, world music, musical theatre, and popular music.
Our string program is undergoing an exciting renewal, one example of which is the presence of the Bell String Quartet-in-Residence — the Tesla Quartet. The energy the members of the Tesla Quartet have brought to the Music Conservatory this year has been palpable and another example of Mount Allison's dedication to the highest level of music making.
Music continues to be a jewel in Mount Allison's crown, bringing vibrancy to our campus and Sackville communities. We continue to provide young musicians with the musical understanding and practical skills necessary to make music a lasting part of their lives. We look forward to carrying our traditions of musical excellence forward into the future, while celebrating our past successes.
Happy anniversary! We look forward to welcoming our Music alumni back to campus in May for our special reunion.
Stephen Runge
Head, Department of Music