Living a life of influence
Music grad Gwen Black ('33) becomes a community leader in Sackville and beyond
Gwendolyn (McDonald) Black came to Sackville to study, but stayed because she found something she had never experienced before.
"She loved being in Sackville," her son Larry Black ('58) says. "That was her first real home. She'd never had a home before - she had lived in a parsonage and then a girls' school - so she treated Sackville as if it was her home and she was involved in everything."
"Everything" isn't very far off the mark.
Gwen was active in the Red Cross, the Victorian Order of Nurses (VON), the IODE, the Elizabeth Fry Society, the Children's Aid Society, and the Sackville Memorial Hospital board. She co-founded the Sackville branch of the Canadian Federation of University Women, eventually serving as provincial director, then national President from 1970 to 1973. She was also a member of the New Brunswick Commission on Federal Constituencies.
"She was on every damn committee you could think of," says Larry, who has just completed a book about his mother and grandmother called Surrounded by Smart Women . "She was a very powerful advocate of legal and other rights for women. She got into some big battles over the question of abortion rights."
Gwen was born in Medicine Hat, AB in 1911. Her father, Nathaniel McDonald, a Methodist minister, died when she was just six years old and her mother Statira Preble (Caldwell) McDonald took a teaching position at Lasell Seminary for Women in Auburndale, Massachusetts, near Boston. Gwen lived there with her mother from age 7 to 18.
"Some of the women in that school were really quite remarkable. In a way she grew up in a bubble," Larry says. "She left that school and went into the (Mount Allison) Ladies' College, and there were some pretty remarkable women there too. My mother grew up surrounded by very smart and very active women so she never had to wonder about women's rights - she would be staggered that women did not enjoy equal rights."
Gwen ended up in Sackville by chance. She had planned to study music at the University of Toronto, but needed a philosophy course to be accepted.
Her cousin Ellen Hemmeon was dean of women at Mount Allison at the time, so in 1929 she came to the University for a year to get the course she needed. She enjoyed it so much, she ended up staying and finishing her degree, studying with James Noel Brunton, among others. When she graduated in 1933, she and her classmate, Dorothy Swetnam, were only the second and third students to be awarded Bachelor of Music degrees from Mount Allison.
By then Gwen had fallen in love with the town. After a short time in Boston for further study, she returned to Mount Allison to teach piano, and in 1935 married Joseph Laurence "Laurie" Black of Middle Sackville. The couple had four children, Frank, Larry, Janet, and John.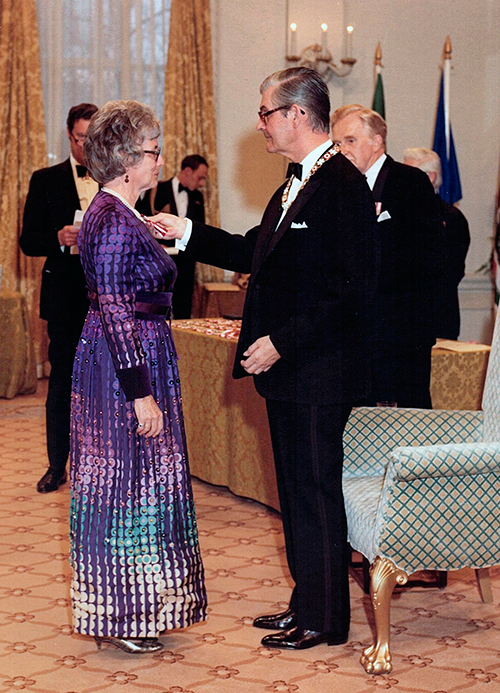 After her marriage, Gwen continued to teach piano privately and gave recitals up to the 1970s. In particular she loved playing duets, winning major awards at several competitions and playing at venues around the province.
She remained a strong supporter of Mount Allison all her life. She was a faithful and generous donor - one of her gifts was a pair of grand pianos for the Department of Music, which are still in use - and served on the Board of Regents, the University Senate, and on a number of University committees, including the President's Committee on the Status of Women.
In recognition of her service to Mount Allison, the University awarded her an honorary doctorate in 1970. She also received the Charles Frederick Allison Award from Mount Allison in 2003, which recognizes outstanding contributions to the University.
She was named an Officer of the Order of Canada in 1974 - the first woman from New Brunswick to be invested as an Officer of the Order.
Gwen Black died in 2005 at age 93.
Surrounded by Smart Women by Larry Black is published by the Tantramar Heritage Trust and launched on Feb. 18, 2017. Copies are available at the Boultenhouse Heritage Centre, Tidewater Books, and the Craft Gallery in Sackville and can be ordered through the Tantramar Heritage Trust, (506) 536-2541 or heritage.tantramar.com
---
Photo caption: Gwen Black receiving the Order of Canada in 1974.