Mount Allison bids farewell to Chancellor Peter Mansbridge (LLD '99) after eight years at the helm
Ask any Mount Allison graduate (or parent) to name a University Convocation highlight. Chances are, if it's within the past eight years, the name 'Mansbridge' will be in the answer.
In addition to being one of Canada's most respected journalists, Peter Mansbridge has served as Mount Allison University's Chancellor since 2010. His second term will come to a close on Dec. 31.
"I have enjoyed this role immensely, in particular the opportunity to talk with Mount Allison students," he says. "Convocation Day has become one of my favourite days of the year, even with the 6 a.m. return flight the next day."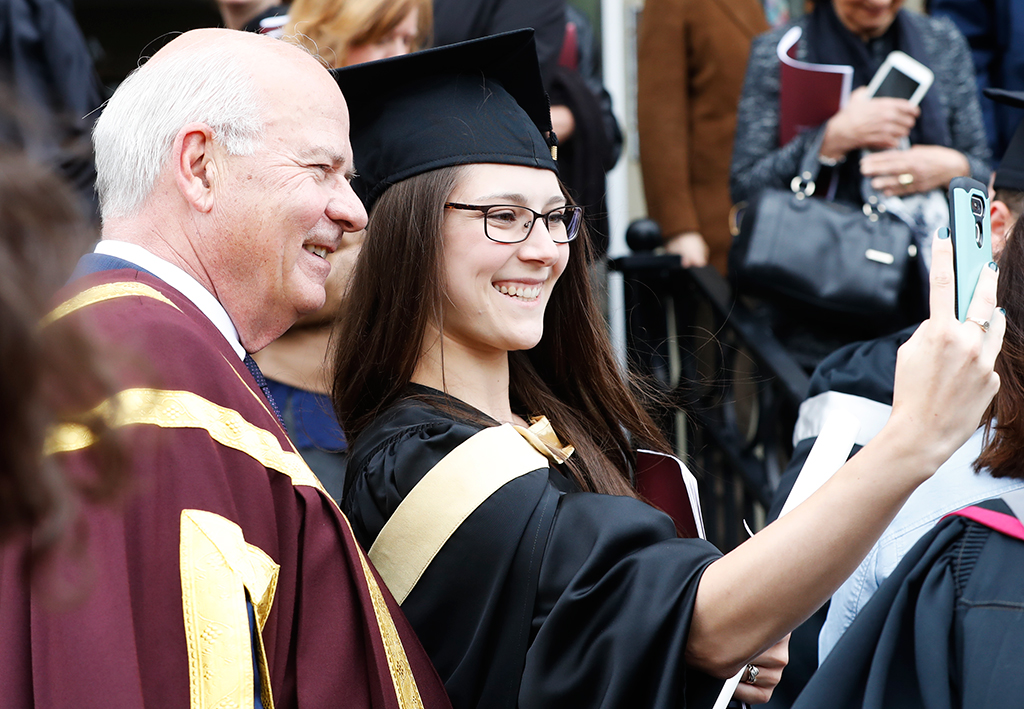 Chancellor Mansbridge has devoted an extraordinary amount of time to Mount Allison, presiding over Convocation, speaking on the University's behalf, and creating learning and discussion opportunities for students.
And, of course, stopping to take selfies with anyone who asked, a student mission that has become almost as essential as picking up your diploma.
Mansbridge also worked with students, faculty, and staff directly to establish the annual Mansbridge Summit at Mount Allison, first held in 2012.
Generously funded by the John E. Irving family, the event provided an opportunity for students in all years and programs to discuss different societal themes with experts in these areas, along with the Chancellor.
This year's event, held in September, focused on addressing how the University community could best contribute to processes of enacting change with Indigenous peoples.
"I love listening to and working directly with students," says Mansbridge. "Hearing their perspectives on these issues is important to your own perspective. "It's been something that has influenced my life outside my role as Chancellor."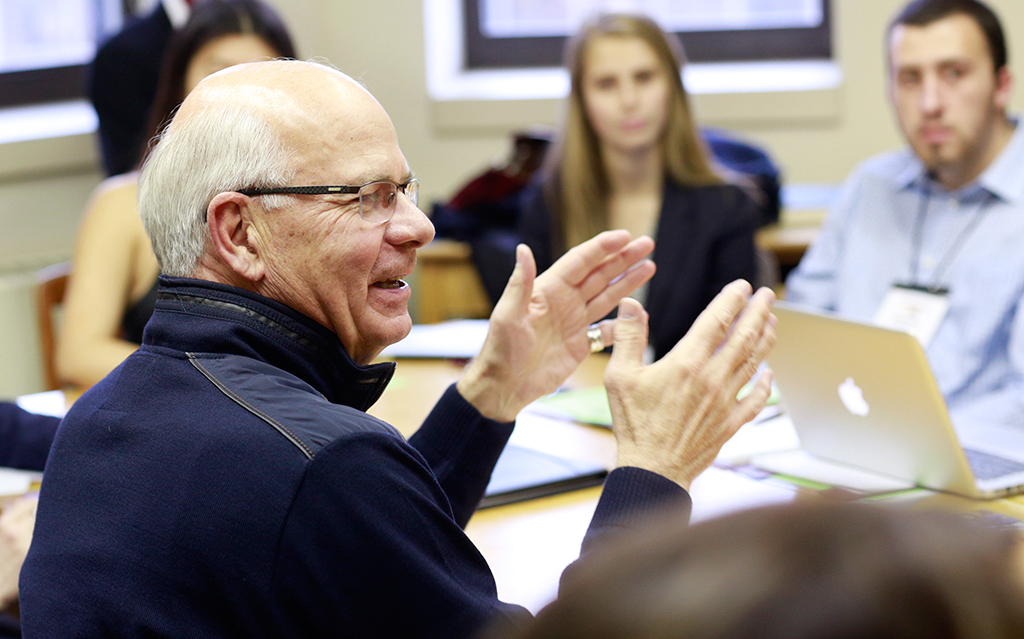 The Summit also employs a student intern in the University Advancement Office. Rebecca Butler ('18) was this year's intern and also assisted in organizing a community farewell celebration for the Chancellor this fall.
"My internship with the Summit was very eye-opening. It was wonderful to engage with our Indigenous communities, as well as with people at the University in this different role, outside of being a student," she says. "Working on these two events was a great experience."
In addition to his time, Mansbridge and his family, wife Cynthia Dale and son Will, have also gifted the University with their financial support.
In 2011, they established the Mansbridge Internship Program, which allows third-year students to create their own internships around the world in places such as Kenya, Greenland, India, and Nepal. They also established the Cynthia Dale Fine Arts Scholarship in 2012.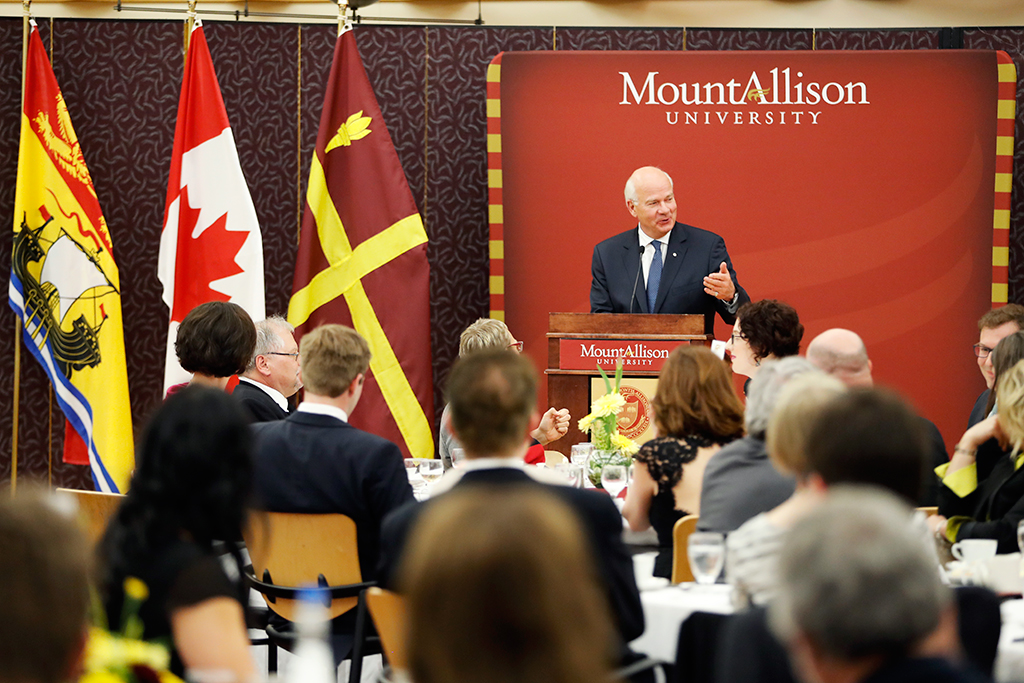 "Peter — and his family's — contributions to Mount Allison have been numerous over the years," says Vice-President University Advancement Gloria Jollymore ('77). "His continued willingness to meet with our students and alumni and represent Mount Allison on the national stage has been so enriching to the University."
Sarah McNeil ('15) was awarded a Mansbridge Internship in 2013. She worked with the Dejavato Foundation, an NGO based in Indonesia.
"My time working outside Canada remains one of my most challenging and memorable experiences. I gained perspectives that I could have never gained without this support," says McNeil. "As University Chancellor, Mr. Mansbridge has brought many opportunities to Mount A students."
Mansbridge says he'll miss the many opportunities the Chancellor's role gave him to connect with Mount Allison students, faculty, staff, and alumni.
"Being part of such a distinguished University's history is truly an honour," says Mansbridge. "I am thankful for this opportunity and for the chance to be part of the Allisonian community."
---
As part of the community farewell celebration in October, former Mansbridge Interns and Mansbridge Summit Interns recorded messages for the Chancellor. Click on their photos to hear what they had to say.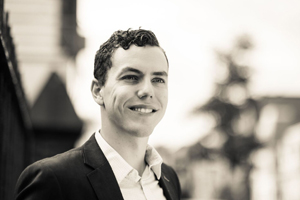 Michael Watkins ('13)
2012 Mansbridge Summit Intern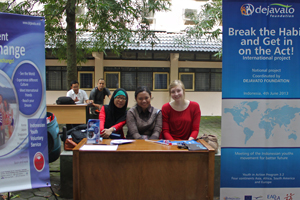 Sarah McNeil ('15)
2013 Mansbridge Intern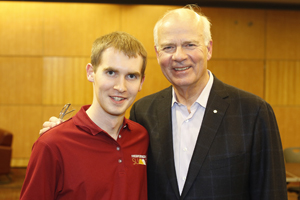 Steven Black ('15)
2015 Mansbridge Summit Intern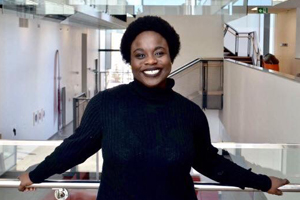 Maureen Adegbidi ('17)
2016 Mansbridge Summit Intern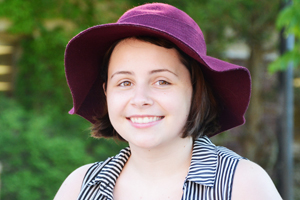 Rebecca Butler ('18)
2017 Mansbridge Summit Intern
---