Celebrating the past – and the future – of the Record

This is a special year for the Record — December marks the 100th anniversary of our first edition. We will be celebrating this very important anniversary in many ways over the next six months. Stay tuned for a few surprises and special coverage in the fall edition of the Record.
As we reflect on the past 100 years of this important communication tool for alumni, our goal is to ensure that it continues to be a relevant and accessible publication for another 100 years.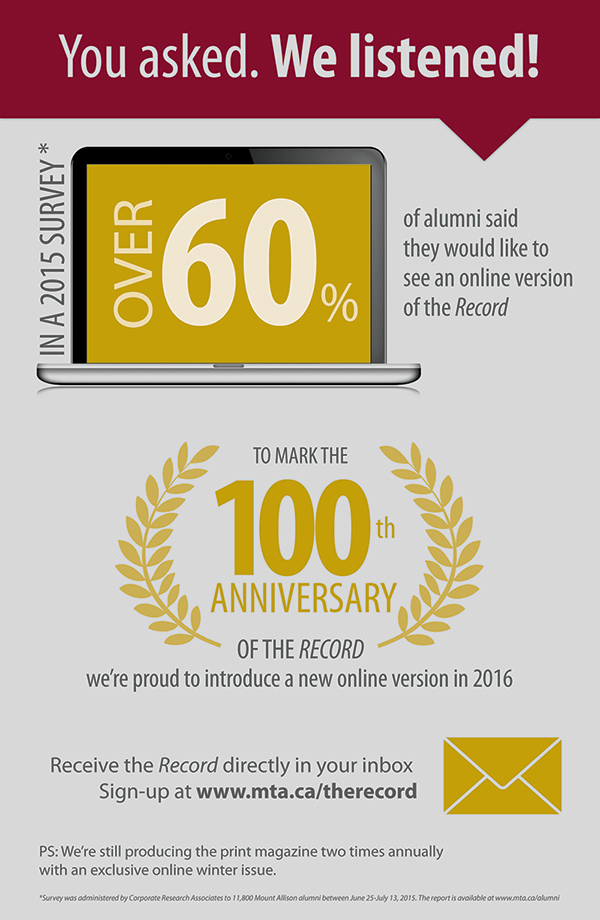 This is why we conducted a survey about the Record last year that asked almost 12,000 alumni their thoughts on the magazine. We had a very high response rate of 22.5 per cent. This survey garnered some very interesting data that we shared with alumni in last fall's edition of the Record.  This data led us to our next project, which was to create an online version of the publication — www.mta.ca/therecord
This centennial anniversary has given us pause to reflect on how we ensure that our readership stays high across graduating years by offering as many avenues as possible for alumni to read the Record. We can think of no better way to celebrate our 100th anniversary than by launching a new online edition of the Record, which will have three editions yearly to accompany the two print versions you will receive in the mail.
The online edition will allow us to offer enhanced versions of material in the print edition, with more photos and interactive options. It will allow us to share stories on social media, an option that is currently not available to us.
It will also allow alumni the option to opt out of receiving the print version, thereby ensuring that we are being environmentally and fiscally responsible.
We are excited about this next chapter, and we look forward to hearing your feedback.
Michael Taylor ('03)

Communications Committee Chair

Mount Allison Alumni Board of Directors
Carolle de Ste-Croix ('90)

Editor, Mount Allison Record

Director, Alumni Relations