2016 Convocation ceremonies
Approximately 470 new graduates joined the alumni family on May 16
Approximately 470 new graduates joined the alumni family on May 16 during Mount Allison's 2016 Convocation ceremonies.
Mount Allison also recognized four outstanding Canadians, conferring honorary doctorates at the events. The 2016 recipients include:
Roberta Jamieson, President and CEO of Indspire, Canada's premiere Indigenous-led charity;
Verna Kirkness, national leader in Indigenous education and associate professor emerita at the University of British Columbia;
Dr. Arthur McDonald, 2015 Nobel Prize winner in physics, professor emeritus at Queen's University, and director of the Sudbury Neutrino Observatory Collaboration (the SNOLAB);
Dr. John Smol, award-winning environmental researcher at Queen's University and Canada Research Chair in Environmental Change.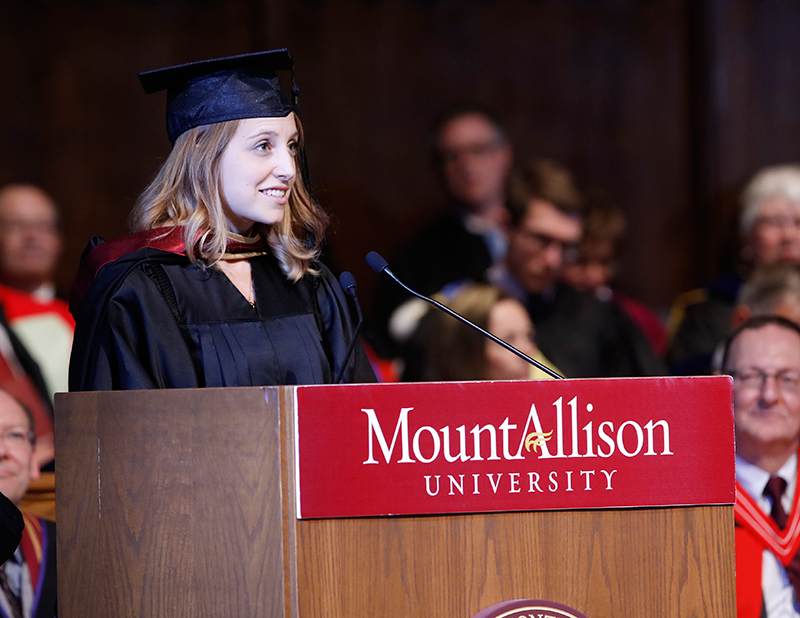 Jill Clairo of Calgary was selected by her class as the 2016 valedictorian and delivered a humorous and heartfelt address. Clairo is an honours psychology graduate who will be working towards her Montessori teaching certification.
Watch Jill's afternoon valedictorian address, as well as the honorary degree recipients' addresses on MtALive.ca
Photo captions: Top image, President and Vice-Chancellor Dr. Robert Campbell, 2016 honorary degree recipients John Smol, Roberta Jamieson, Arthur McDonald, and Verna Kirkness with Chancellor Peter Mansbridge during the 2016 Convocation on May 16.

Left image, 2016 Valedictorian Jill Clairo addresses her class during Convocation ceremonies.