1940s-2010s Class Notes Summer 2016
Find out what your classmates are up to
1940s
MARY ALLWOOD ('46) was inducted into the Fredericton Sports Wall of Fame this spring. Mary won a pair of bronze medals nationally as a member of Grace Donald's New Brunswick senior women's curling team.
---
1950s
R.S (BOB) LATIMER ('51, '52) and SADIE SNOW LATIMER ('52) of Truro, NS celebrated their 60th anniversary at their cottage in Cape Breton in August 2015. Bob and Sadie met in an Ed. Psych class at Mount A. The celebration was arranged by son ROB ('79) of Ajax, ON and NANCY ('82) of Toronto, ON. Among Allisonians also attending were DAVE ('79) and ELIZABETH LATIMER ('88) and nephews KEVIN ('79) and HUGH LATIMER ('87).
On Dec. 7, 2015, DR. H. A. HARGREAVES ('53) was inducted into the Canadian Science Fiction and Fantasy Hall of Fame for outstanding lifetime achievements. The CSFFA Hall of Fame recognizes outstanding achievements that have contributed to the stature of science fiction and fantasy.
STERLING MACLEAN ('57) skipped his team to a curling 8-ender on Dec. 3, 2014 followed by a hole-in-one in golf on July 6, 2015.
HAROLD GIDDENS ('58) was recently appointed as an alternate provincial member to the Canada-Nova Scotia Offshore Petroleum Board.
SANDRA (MACMILLAN) MURRAY ('59), recently returned to Ottawa after a month in China where she visited her sister, a guidance counsellor at the International School of Nanshan Shenzhen. She was delighted to meet up with three Mount A alumni who are teaching at the school. From left to right: GLORIA CARNAVALE ('08), TRISH (STEER) DALEY ('74), ROSS HENDERSON ('75), and Sandra.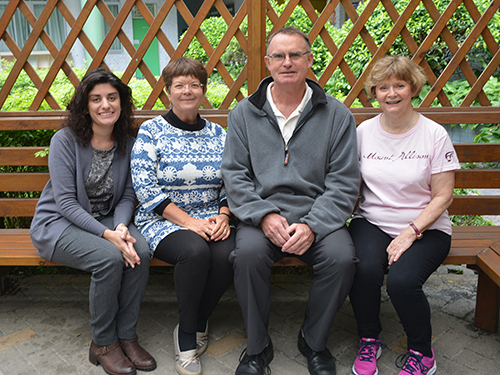 Retired superintendent of education and pen and ink sketch artist STERLING STRATTON ('59) recently received the Irene Rogers Award for outstanding contribution to the architectural heritage of PEI. In the past month, Sterling published a compilation of seven of his books. The leather bound, 450-page edition is entitled 1000 Island Images of Historic Interest. Search website 'sketchesbystratton' for more details. Sterling can be reached at sstratton@eastlink.ca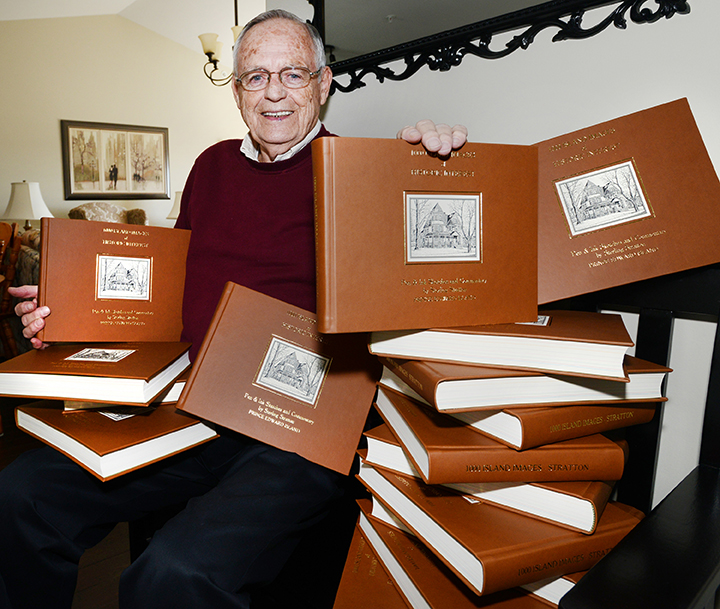 ---
1960s
AIRDRIE THOMPSON-GUPPY ('61) has moved to Toronto to be closer to her family and loves it.
DR. YOGISHWAR J. (JACK) NARAYAN ('66) is CAO of WebAssign, which was recently awarded the EdTech Digest Cool Tool Award.
KARL BUTLER ('67) and his wife Lois celebrated 60 years of married life in March 2016. Lois and Karl have been enjoying retirement life in Bath, ON for the past 20 years. While at Mount A they lived in Normandy Hall with daughter Paula and son Ron. Paula lives in Scarborough and Ron lives in South Slocan near Nelson, BC.
---
1970s
Friends of ALICE (MACDONALD) COURT ('75) converged at Boca Grande, FL on March 9, 2016 to see her wonderful rendition of Dolly in Hello Dolly, staged by the Royal Palm Players at the Boca Grande Community Center. Shown left to right are: DEBBIE SCOFFIELD ('75); Alice; SHEILA (BERRIDGE) BLAGRAVE ('75); SUE AUBÉ ('75), and Monctonian and self-proclaimed Mount Allison 'wannabe' Lynn (Steeves) Ritchie. Taking the photo was Dale Ritchie. We all had the time of our lives and relived many happy memories from Mount Allison and beyond.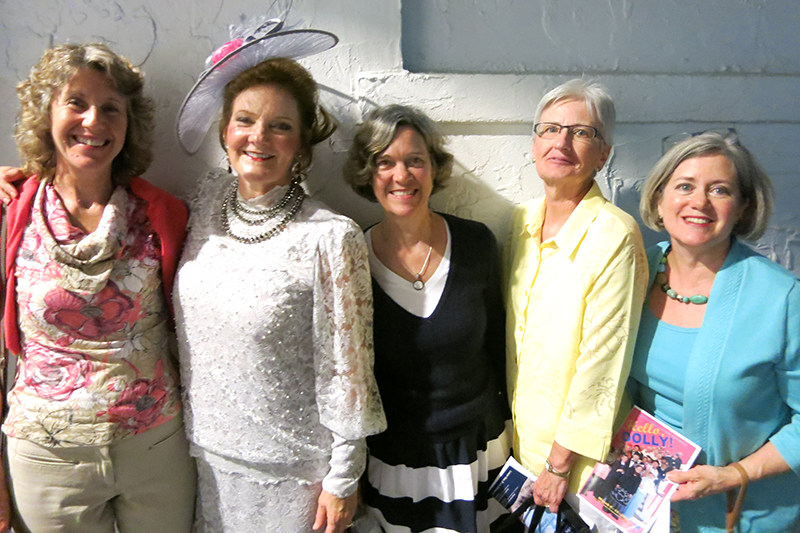 KEVIN LATIMER QC ('79) Managing Partner, Cox & Palmer, Halifax, joined the Board of the National Youth Orchestra of Canada. NYO Canada's focus is to provide world-class training to Canada's best young orchestral musicians.
STEPHEN BARLEY ('79) was recently appointed to SecureCom Mobile Inc's Board of Directors.
---
1980s
PAUL S. MILLER ('80) is busy in the studio these days. He is shown here with one of his most recent large egg tempera works.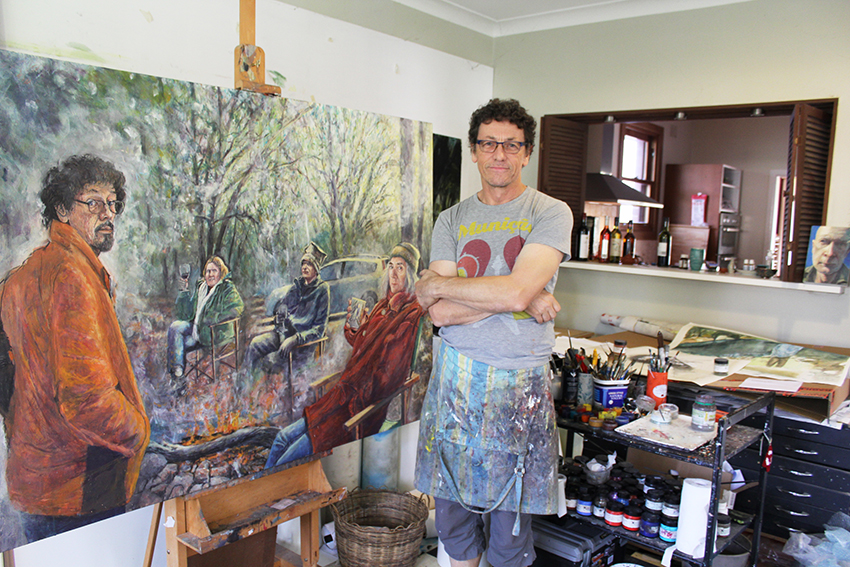 An Allisonian-made product has won a national award. Uresta, produced by the Shediac-owned company Resilia, earned the 2016 Product of the Year Canada award in adult care incontinence category. The product was designed by DR. SCOTT A. FARRELL ('70) and CAROL CHAPMAN ('81), who serves as the vice-president of marketing for the company.
After 20 years as a reporter at the Halifax Chronicle-Herald, DAN ARSENAULT ('87) set sail for Newfoundland where he is managing editor for the business-news website, AllNewfoundlandLabrador.com
CHRISTINE HINDS-WELLMAN ('84) writes, "On Saturday, Jan. 2, 2016, my husband, David Wellman and I had the pleasure of visiting with DEBBIE (WARD-CLARKE) LEE ('86) and her husband, STANLEY LEE ('86) at their home in Southampton, Bermuda. Debbie's parents were visiting from Barbados. A few other friends and relatives were invited also. However, the highlight of the evening was a mini Mount A reunion with Debbie's father, CECIL CLARKE ('57), Debbie's cousin, COLLIN DILL ('99), and myself all being under one roof. What a way to start 2016!"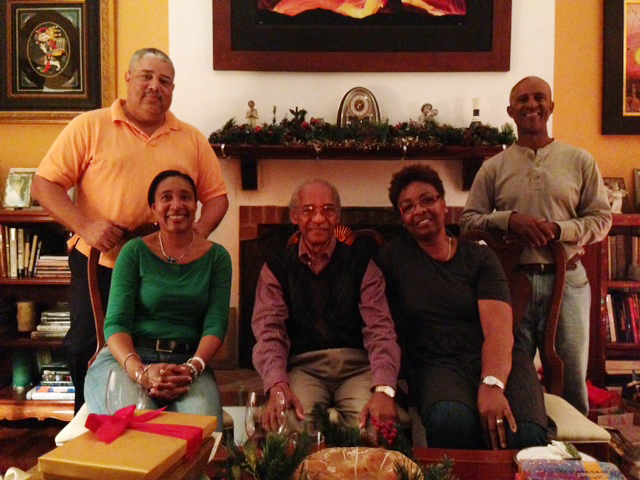 Standing from left: Stanley and Collin. Seated from left: Debbie, Cecil, and Christine.
PAULA BUTLER ('82) had her book, Colonial Extractions: Race and Canadian Mining in Contemporary Africa, published by The University of Toronto Press in the spring of 2015. The book evolved from her doctoral thesis at U of T OISE in 2006. Paula discussed her book in January 2016 at Queen's and Trent universities. Paula lives with her three children in Scarborough, ON.
GREG BLUNDEN ('87) has been named CFO of Emera.
---
1990s
WADE TAYLOR ('90) has been named Grant Thornton's new managing partner for Nova Scotia. He will lead the firm's 10 NS offices.
ANNE WILSON ('94), psychology professor at Wilfrid Laurier University, has been appointed as a fellow in the Canadian Institute for Advanced Research (CIFAR) Successful Societies program.
ANNE BURBIDGE ('94) graduated in March 2016 as horticultural apprentice from Humber College. She is working in small businesses, gardening in the Toronto area, and tweeting about it and other things via @aburbidge. Mount Allison introduced her to the back-to-land concept through Frontier College's Labourer-Teacher program — a Frontier literacy initiative once on campus. Thanks to those who were involved.
JOHN PETERS ('95), long-time Mounties swim coach and coach of the Sackville Swim Club, was inducted into the Town of Sackville's Sports Hall of Fame on June 3, 2016.
---
2000s
ANDREA GEDE ('00) was recently named a partner at Fried, Frank, Harris, Shriver & Jacobson LLP in New York City.
JILL BISHOP ('02), LIBBY (CAMPBELL) MASON ('02), and TAMSIN CLASPER ('02), shown left to right, had a mini Reunion in London, England in January 2016.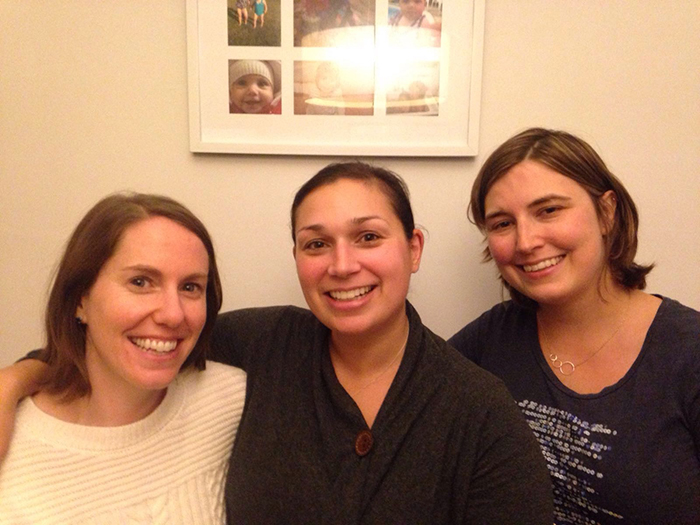 There were several Allisonian connections in the 2016 JUNO nominations. The Canadian Chamber Choir was nominated for their new release Sacred Reflections of Canada, a Canadian Mass. Alumni members include: CHRISTINA MURRAY ('99), soprano; CHRIS BOWMAN ('01), baritone; and JOEL TRANQUILLA ('06), assistant conductor.
CHMA alumni HENRY ADAM SVEC ('05), JANNA GRAHAM ('01), and JORDAN MACDONALD ('08) were happy to bump into each other recently on the dance floor of an Acadian music festival in Lafayette, Louisiana.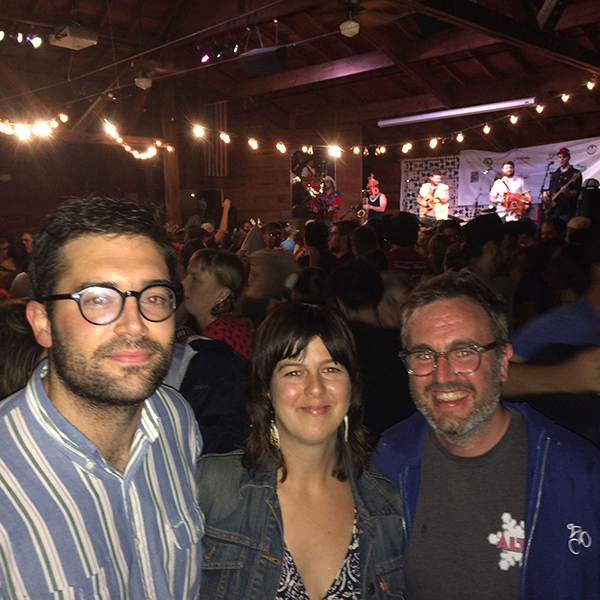 LILLIAN GRETSINGER ('07) and partner Chuck Cardona welcomed son Allan Charles Gretsinger Cardona on March 21, 2016. Allan is the grandson of RUTH GRETSINGER ('84).