Emma Hassencahl ('17) invited to participate in Winnipeg's prestigious Nuit Blanche
Emma Hassencahl's art speaks.
Hassencahl, a fourth-year Fine Arts student specializing in painting and printmaking, puts a great amount of thought into creating pieces with many-layered messages.
"I just want people to stop and think about an issue for a second," she says.
Hassencahl is already gaining recognition for her art.
Her work recently came to the attention of the organizers of Winnipeg's Nuit Blanche, an annual all-night celebration of contemporary art. Hassencahl was asked to be New Brunswick's representative on a team of 13 artists from across the country who created a collaborative mosaic that was unveiled during the Oct. 1 event. The mosaic took the shape of the Canada 150 logo, with each artist contributing one block of the maple leaf.
"I'm really excited and still kind of in shock because Nuit Blanche is such a big art festival," she says. "We (artists) got a colour assigned to us and I asked for green because it is the Maliseet Nation colour."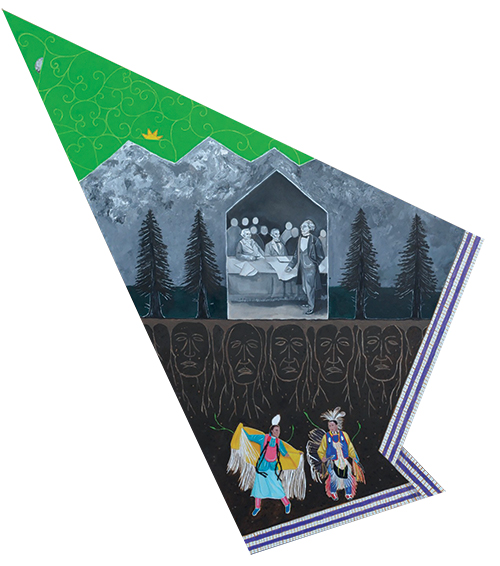 Hassencahl is a member of the Tobique First Nation in New Brunswick and initially avoided including any sort of political message in her pieces.
"I didn't want to take that route at first because First Nations artists feel they can only be successful if they are doing work on native topics or issues," she says. "But it gave me a voice to talk about these things and educate the people around me. Not a lot of people know what is happening in Indigenous communities as a whole."
One of her favourite pieces, White Flag, started as a class assignment.
"My professor said you had to use a book in your project in some way, to turn a book into an art piece," Hassencahl says. "I said, 'Does it have to be a book or can it be a document?' and he smiled and said, 'I think I know where you are going with this.'"
The final version of the piece is a Canadian flag with a shredded copy of the Indian Act pasted over the red parts of it.

"I only covered up the red part because red is a sacred colour to us and it is also the colour we are associated with as Indigenous people," she explains.
"It's covering up the red, but the red is still shining through. I wanted a feeling of hope when people looked at it — you can bury us, but we are still here. And that is what the Indian Act did was strip our rights and make it legal to do so."
White Flag was showcased during Hassencahl's show "Indian Women of Indian Blood," held at the START gallery in October 2015.
"People have different reactions to it and it might be good or bad, but it was a really great show and a really great crowd," she says.
As Hassencahl heads into her last year at Mount Allison, she is beginning to blur the line between student artist and working professional artist, with events like Nuit Blanche. That she has been able to start making that transition already is something she calls "surreal."
Hassencahl is interested in law and is looking at possibly attending law school in the future, but also plans to go on to complete a Master's in Fine Arts.
View more of Hassencahl's works on her website: https://emmahassencahlart.wordpress.com/
Photo captions: Top: Emma Hassencahl with her work White Flag; at right, the piece Hassencahl created as part of the Canada 150 mosaic unveiled during Winnipeg's Nuit Blanche event in October 2016.