Daniele Jones
Part-time Lecturer — Flute
---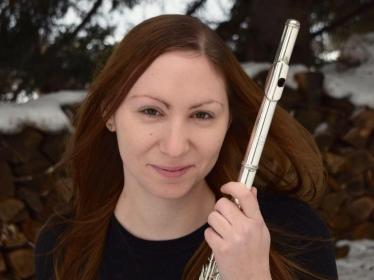 The passion and drive to create beautiful music has been a significant part of Danièle Jones's being for most of her life. She discovered the joy of making music at the age of six, and began taking flute lessons under the instruction of Audrey Jean Wells when she was eight years old. Ms. Jones grew up in Timmins, Ontario, where she was fortunate enough to have been a member of many musical ensembles. She held the position of first flute with the Timmins Symphony Orchestra from the ages of 15 to 19 and performed as a soloist in 2007 and 2015. 
Ms. Jones received the ARCT Flute Performance diploma from the Royal Conservatory of Music. She completed the Bachelor of Music in Flute Performance degree at Wilfrid Laurier University, under the guidance of Kevin O'Donnell. During her time there, she was a member of the Kitchener-Waterloo Youth Orchestra as well as the Wilfrid Laurier University Symphony Orchestra. Ms. Jones earned the Master of Music in Performance and Literature degree from the University of Western Ontario, studying with Anne Thompson. She was a member of the UWO Symphony Orchestra as well as the chamber orchestra. Ms. Jones also had the pleasure of taking part in the Stage de perfectionnement program at the Conservatoire de musique de Québec where she studied with Jacinthe Forand. 
Ms. Jones currently resides in Moncton, New Brunswick. She has enjoyed working alongside immensely talented musicians and performing throughout the Maritimes with various ensembles.