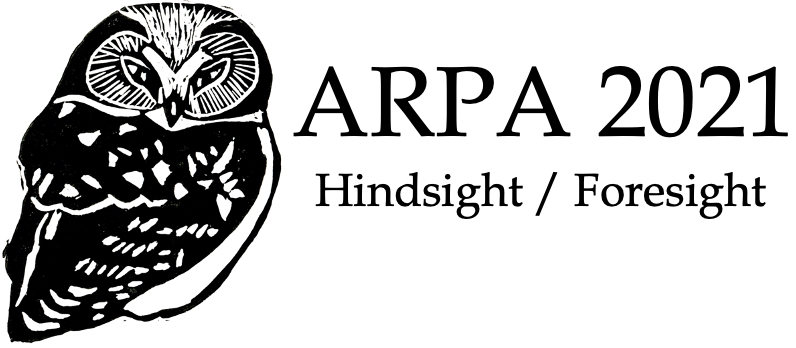 2021 ANNUAL MEETING - Online-only
ARPA 2021 was a great success! A heartfelt thank you to all presenters and attendees.
Atlantic Region Philosophers Association
October 22-23, 2021
Mount Allison University
Theme: Hindsight / Foresight
Keynote speaker:
Sally Haslanger
---
IMPORTANT UPDATE - Sept 28th
ARPA 2021, scheduled for Oct 22-23, will be a fully online event conducted via Zoom. 
Because of rising Covid case counts in Sackville, and the provincial reimposition of the State of Emergency, we're presently unable to offer our campus for our in-person conference. 
On behalf of our local organizing committee, we're frustrated and disappointed not to be able to host you in person at Mount Allison at this time and for ARPA this year.
There is no cost to attend. If you plan to participate and to deliver your paper to our digital audience, please register here to signal this to our organization committee. We will finalize the schedule accordingly once we know how many of you plan to participate given these new changes.
People who plan to attend, without presenting, are also asked to register through Eventbrite. If you were scheduled to present, but are no longer planning to attend, please email philosophy@mta.ca.
-Robbie Moser
Program

Schedule:
Friday Sessions: 2pm - 5pm
Friday Keynote with Dr. Sally Haslanger: 7:30pm
Saturday Sessions: 9am - 12pm, 2pm-4pm

Detailed Program and Abstracts

Zoom Breakout Room Instructions

Keynote Speaker: Sally Haslanger
Ford Professor of Philosophy and Women's and Gender Studies
Massachusetts Institute of Technology

Friday, October 22, 2021 @ 7:30pm
Online via Zoom

Keynote Abstract:

"Historical and Material Roots of Our Social World: Bodies, Resources, and the Environment"

Consider a social event such as eating a meal together.  The existence of this event depends not just on human minds (collectively engaged or not), but also on human bodies and edible stuff that has been produced, distributed, prepared, and served according to local customs.  A potato is a species of plant, but once it is baked and served with sour cream, it is part of our social world. Human bodies and the environment both set constraints on the social world and are, at the same time, part of it.  This talk will consider the interdependence of the social and the material world and forms of explanation that do justice to their interdependence.
Call for Papers

*** The deadline has passed. ***

Atlantic Region Philosophers' Association (ARPA)

Call for Papers
Annual Meeting

October 22-23, 2021

Mount Allison University
Sackville, New Brunswick

Theme:  Hindsight / Foresight

Papers from all areas of philosophy are welcome.

Sessions (presentation and discussion) are fifty minutes long. Presentations should take no longer than half an hour to allow adequate time for questions and discussion.

Submissions should take the form of an abstract (of about 200 words) and contain the talk's title, author's name, academic affiliation (if applicable), and complete contact information. Please indicate whether you expect to participate remotely or in-person if circumstances allow. (This may change, but will give us an idea of numbers early on.)

Abstracts should be sent by email to philosophy@mta.ca with "ARPA Submission" in the subject line.

Any questions may be directed to Robbie Moser at philosophy@mta.ca
About ARPA

The Atlantic Region Philosophers Association was formed in 1970 to foster research and scholarship within the philosophical community in Atlantic Canada. Its main function is to hold an annual conference where Atlantic Canadian philosophers (and visitors) can discuss their work.

An archive of past conferences is available at:
https://www.mystfx.ca/philosophy/atlantic-region-philosophers-association